Wesley Kowalczyk's special day includes Zoom call with Swift, a shopping spree at Extra Innings and a host of unique Panini prizes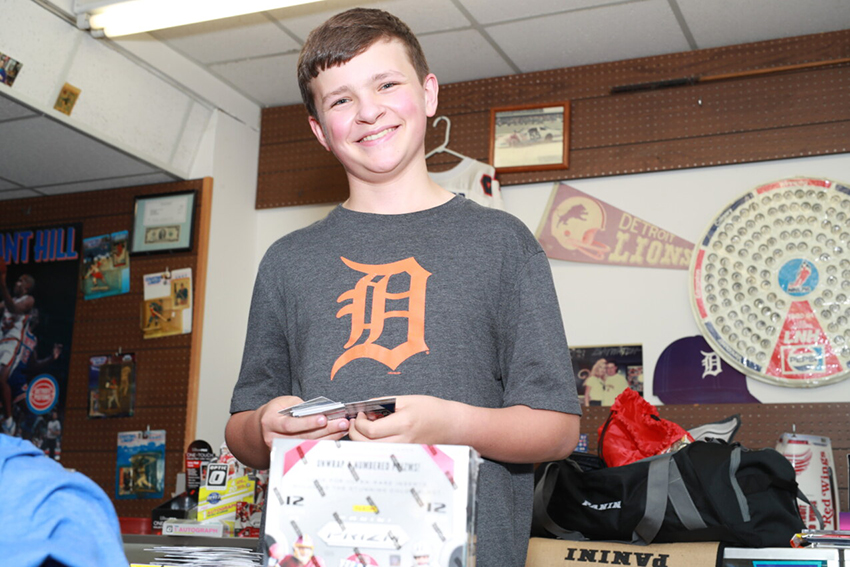 Wesley Kowalczyk, a 12-year-old collector from Mason, Mich., has been selected as the Grand Prize winner of the 2019 Panini NFL Player of the Day National Sweepstakes. Kowalczyk learned the news at a special event last Thursday with his parents at a small ceremony at his favorite hobby shop, Extra Innings. Along with surprising him with the news, Panini Awarded the youngster with a swag bag of Panini America-branded apparel and trading cards.
For the past 20 years, the Panini NFL Player of the Day hobby shop promotion has awarded collectors with more than two million prizes. And each year, the promotion concludes with one lucky collector spending the day with an NFL player. This typically includes a private party for friends and family and then a free autograph session for the community at the local card shop. But due to COVID-19 and social distancing guidelines, Kowalczyk will have a different experience.
In lieu of a private party, Kowalczyk and his friends and family will participate in a special Zoom call with Detroit Lions rookie running back D'Andre Swift on Thursday, July 9. During the call, they will conduct a Q&A with the newest Lions star who will also sign autographs for all of the participants as well as for Rick Mettert, the owner of Extra Innings, to award to some of his other top customers. After the Q&A and autograph session, Kowalczyk will conduct several box breaks. Additionally, the next time Kowalczyk visits Extra Innings, he will get a $250 shopping spree for Panini America products.
"We are excited to create this special experience for Wesley and his friends and family," said Jason Howarth, Panini America Vice President of Marketing. "Obviously, due to COVID-19 and social-distancing guidelines, it became impossible for us to stage an event like we've done for the past 19 years. But we know that, as a passionate collector, Wesley will be blown away by the rare and unique Panini collectibles, the chance to talk to and get to know D'Andre and the D'Andre memorabilia he'll be awarded."
Wesley has been an avid football collector since he was 7 years old. He loves playing flag football, basketball, baseball, tennis and biking with his buddies. His favorite NFL teams are the Lions and Steelers. His love of football cards stems from his interest in history and he spends quality time researching players, coaches, teams and the history of the game.
One of his favorite outings is to explore card shops and antique stores looking for cards and sports memorabilia. In addition to being a regular at Extra Innings, he has shopped at hobby stores throughout Michigan, Ohio and Pennsylvania. He takes great pride in his collection, and friends and family have started calling his bedroom "The Museum." His favorite cards are a 2017 Contenders Draft Picks Football Tom Brady autograph, a 2020 Contenders Draft Picks Football Emmitt Smith Printing Plate 1/1 and a 2005 Joe Montana auto.
The rising seventh-grader at Mason Middle School was among more than 150,000 NFL card collectors who participated in the 2019 Panini NFL Player of the Day contest at nearly 600 hobby shops last season. His journey began just like that of thousands of other collectors when he uncovered the Panini NFL Player of the Day in a pack of Panini NFL cards. He was then randomly selected as the store's grand prize winner and was entered in the national sweepstakes with winners from the other 600 shops.
The 2019 Panini NFL Player of the Day promotion included more than 600 hobby shops and marked the 19th consecutive year that the NFL Player of the Day program gave an NFL card collector the chance to spend the day with an NFL player. Past players have included: Matt Breida, Patrick Mahomes II, K.J. Wright, Jeremy Langford, Terrence West, Antonio Brown, Prince Amukamara, Beanie Wells, Pierre Thomas, Patrick Crayton, Steve Slaton, AJ Feely, Maurice Jones-Drew, Chris Simms, Rudi Johnson, Donald Driver, Ed McCaffrey, Chad Pennington and Frank Wycheck.