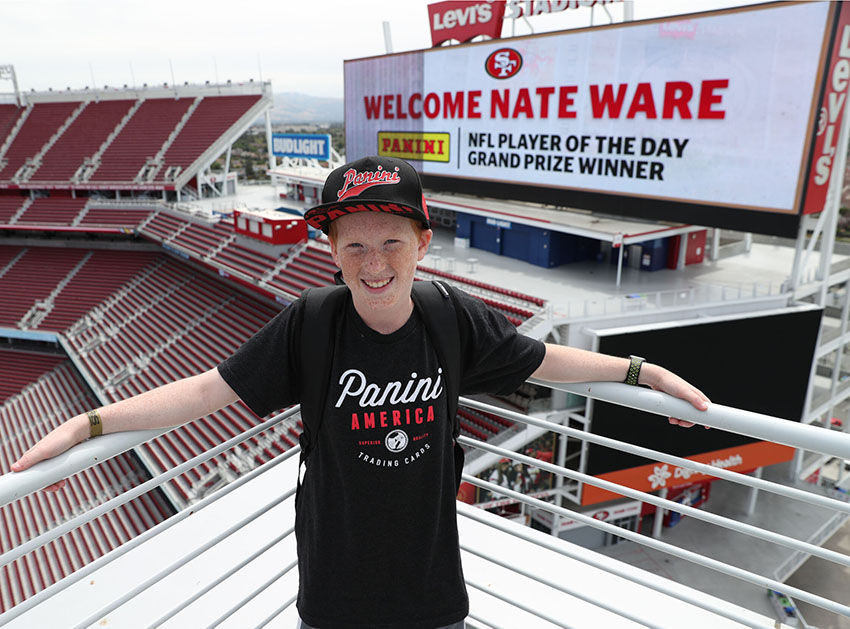 One pack of Panini America NFL trading cards resulted in 15-year-old card collector Nate Ware of Danville, Calif., spending June 28 as an honorary San Francisco 49er as the national sweepstakes winner in the Panini NFL Player of the Day hobby shop promotion.
Ware, a student at San Ramon Valley High School, was among more than 150,000 NFL card collectors who participated in the Panini NFL Player of the Day contest at nearly 600 hobby shops this season. He is among the thousands who earned prizes; but as the grand prize winner, Nate and 20 friends and family members were the only ones who spent the day as a 49er.
The special day began with a bus ride for the group to Levi's Stadium, home of the San Francisco 49ers for a VIP behind-the-scenes tour of the 49ers Hall of Fame, the field and many other surprises. When they arrived on the field, they were joined by 49ers Matt Breida and Adrian Colbert, who ran the guests through on-field drills, played catch, talked football and, of course, posed for photos and signed autographs.
Although the chance to hang out with the players was a unique treat, perhaps the highlight of the day for the passionate card collector came during lunch. After a few slices of pizza with 49ers mascot Sourdough Sam and 49ers cheerleaders, Nate got to live out his collecting dream by opening boxes of Panini America's National Treasures Football and Flawless Football products. Among Nate's biggest pulls were Saquon Barkley, Deion Sanders, Raquon Smith, Sam Darnold and Carson Wentz.
Following the party at Levi's Stadium, Breida visited Nate's favorite hobby shop, Talkin' Baseball, for a free autograph session for the shop's best customers. Breida signed an exclusive Panini Instant Access card created especially for the event. 
"It was truly a special day for Nate, his friends and family and the loyal customers at Talkin' Baseball Card Store," said Jason Howarth, Vice President of Marketing for Panini America. "Collectors have a chance to get closer to their favorite NFL player in every pack of Panini NFL cards, so it's fitting that we cap off the Panini NFL Player of the Day promotion by bringing players and collectors together for a memorable day."
A collector since he was 7 years old, Nate started out trying to collect as many cards as he could by buying random packs at various places. As he has stuck with collecting and learned from other customers and mentors at Talkin' Baseball, he now collects cards based on the players and card quality and has focused on autograph and memorabilia cards in amassing a solid collection of about 30,000 cards. Nicknamed "Red," Nate has become a favorite customer at Talkin' Baseball and even helps out around the shop. 
A tech-savvy teen, Nate has a YouTube channel where he records videos of his pack breaks. His favorite products from the 2018 season were Obsidian Football and Prizm Football, but like many collectors, his dream was to open a box of Flawless. Beyond collecting, Nate is on the school's volleyball team and volunteers his time to Pledge to Humanity and CSF at the high school as well as the family's non-profit, The Crayon Initiative.
The Panini NFL Player of the Day promotion included more than 600 hobby shops. This marks the 19th consecutive year that the NFL Player of the Day program has given an NFL card collector the chance to spend the day with an NFL player. Past players have included Patrick Mahomes II, K.J. Wright, Jeremy Langford, Terrence West, Antonio Brown, Prince Amukamara, Beanie Wells, Pierre Thomas, Patrick Crayton, Steve Slaton, A.J. Feeley, Maurice Jones-Drew, Chris Simms, Rudi Johnson, Donald Driver, Ed McCaffrey, Chad Pennington and Frank Wycheck.
Check out the gallery below for highlights of the Nate's big day.