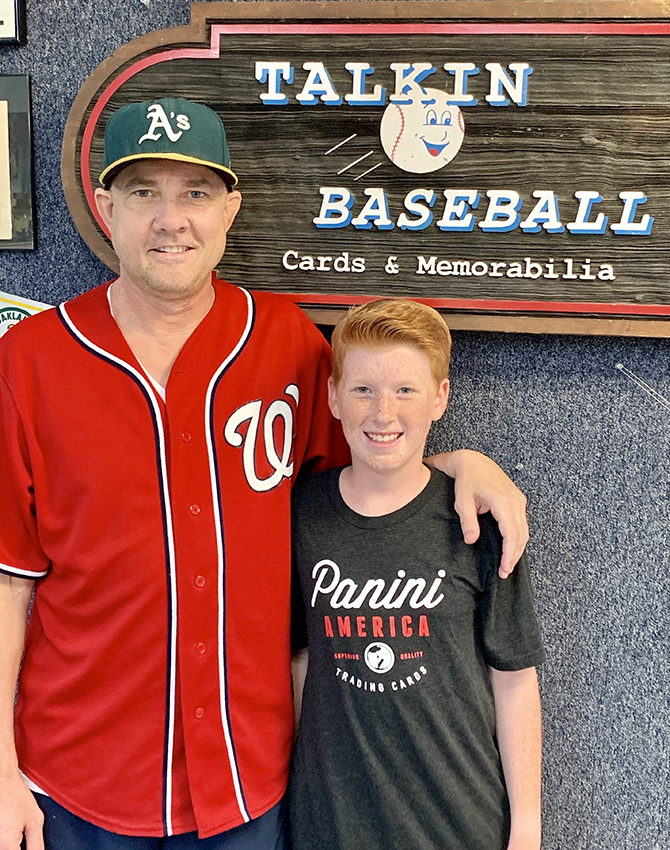 Nate Ware of Danville, Calif., is like thousands of other young sports card collectors across America. He saves up his allowance to make regular visits to his favorite hobby shop with the hope of finding his favorite players or a rare collectible inside a Panini America pack. But, unlike most other collectors, Nate's card collecting hobby opened the door for him to get a VIP Insiders Tour of Levi's Stadium and hang out with San Francisco 49ers running back Matt Breida as the grand prize winner of the Panini NFL Player of the Day National Sweepstakes.
The 15-year-old student at San Ramon Valley High School was among more than 150,000 NFL card collectors who participated in the Panini NFL Player of the Day contest at nearly 600 hobby shops this season. He is among the thousands who earned prizes; but as the grand prize winner, he is the only one spending the day with an NFL player. His journey began just like thousands of other collectors when he uncovered the Panini NFL Player of the Day in a pack of Panini NFL cards. He was then randomly selected as the store's grand prize winner and was entered in the national sweepstakes with winners from the other shops.
The special day will begin with a bus ride for Nate and 20 of his friends to Levi's Stadium –- home of the San Francisco 49ers for a VIP, behind-the-scenes tour of the 49ers Hall of Fame, locker room and many other surprises. When they get to the field, they will be met by Breida and given the chance to pose for a photo, get an autograph and even play catch with the 49ers' running back.
Following the party at Levi's Stadium, Nate will accompany Breida to a free autograph session at his favorite hobby shop, Talkin' Baseball, at which up to 150 of the shop's best customers will get to meet the 49ers young star and get an exclusive NFL Player of the Day autographed card. Additionally, Nate will receive a goody bag from Panini and a $250 shopping spree for Panini NFL cards at the shop.
"We are excited to create this special day for Nate, his friends and family, and the loyal customers at Talkin' Baseball," said Jason Howarth, Vice President of Marketing for Panini America. "Collectors have a chance to get closer to their favorite NFL player in every pack of Panini NFL cards, so it's fitting that we cap off the Panini NFL Player of the Day promotion by bringing a player and collectors together for a memorable day."
A collector since he was 7 years old, Nate started out trying to collect as many cards as he could, buying random packs at various places. As he has stuck with collecting and learned from other customers and mentors at Talkin' Baseball, he now collects cards based on the players, card quality, autographs, memorabilia cards, etc., and has quite a solid collection of about 30,000 cards. Nicknamed "Red," he's become a favorite customer at Talkin' Baseball and even helps out around the shop. A tech-savvy teen, Nate has a YouTube channel where he records videos of his pack breaks. His favorite products from the 2018 season were Obsidian and Prizm, but like many collectors, his dream is to open a box of Flawless. Beyond collecting, he is on the school's volleyball team and volunteers his time to Pledge to Humanity and CSF at the high school as well as the family's non-profit, The Crayon Initiative.
The 2019 Panini NFL Player of the Day promotion included more than 600 hobby shops. This marks the 19th consecutive year that the NFL Player of the Day program has given an NFL card collector the chance to spend the day with an NFL player.  Past players have included: Patrick Mahomes II, K.J. Wright, Jeremy Langford, Terrence West, Antonio Brown, Prince Amukamara, Beanie Wells, Pierre Thomas, Patrick Crayton, Steve Slaton, AJ Feely, Maurice Jones-Drew, Chris Simms, Rudi Johnson, Donald Driver, Ed McCaffrey, Chad Pennington and Frank Wycheck.
Stay tuned for complete coverage of next week's big event.