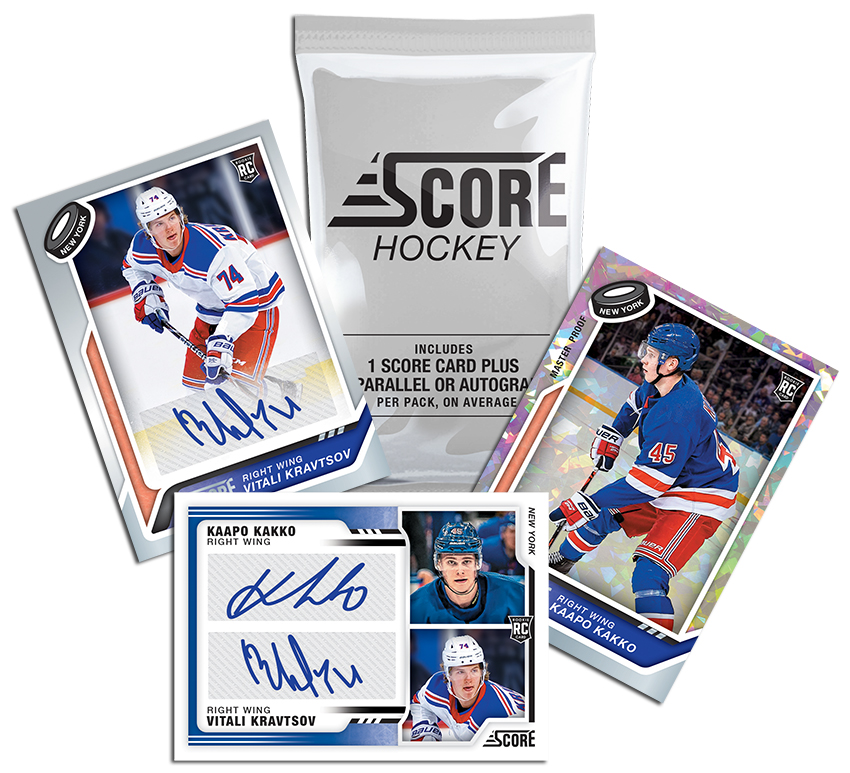 Panini America, the world's largest licensed sports and entertainment collectibles company and the exclusive trading card manufacturer of the NFL, NFLPA, NBA, NBA Players, College athletics and NASCAR, created quite a stir in the sports collectibles marketplace last month when it announced it had signed Finnish hockey star Kaapo Kakko to an exclusive autograph trading card agreement. Today, the company's hockey buzz continues. On Wednesday in advance of the season, the company will release 2019-20 Score Hockey as a direct-to-consumer product available exclusively through iCollectPanini.com. 
The company's first hockey product in five years will include more than just Kakko, though. It also will feature Kakko's talented rookie teammate Vitali Kravtsov, the latest hockey player to join Panini as an exclusive autograph trading card athlete. Kakko (the No. 2 overall pick by the New York Rangers in the 2019 NHL Draft) and Kravtsov (the No. 9 pick of the 2018 NHL Draft) will join forces side by side (literally) in Panini's 2019-20 Score Hockey.
Each two-card pack of 2019-20 Score Hockey, will include one Rookie Card of either Kakko or Kravtsov and one autograph or parallel of the other. In addition to including autograph cards of both players, there are also limited dual autographs. Parallel versions include Black (not numbered), Red Line (numbered to 99), Blue Line (numbered to 49), Goal Line (numbered to 25), Artist's Proof (numbered to five) and Cracked Ice Master Proofs numbered to only one.
The two-card, direct to consumer product is just the first release that will feature Kakko and Kravstov for the 2019-20 hockey season with additional Panini hockey releases to follow highlighting the two young rookies. Both Kakko and Kravtsov also will be featured throughout the 2019-20 season on Panini's Instant platform – which celebrates real-time performances and milestones with cards available for just 24 hours on www.paniniamerica.net or the Panini Direct app.
"Our return to hockey is quite an exciting time for all of us internally but also for hockey collectors who have asked for years when we would return," said Mark Warsop, Panini America CEO. "That demand only increases given that our products will be the only place to obtain autographs and autograph Rookie Cards of these two players who represent the future of hockey.
"Score is a flagship product with a strong heritage in trading cards and provides the perfect platform for our first re-entry into the hockey card market. This is going to be a strong year for our hockey releases."