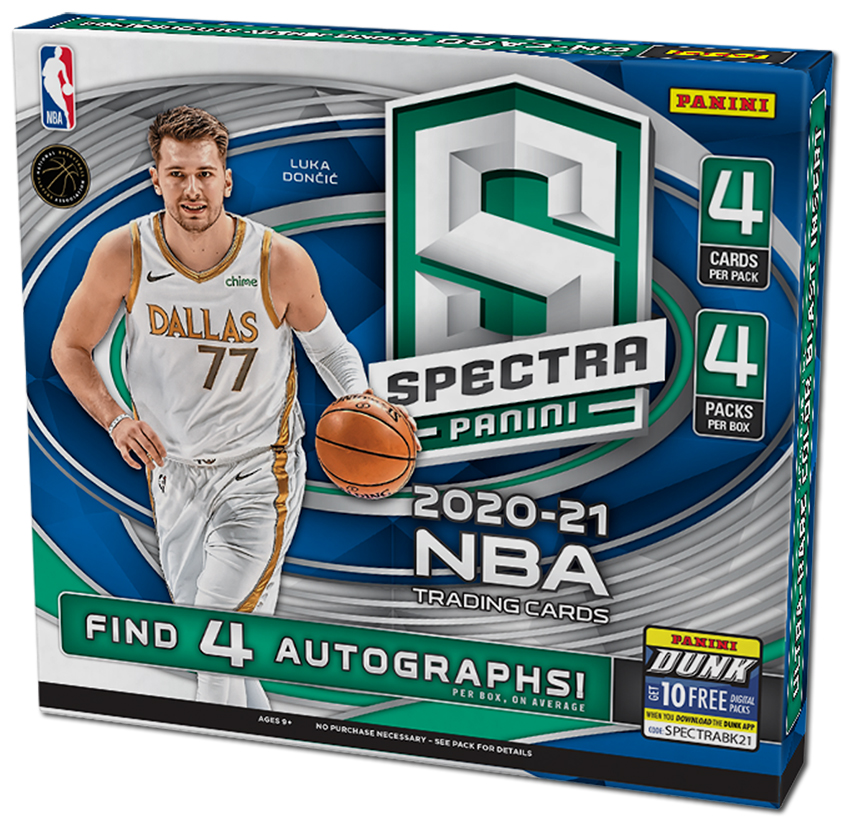 Yes, we're aware that 2020-21 Spectra Basketball released in hobby shops across North America earlier today. And, yes, we're aware that our Quality Control Gallery preview posts traditionally arrive a day or two before a product releases. But it's been one of those weeks here at Panini America so you'll have to forgive the slight tardiness of this must-see look at the product.
Besides, we can likely all agree that it's never really too late to appreciate a product like Spectra. On average, each hobby box (four cards per pack, four packs per box, eight boxes per case) will deliver four autographs and four parallels per hobby box, on average.
The highlights of the product are many and include . . .
One of the most sought-after Optichrome products of the year, Spectra Basketball returns to deliver popular card sets and parallels.
Each pack contains one autograph and one parallel (from a roster that includes Silver, Celestial, Interstellar, Meta, Gold, Universal Die-Cut, Marble and Nebula.
Find on-card Rookie Jersey Autographs of the top rookies such as LaMelo Ball, Anthony Edwards, James Wiseman and more in popular parallels Celestial, Interstellar, Astral, Meta, Gold, Marble, and Nebula.
The short-printed and highly popular Color Blast insert makes its return to Spectra with 25 of the top current, retired and rookie players.
Enjoy the imagery that follows and stay tuned for additional coverage.