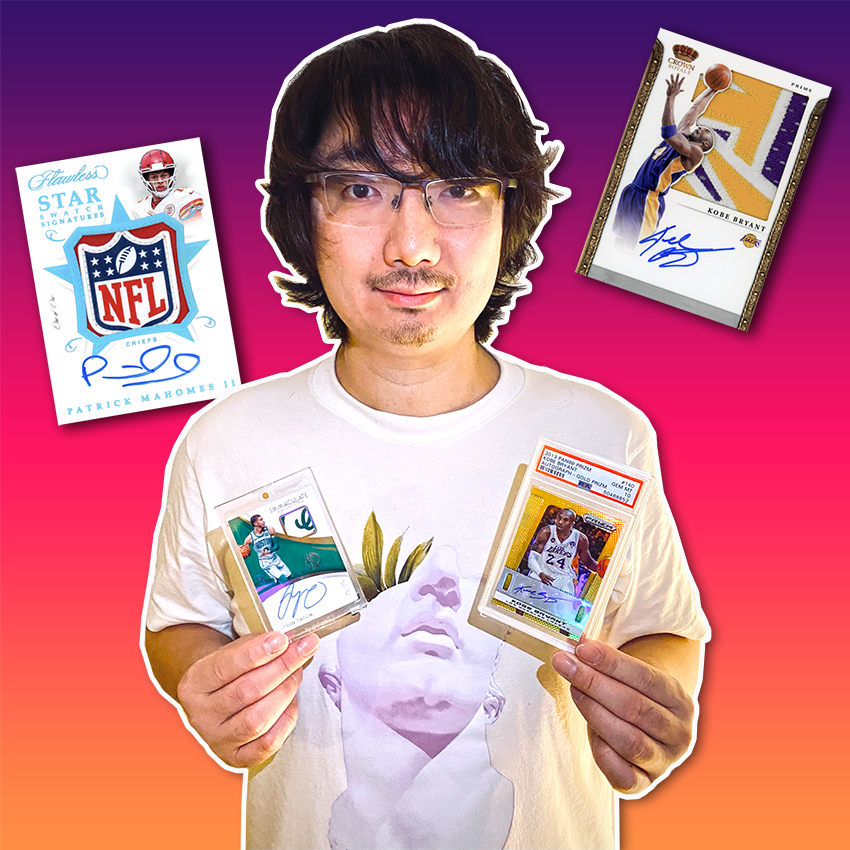 Every now and again here on The Knight's Lance, we love profiling some of the hobby's most passionate collectors. Today, we get the opportunity to do so again, this time with Dingyu, a Berlin-based supercollector better known on social media as "Spinotron." This is his story in his words . . .
I am very grateful to be featured as a collector on the Panini America blog. I will take this opportunity to showcase some cards from my collection with a dose of my collecting style and philosophy. Nowadays, the investment aspect tends to get over-emphasized. Meanwhile, some strong support from true collectors is always healthy for any sector of collecting — even from an investment angle, great picks tend to be from consideration of real passion rather than trend data crunching. Therefore, I hope I can provide some flavor and insight for fellow collectors, old and new, to find their own paths in this interesting, unique and rewarding hobby.
I have been known as "Spinotron" in the hobby since I posted on the Hobbykings forum back in 2010 or so, right around the same time Panini America entered the hobby as the new and exclusive NBA-licensed card company. My real name is Dingyu and I'm 38 years old. I grew up in China until the middle of high school, went to the University of Cambridge (in the UK) for college, then to the great New York area for my Ph.D., and nine years of work after that (with two years in Paris in between). Now, I am working and living in Berlin.
Back to the start of my collecting hobby: First of all, I like players with flair, "It" factor and solid skills who do not shy away from the biggest moments and are clutch. I like the fact that Kobe Bryant started in the All-Star Game before he even started for his own team. He completely blew me away in the 1998 All-Star Game with the alley-oops from KG, a few never-before-seen moves, and never backing down in any matchup. I was in the hobby fairly early as I opened many packs during 1997 to 2000; but then I was away for about a decade until the moment when I tried to search for a sketch variant comic book of The Return of Bruce Wayne, and then thought about also searching for some Kobe Rookie Cards I suddenly remembered. Soon after, I started to focus on some of the rarest and best Kobe cards only after devouring any hobby information and knowledge I could find on forums. I've been collecting ever since.
I'm a diehard Kobe fan as my growth and his NBA development took place in the same timeframe. The core of my collection consists of rare Kobe cards with some historical significance. On top of that, I collect mostly special serial numbers. Primarily first number (often in the first-year releases), last number and jersey number (preferably simultaneously if possible). For example, the 24/24 Acetate Patch and 8/8 in Immaculate Numbers which are both last and jersey numbers. The rare Kobe cards obtained, often after quite a bit of effort to track down and unlock from previous homes, then serve as centerpiece foundations to further grow pairings and (partial) sets, with precise levels of matching qualities. All of which I hope to illustrate from my curation below.
I will sample over some of my favorite Panini America cards while telling some stories behind them.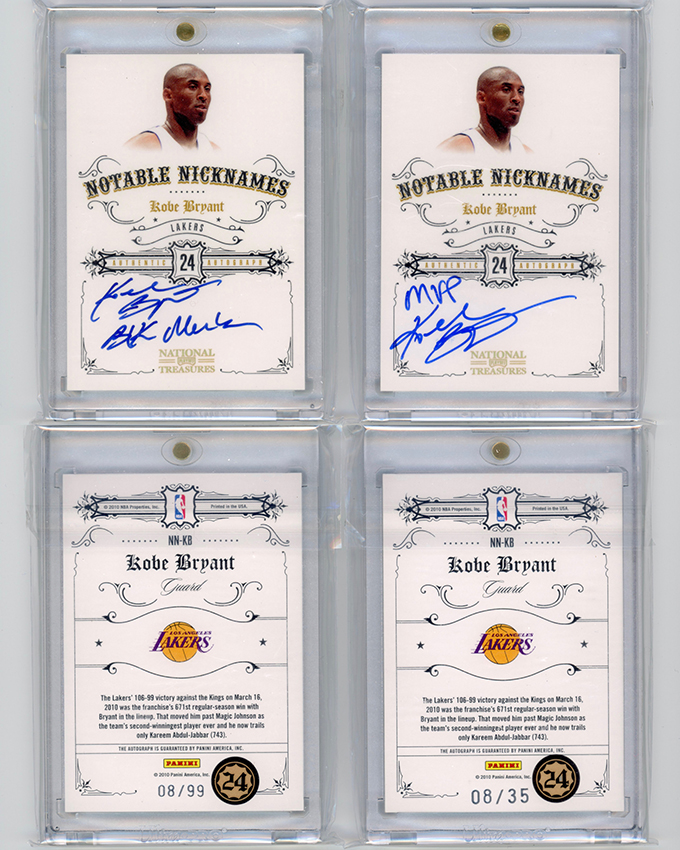 We start with the Kobe Notable Nicknames. I think this is the first inscription set in hobby history and features a nice lineup of signers. I got both Kobes in matching serial number 8. The print run being 99 is genius, as it allows just enough people to get their hands on them while building the momentum through various visible transactions. The version out of 35 can only be acquired as a special replacement. Based on market reaction and forum discussion, I think this set together with his Silhouettes Prime (below) really put Panini America on the map during the initial phase.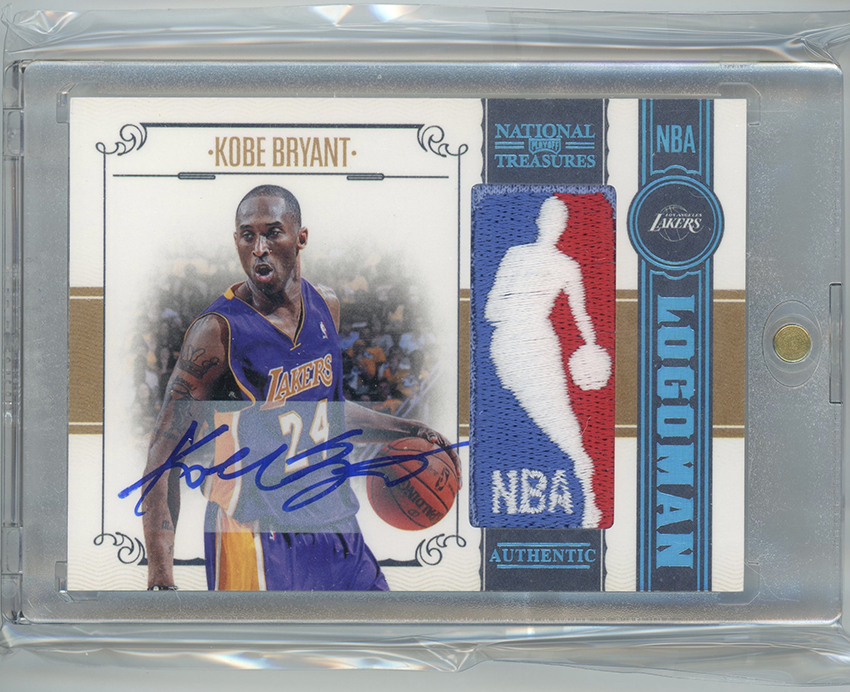 If I could keep only one card in my collection, it would probably be this one because of the special NBA Logoman patch displayed. This style of "MPLS" throwback jersey was worn only once when the Lakers visited Minnesota on April 11, 2002. Kobe also wore it during the Lakers' threepeat parade celebration. I was able to locate a perfect photo-match to the game and have added details on my website and Instagram. Photo-matching a Logoman card is virtually impossible as the jersey has been cut up. But it was made possible in this case thanks to the color of the jersey (which is cleverly shown) and the rarity of this special jersey. I really appreciate the use of special-jersey Logoman cards by Panini America in these highly exclusive cards.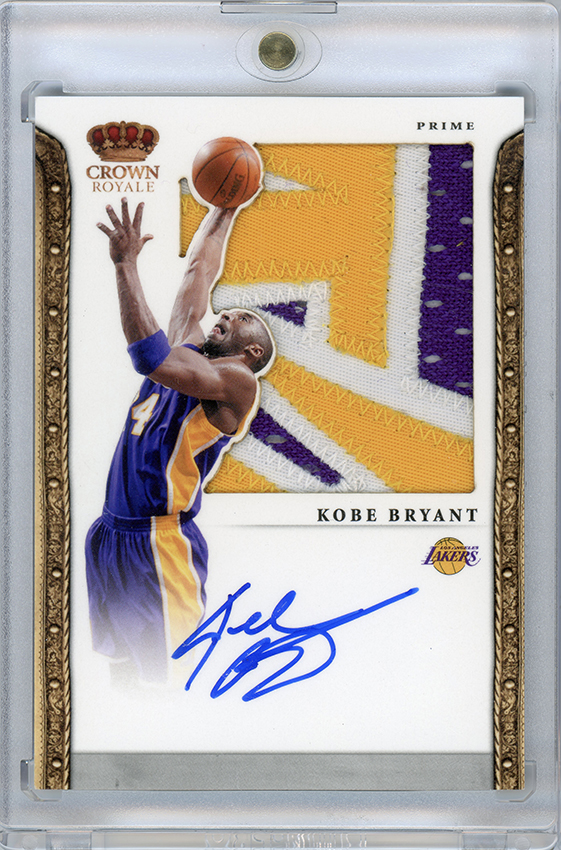 The Silhouettes Prime card is one of the most creative and original card designs, as the silhouette of the player's action shot forms a part of the patch border and the spacing created gives an extra, intricate peek of the patch — and this patch is probably the best with 13 breaks. This card, in my opinion, stacks up against any Kobe patch auto card ever produced.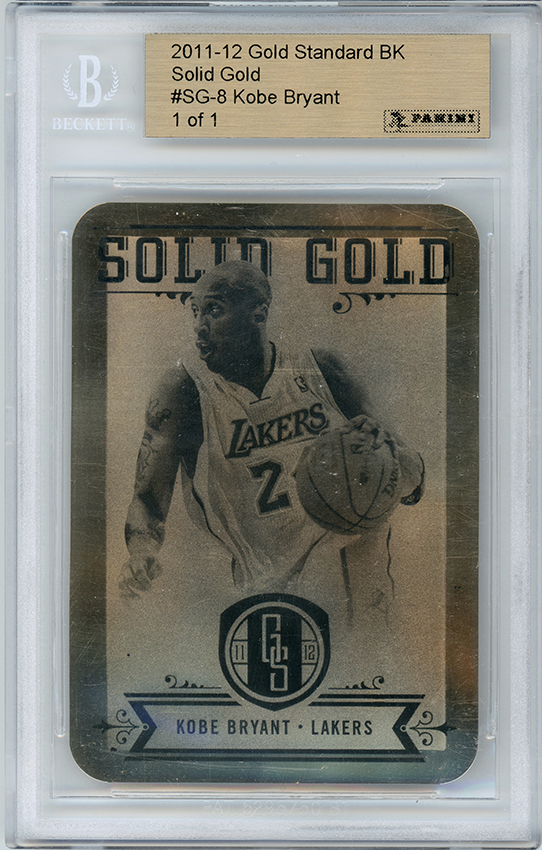 In card manufacturing, there are only so many things to try and vary, so one needs to borrow and build on previous concepts. But Panini America keeps on pushing boundaries. Take this Solid Gold card as an example. This is the second-year release, which I especially appreciate because the Gold Foil Card is part of Chinese culture as gift tokens from parents or a good-luck charm.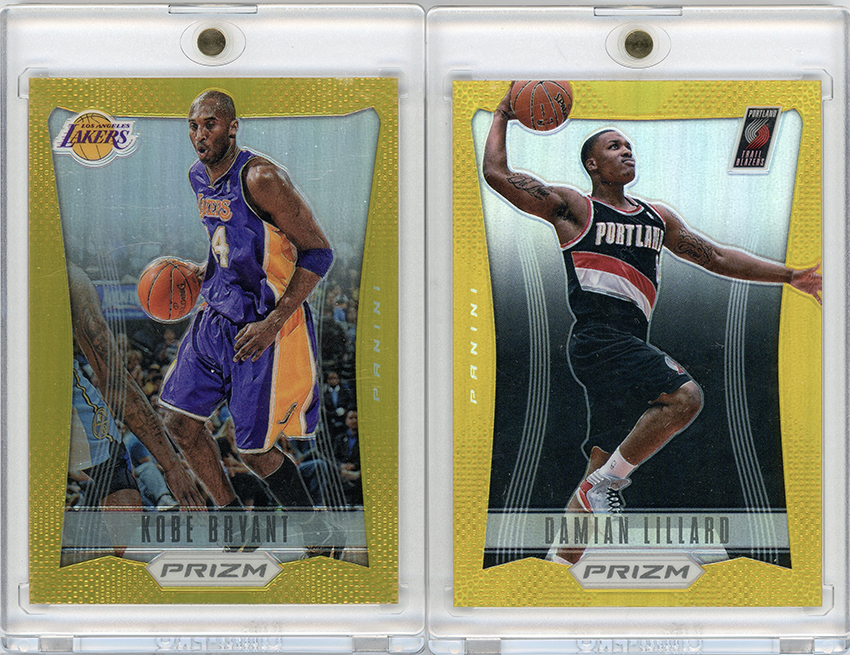 One of my most systematic chases was the 2012-13 Prizm Gold /10 chase. I remember back then whenever I took a nap, I felt like I would miss out on a couple of key cards. I have completed the Lakers subset of 23 cards as well as the Lottery Pick Double Rookie Class subset of 28 cards, most of which feature special numbers. These two subsets are represented in this pairing with the Kobe 8/10 and Damian Lillard 10/10.
Prizm Basketball is very much at the center of the current market craze, so I will include two more cards. Kobe's first-ever Silver Prizm Autograph (1/25) and Kobe's first-ever base 1/1 in Prizm technology from Select. An unnumbered Prizm base card in the same design in high grade just sold for 12 times what I paid for this 1/1, which gave a glimpse of just how far the hobby has evolved.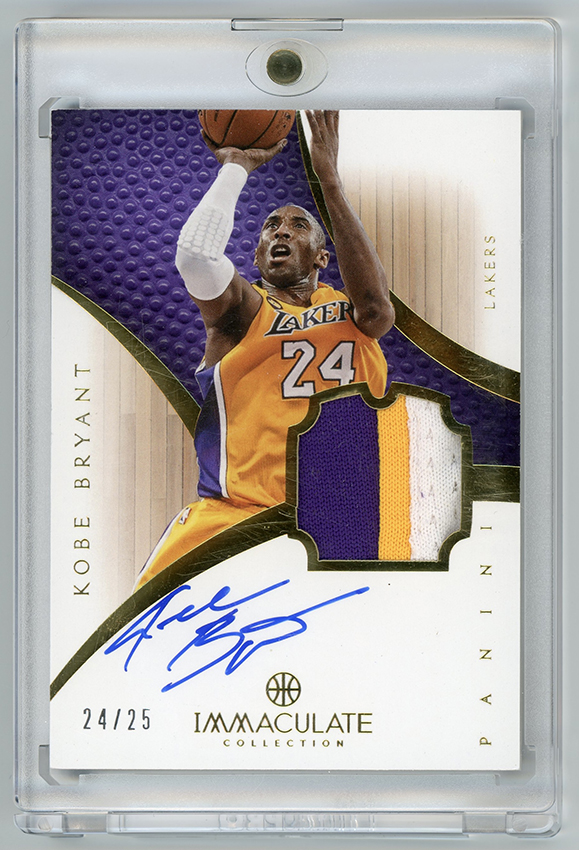 Now I will showcase a few Immaculate cards. The first-year Immaculate product is my favorite Panini brand by far. The Kobe Veteran Variation is the first time for Kobe to be featured in an RPA design; he was not part of the Flashback set in 2009-10. Besides having jersey No. 24, I also have the Premium Patch 24/75 and 24/25. The parallel /25 is called Chinese Red, Panini America's first culturally relevant set nodding to the red packet before Chinese New Year, which adds so much depth to the collectibility.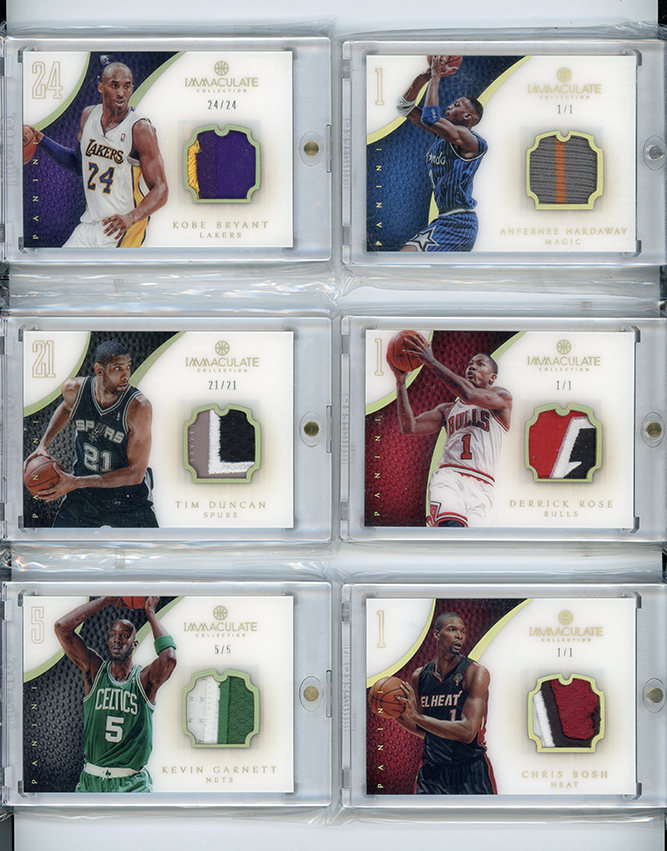 The group picture gives a snapshot of my huge set-in-progress, for which I have around two-thirds of the 100 acetate patch cards precisely in last and jersey numbers, which is essentially a set chase of a hundred 1/1 cards; the first column is Kobe's HOF class and the second column is 1/1 triple, three out of the possible five in the set. The title-winner Lakers subset features Kobe-era Lakers and execs, and Showtime Lakers; and all eight players are last numbered, namely championship-count numbered.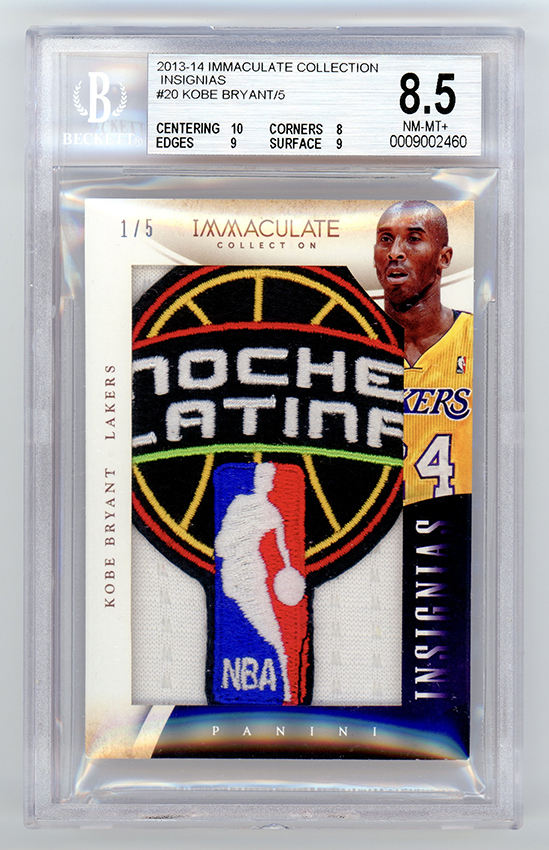 The Kobe Latin Night Logoman patch can also be photo-matched to the game where Kobe dunked over Josh Smith on March 13, 2013, with Mamba venom in the celebration afterward — one of the best Kobe highlights. Both special Logoman cards have been positively ID'ed, truly bringing us close to the real game.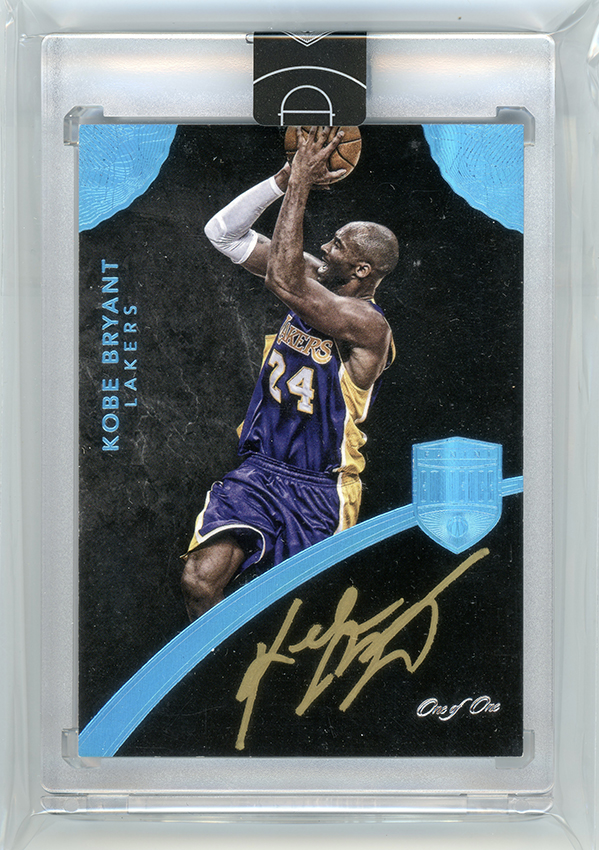 Kobe's Eminence Base 1/1 autograph is the most desirable parallel in the most exclusive base set ever. Eminence has the highest MSRP out of the gate and has been released just three times.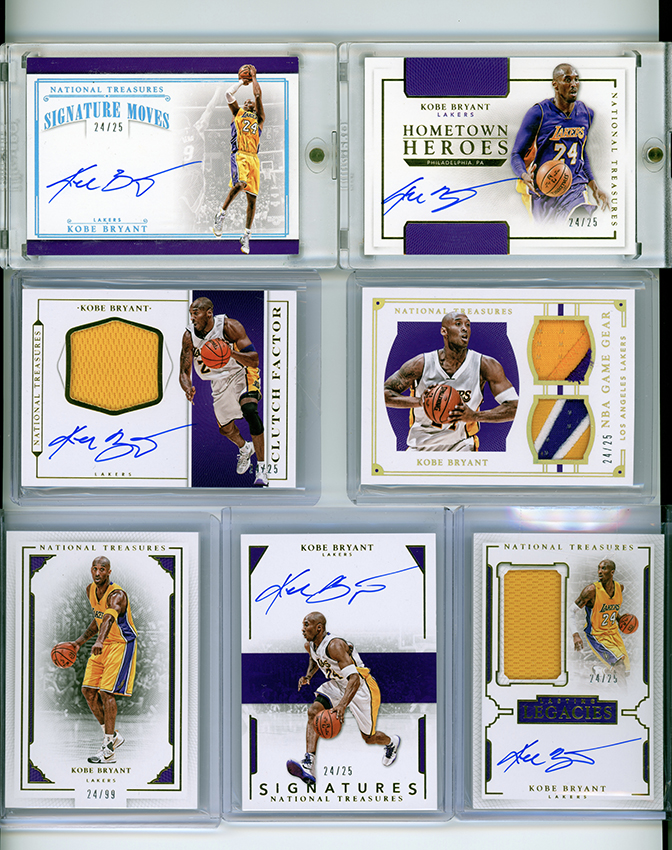 The group of "24" National Treasures cards is special as this NT was released right after Kobe's final game, so he signed them during his playing days and they are his last "playing days" cards. Since that scan, I've added two more NT 24/25s released in the same product.
Collecting is like building knowledge. Once you have the main structure in place, you can just slot in new entries at various places to make things more complete and enriched. I hope I have narrated enough to show my structure and what qualities in cards make me jump out of my seat and instantly scream "must-have!" From now on, I will just tell some stories about a few more pairings, give a few one-liner descriptions of others, and then let the pictures of the remaining cards speak for themselves.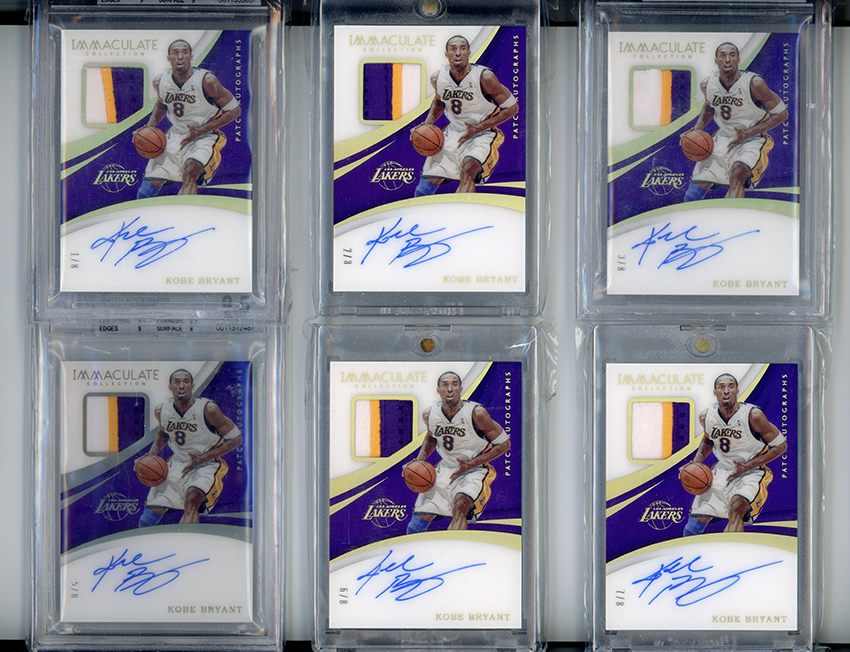 I have managed to amass seven of the possible eight cards in Kobe's last-ever appearance in an Immaculate Patch Autographs set, with potential completion currently under discussion. Kobe Immaculate Patch Autos have several releases and the Acetate versions numbered to the depicted jersey numbers can be thought of as Number Pieces. Panini only did jersey number /8 for one year and, sadly, this happened to be Kobe's last patch auto in Immaculate. I had acquired five out of a possible eight copies of the card, although I didn't exactly have this goal in mind. Then the sixth one showed up in China. The (previous) owner back then was not ready to let it go although a discussion seemed to lead to an agreement. After several months, I went to a card show in China to meet that owner and possibly work out a deal for the card. A second after meeting him, he immediately told me that he could sell it to me, with his friend shouting close by, "Where is your poise?" That collector remains a close friend and we discuss collecting goals and strategies from time to time. The six cards I had then already contained serial numbers 1, 2, 3, 6, 7, which are Kobe's NBA Finals trips that resulted in rings, and I showcased a group photo of these five as my ultimate tribute and respect.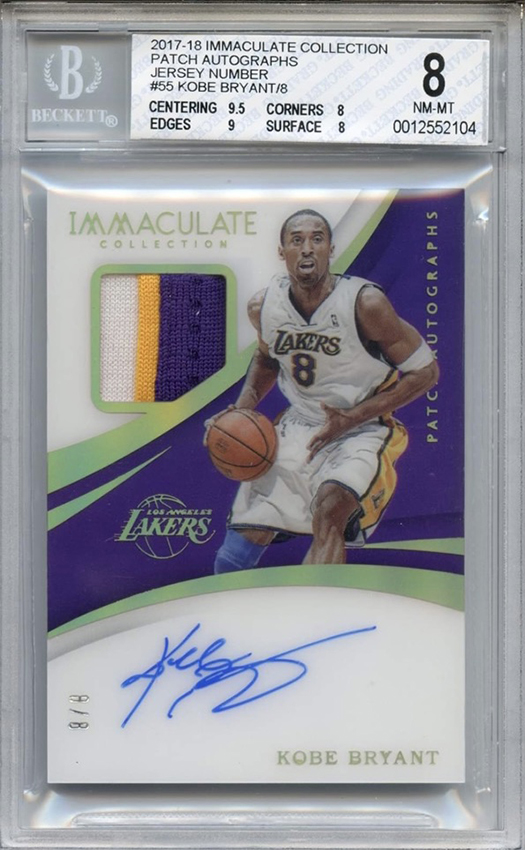 The 8/8, the very last Kobe Immaculate Patch Auto, was pulled by a breaker and I had to pay more than the total of the previous six cards combined for it, after much discussion and having my close friend fly to the owner (with a hurricane delaying the flight, no less) to close the deal in person; I was still in Berlin under travel restrictions. Landing that 8/8 card gave me a sense of closure as a Kobe collector, and is a huge relief. I put my hobby nickname on the BGS label and the front of the card contains exactly eight occurrences of the number "8" — an amazing nuance to behold.
I also like to organize cards and (re)discover patterns and hidden connections, which is an underrated part of the hobby that can yield so much fun. My wife often laughs at me saying that I have bought all these Holy Grail cards to just scan them and play with them in an image-editing app.
As I live in Berlin, NBA games happen at an odd time that makes it hard to sleep late or wake up early as the games are right in the middle of the sleep. On the other hand, the NFL can be watched live at normal hours and, naturally, my football collecting quickly followed suit.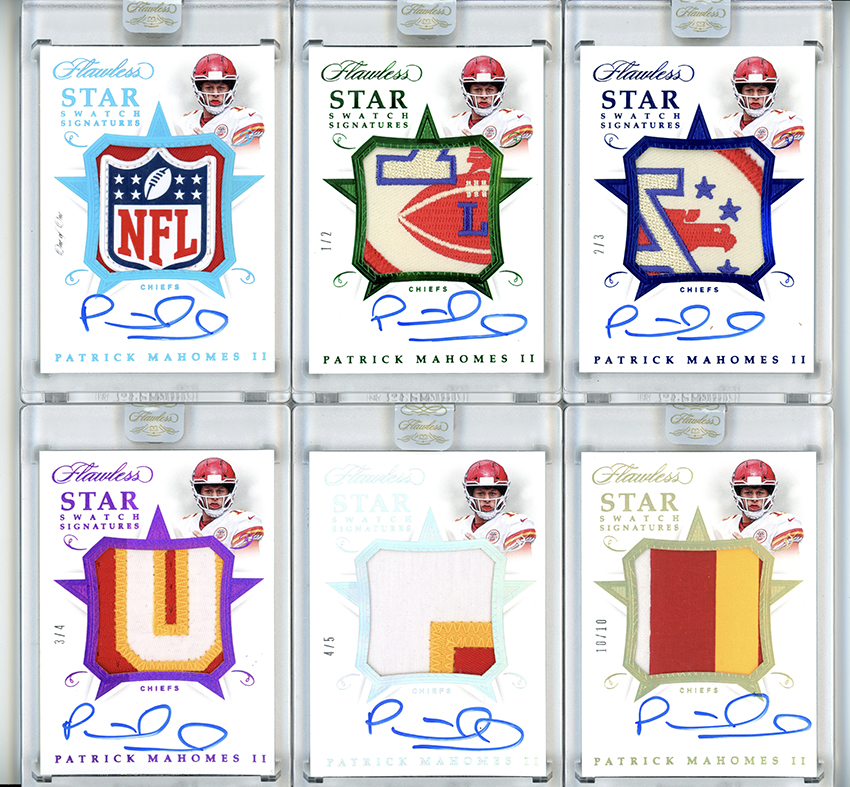 The Patrick Mahomes Flawless Rainbow is probably my proudest rainbow because each card in the rainbow is extremely rare. Moreover, both Mahomes and the Star Swatches insert are in huge demand. It is just perfect to have bookends in the first and last cards with each remaining card numbered to the print run of the previous card. I completed it before Mahomes won the Super Bowl and the recent meteor rise of the market.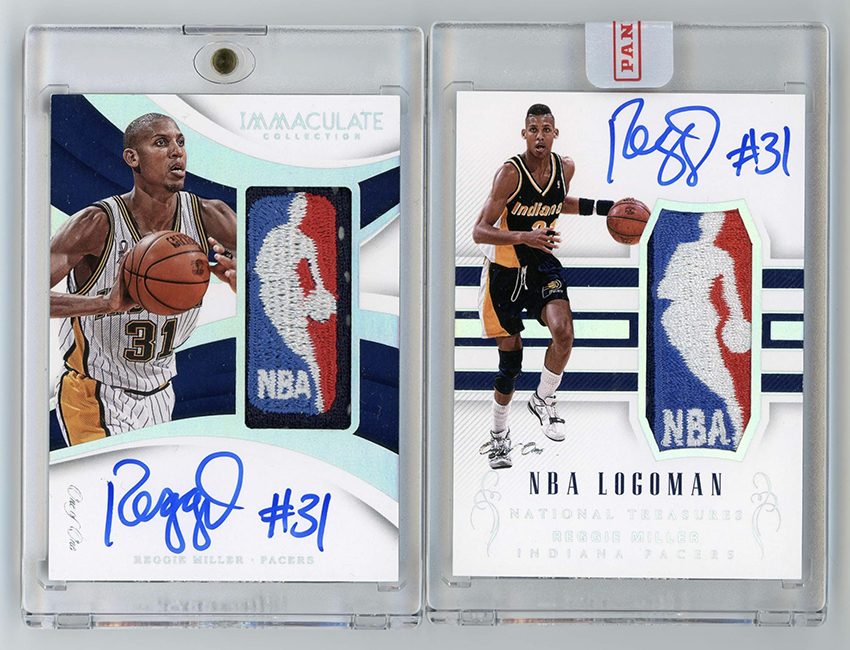 Let me comment on a pair of Reggie Miller Logoman Autograph 1/1s I put together that have been seen by just a small handful of people. These two cards are the only cards shown in this post that do not currently belong to me, but I want to include them here for a few reasons. 1) I traded them for arguably the best Kobe 1990s card, which illustrates the power of trading. In order to land a Holy Grail Kobe card, I needed to become the best Miller collector for eight years. A bonus is that a strong friendship was forged with the owner of the Kobe. 2) This is also a great example of Panini America protecting certain categories of rare cards and never watering things down. These two are still the only two Miller Panini Logoman Autographs so far, even though Panini can produce three in their top 3 products every year. This also shows that to level up in the hobby, you should be willing to embrace any challenge for a long period of time.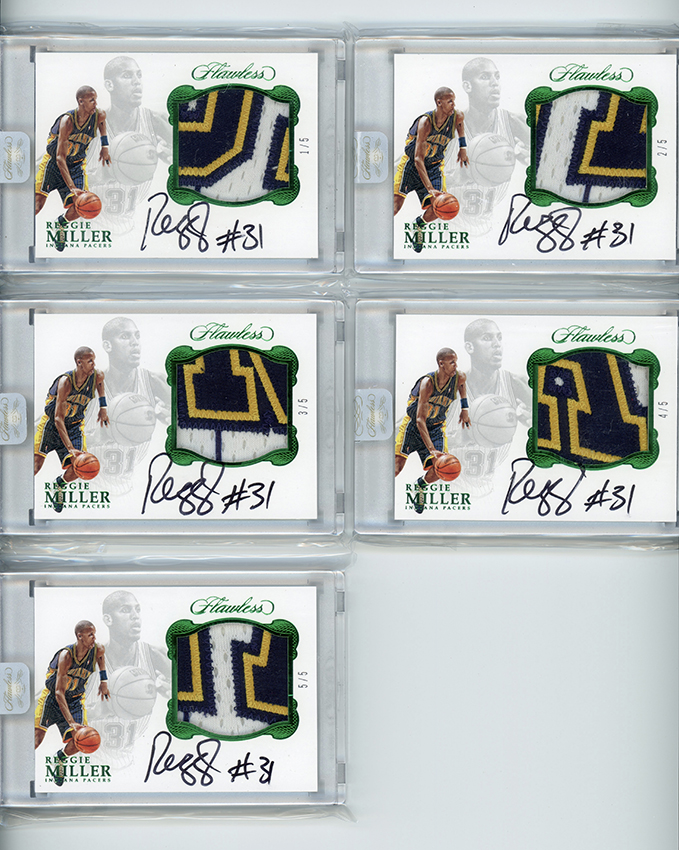 Even after the trade, my Miller passion is still going strong, as I landed a full print run worth of Star Swatches in the best hobby color, Emerald /5.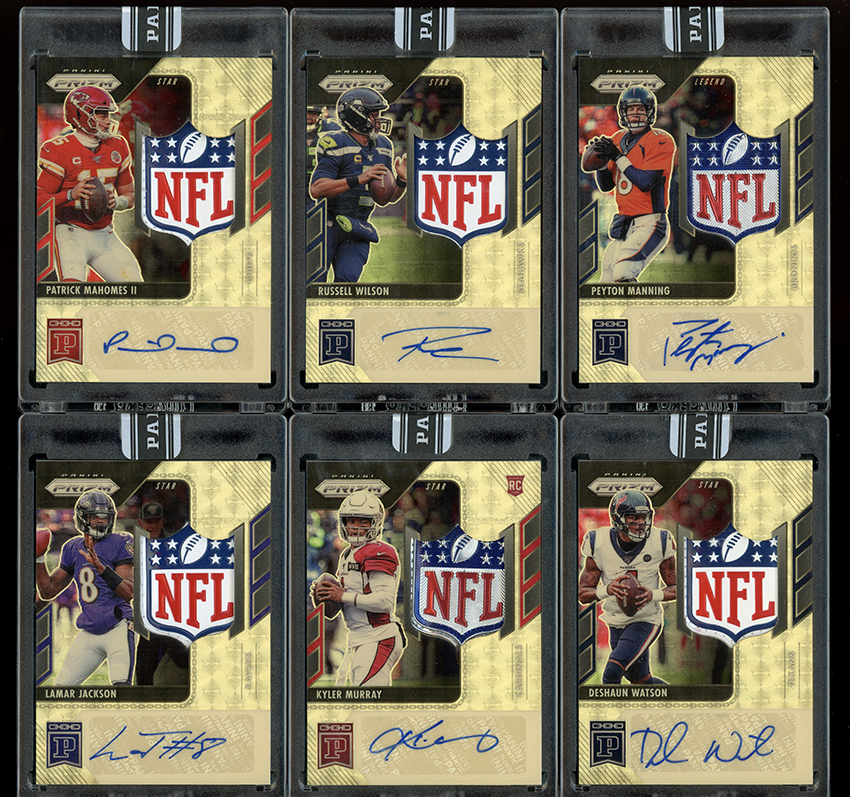 I'm a big believer and supporter of Panini Blockchain cards, especially those for which Prizm first meets NFL Shield or NBA Logoman for superstar players. Panini has these concepts well ahead of their time, a full year before recent blockchain-backed NFT art pieces started making waves. The Giannis in my collection is one of just seven solo Logoman Auto 1/1s ever issued in all products of all years, and for Jason Williams, it's his only Logoman auto.
I will end this by quickly pointing out the historical significance of some of my remaining pieces.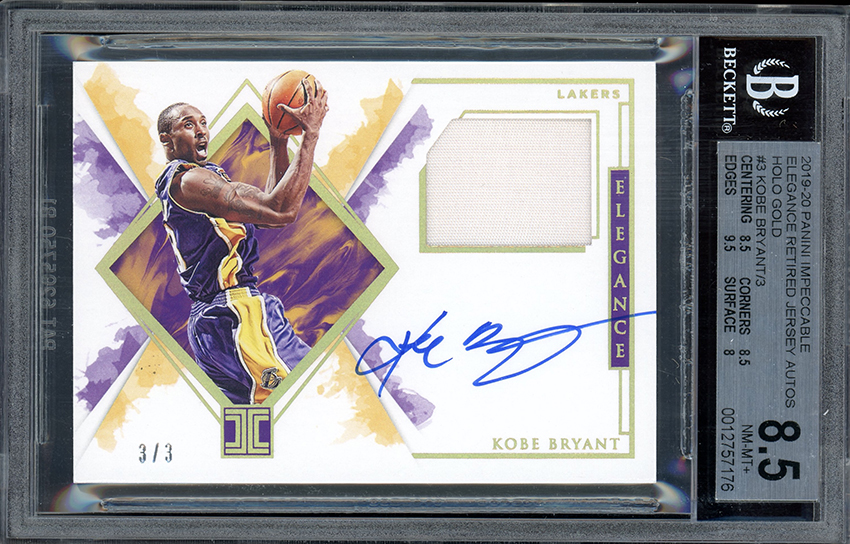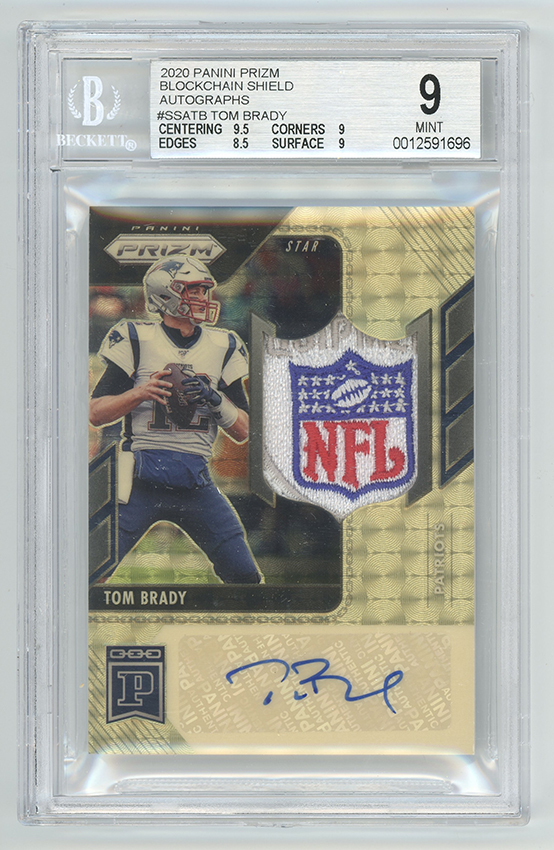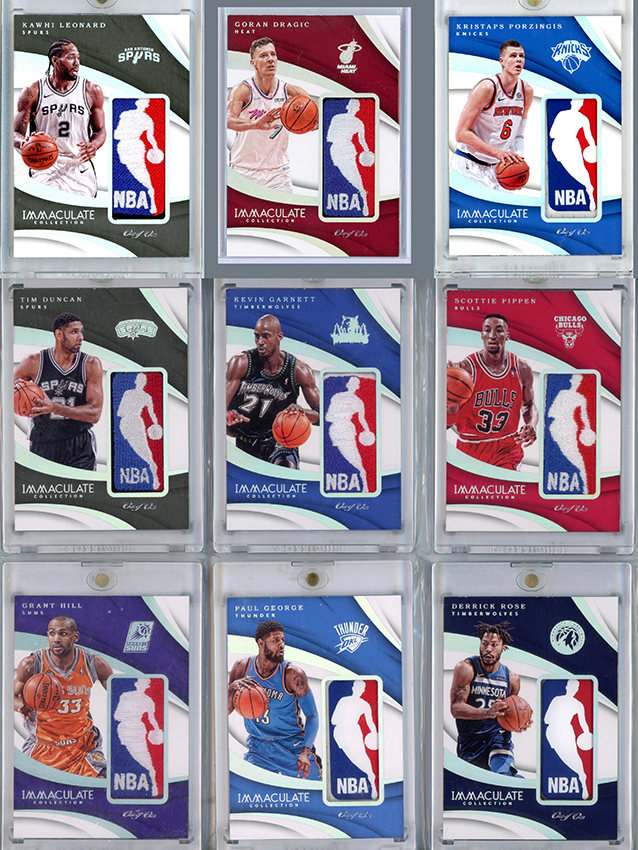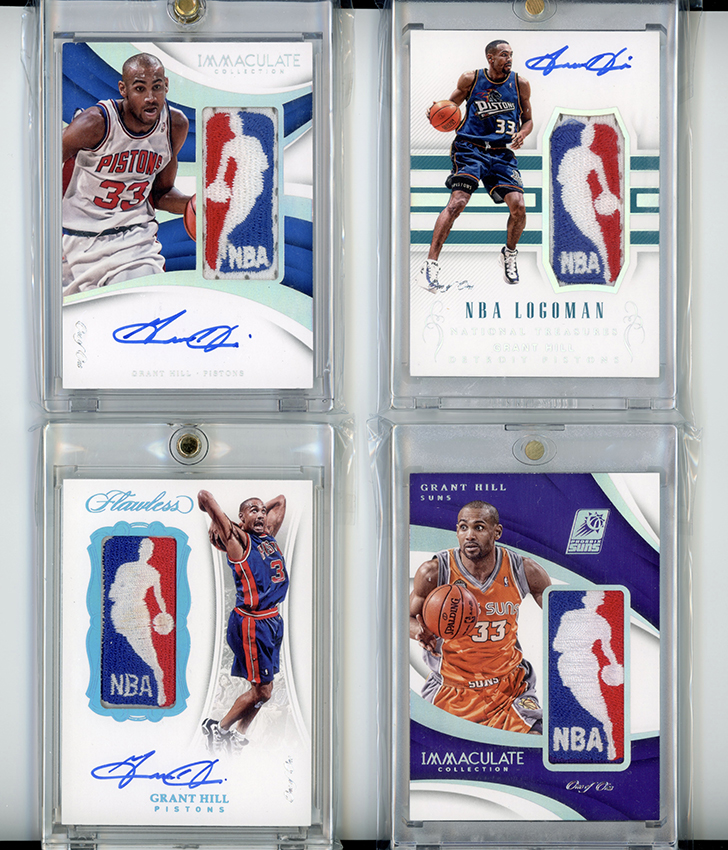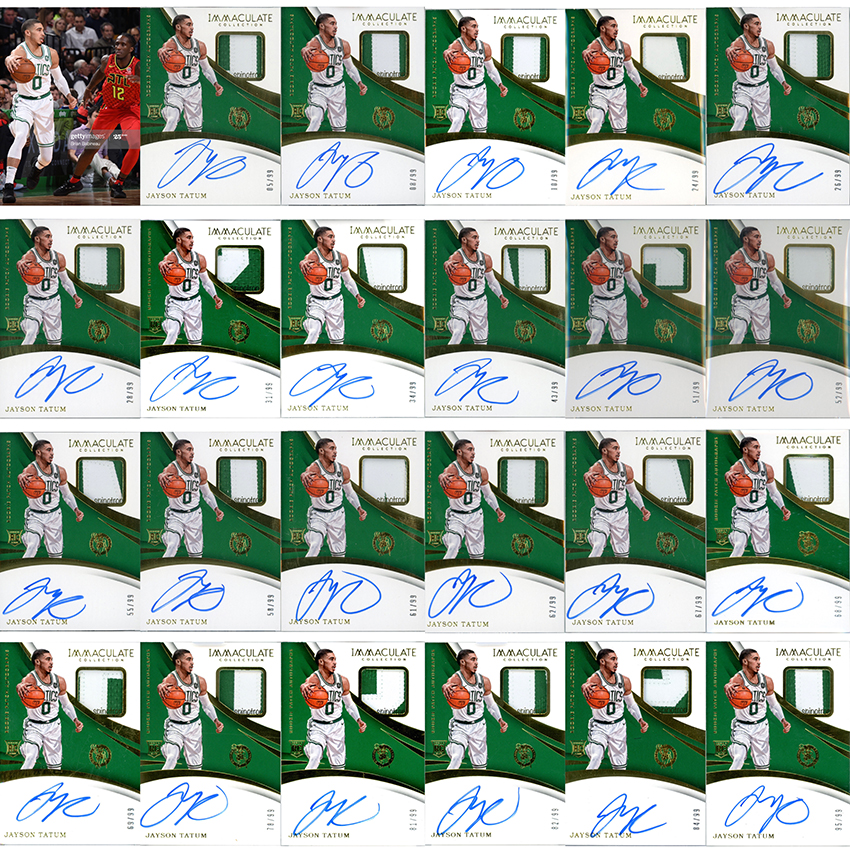 To be a passionate collector, one chases the best among the rarest. But one also needs to enjoy what one has amassed over the years and know that there is always one more Grail on the horizon no matter what. Having gone through some of my personal collection, I think the best part of collecting is the journey of chase with camaraderie, sprinkled with mostly healthy but sometimes fierce competition. Through that, you can meet many interesting people from all walks of life and from every corner of the world.
I'm a traveler, but whenever I go to a new place, I almost always have a friend to meet whom I have known through the hobby. I'm also very happy to help people in the hobby to find their footing and land their Grails and sometimes I even play the part of good luck charm. I've experienced many occurrences where people come to me to make a wish of certain cards showing up and right after, they do. This is funny as I come from a science background.
But the hobby is full of coincidence, connection, mystery and fun to be uncovered. If you are reading this, it likely means you are one of the lucky ones who's a part of this amazing landscape. But, if somehow you're not, please give it a try. You will not regret it.
Be sure to give Dingyu a follow on Instagram.