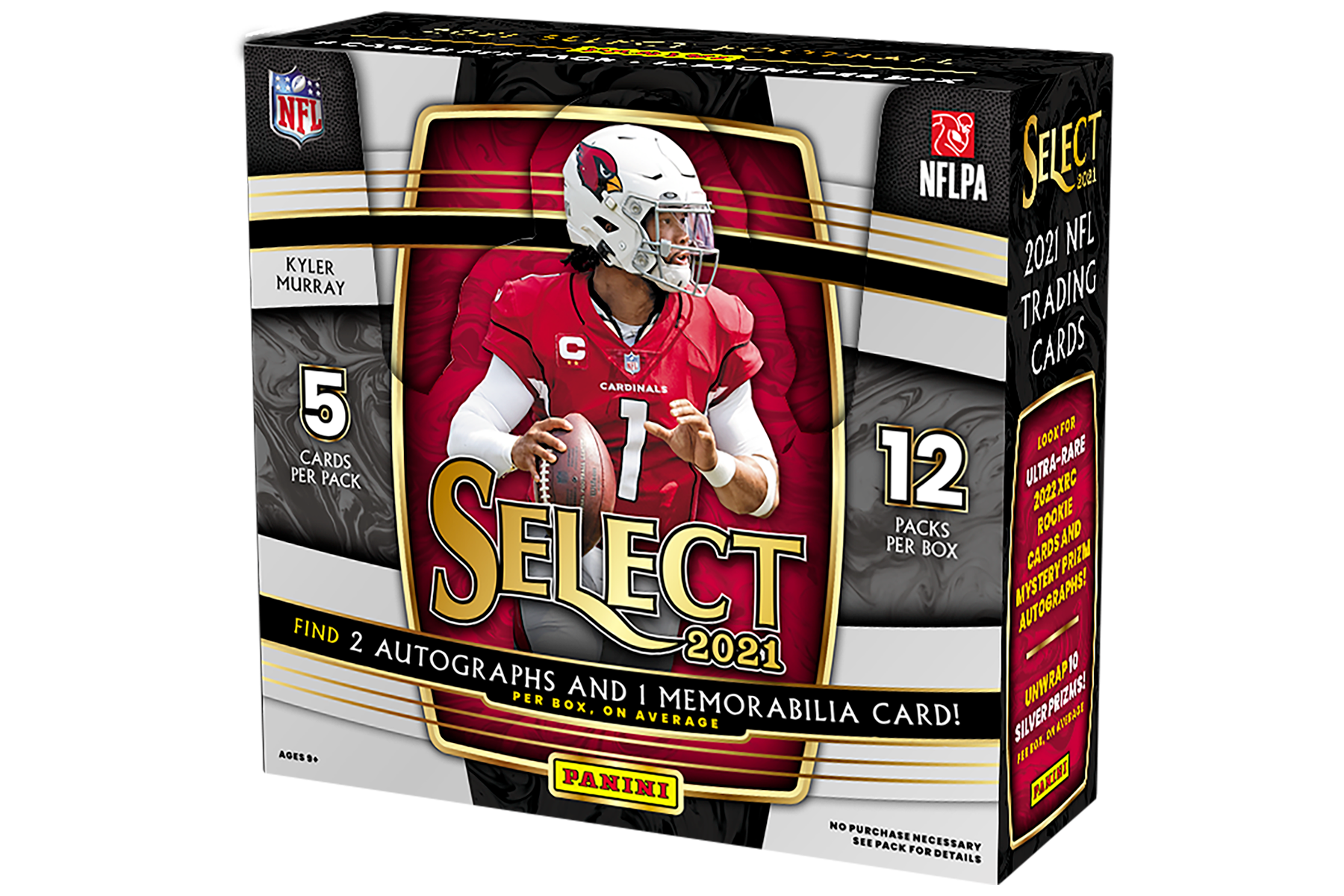 DETAILS:  Select Football is obviously a big release for Panini America, so I wanted to follow up the original sneak preview post with a large image gallery full of scans – to give collectors a true look at the product. I'm also aware that there's a lot of interest around the fact that the XRCs will be live in this year's Select Football (versus a redemption), so I've included several XRC scans (see last few cards in the gallery) – for your reference. Catch more details below.
PRODUCT BREAKDOWN:
One of the most anticipated releases of the year – 2021 Select Football brings you more parallels, inserts, and unique content than ever before!
Find all the best Veterans and Rookies on stunning opti-chrome technology!
Hobby boxes of 2021 Panini Select NFL Trading Cards contain 5 cards per pack and 12 packs per box!
Look for 2 autographs, 1 memorabilia, 10 Silver Prizms, 5 other Prizms, and 6 inserts per box, on average!
Look for all of the top rookies including: Trevor Lawrence, Zach Wilson, Mac Jones, Najee Harris, and many more!
Look for exclusive inserts and parallels that are only found in Hobby Boxes including: Phenomenon, Snapshots, Sensations, and new to 2021- Artistic Selections, Firestorm, Future Franchise, and Color Wheel!
Only found in Hobby Boxes: Look for XRC Mystery Redemptions which will feature some of the first cards of the 2022 NFL Draft picks!
*All information is accurate at the time of posting – content is subject to change.
SHOP THIS PRODUCT:  https://www.paniniamerica.net/cards/trading-cards/football.html
VISIT: http://www.PaniniAmerica.net
Also connect with us on:
Discord:  https://discord.com/invite/9PUgPHSdxq
Instagram: https://www.instagram.com/PaniniAmerica/
Twitter:  https://twitter.com/PaniniAmerica/
Facebook:  https://www.facebook.com/PaniniAmerica/