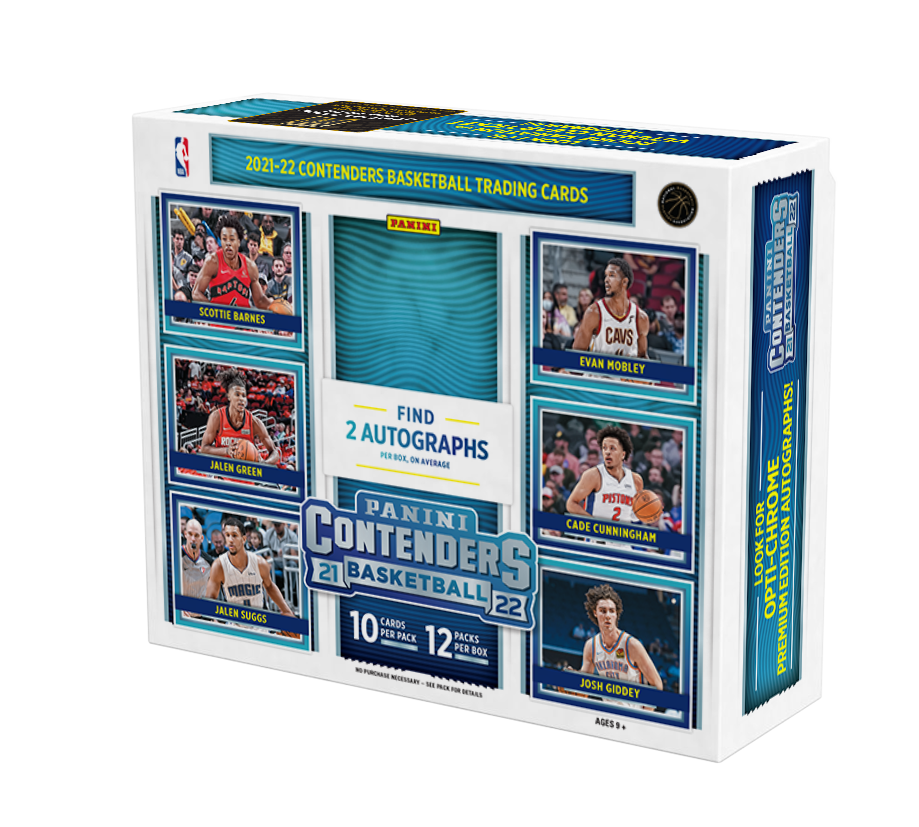 RELEASE DATE:  Wednesday, April 13th at 11am (CST) via the Panini Direct Store
PIS DOCUMENT:    See Gallery Below
DETAILS: While Contenders is a brand most well-known for it's Football products, Contenders Basketball has carved out a very well-respected space for itself amongst the heart of collectors. 2021-22 Contenders Basketball  returns this year in celebration of the 75th anniversary of the NBA! Each Hobby box contains 2 Autographs, 2 Parallels, and 8 inserts/ insert parallels in every box on average. Collectors will love the on-card autographs found on many of the top Rookie Tickets. See more details below including an extensive gallery of pack-pulled cards from the set.
PRODUCT BREAKDOWN:
The 2021-22 Panini Contenders NBA Trading Card Hobby Box contains 10 cards per pack and 12 packs per box!
Look for 2 autographs, 2 parallels, and 8 inserts or insert parallels per box, on average!
Chase on-card autographs of this year's top rookies in the highly anticipated Rookie Ticket Autographs!
Find autographs from some of the best players of the game in Veteran Season Ticket! Look for a variety of parallels including the Premium Edition Gold Vinyl (#'d/1)!
Collect the various inserts this year in Contenders, including the rare Hobby exclusive Permit to Dominate and License to Dominate!
*All information is accurate at the time of posting – content is subject to change.
SHOP:   https://www.paniniamerica.net/2021-22-panini-contenders-nba-trading-card-box-hobby.html
VISIT: http://www.PaniniAmerica.net
Also connect with us on:
Instagram: https://www.instagram.com/PaniniAmerica/
Facebook:  https://www.facebook.com/PaniniAmerica/
Twitter:  https://twitter.com/PaniniAmerica/