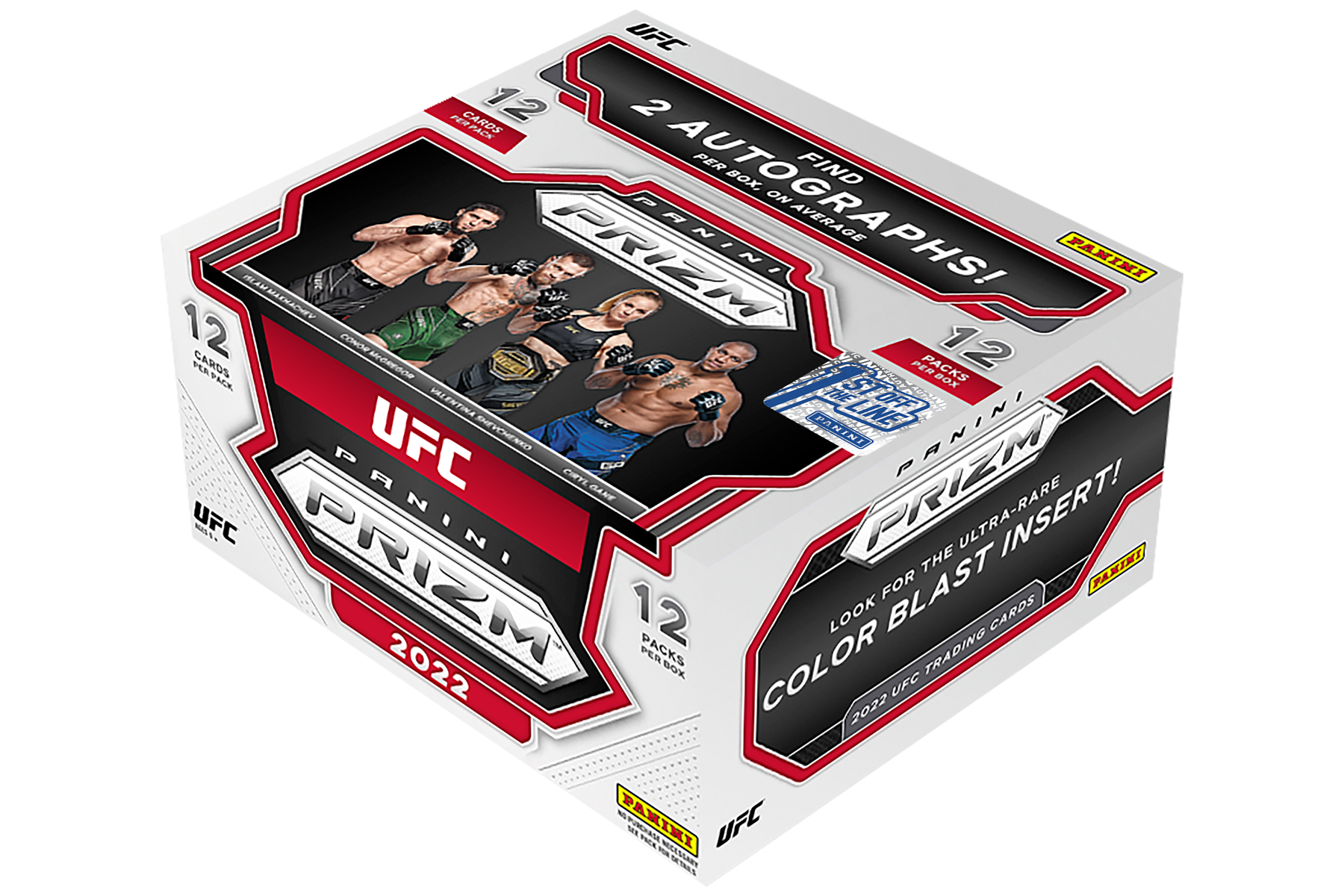 RELEASE DATE: Thursday, March 17th at 11am (CST) via Dutch Auction
PIS DOCUMENT:   22_PrizmUFC_PIS_HobbyFOTL
DETAILS: For the fight fans that can't wait to get their hands on some 2022 Prizm UFC Hobby – we have a First Off the Line release going live tomorrow at 11am (CST) at the Panini Direct Store (via Dutch Auction). The First Off the Line 2022 Panini Prizm UFC Trading Card Boxes contain 12 cards per pack, 12 packs per box, and 12 boxes per case! Look for 2 Autographs, 22 Prizm Parallels and 2 Bonus FOTL Prizm Parallels per box, on average! See more details below including a sneak preview of some FOTL exclusives.
PRODUCT BREAKDOWN: 
Look for 2 autographs and 22 Prizm parallels per box, on average!
FOTL Exclusive: Look for 2 Bonus FOTL Prizm parallels limited to 7 copies or less per box!
Find the returning Champion Signatures that features UFC's champions showing off their UFC gold!
Collect a roster of stellar rookies appearing in their first officially licensed UFC trading cards!
Look for new insert sets in Bonus Machines and Prizm Flashback!
New in 2022: Chase down unique Prizm parallels in Ruby Wave, Hyper and Ice!
*All information is accurate at the time of posting – content is subject to change.
SHOP:  https://www.paniniamerica.net/first-off-the-line-2022-panini-prizm-ufc-trading-card-box.html
VISIT: http://www.PaniniAmerica.net
Also connect with us on:
Instagram: https://www.instagram.com/PaniniAmerica/
Facebook: https://www.facebook.com/PaniniAmerica/
Twitter: https://twitter.com/PaniniAmerica/