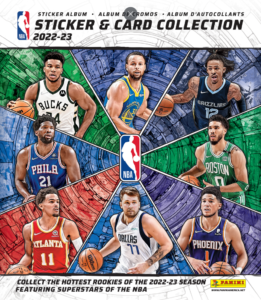 RELEASE DATE:  Wednesday, March 29th at 10am (CST) at the Panini Direct Store
DETAILS:    The annual Panini NBA Sticker Collection releases tomorrow, and it's looking better than ever! Chase rookie stickers of your favorite member of the 2022 NBA Draft Class! Each of the 30 NBA teams will have 13 different stickers dedicated to their spread. Collect stickers of your favorite current NBA stars, as well as 20 stickers featuring NBA legends! Catch more details below, as well as a sneak preview of the product.
PRODUCT BREAKDOWN:
The official and exclusive sticker collection of the NBA!
The collection includes more than 500 stickers!
Search for nearly 100 special foil stickers, as well.
Each of the NBA's 30 teams will be featured on its own spread of two color pages, where collectors can place the stickers of the team's main players.
Each Team Spread will include 13 stickers.
Look for three special Star Player foil stickers per team!
Three pages highlighting the 2021-22 All-NBA, All-Defensive, and All-Rookie teams.
Full recap of the 2022 NBA Finals
Collect the first stickers of the most impactful rookies selected in the 2022 NBA Draft!
Also look for 20 stickers featuring some of the greatest NBA legends of the past!
Album Content: 72 color pages
*All information is accurate at the time of posting – content is subject to change.
SHOP THIS PRODUCT:   CLICK HERE
VISIT: http://www.PaniniAmerica.net
Also connect with us on:
Discord:  https://discord.com/invite/9PUgPHSdxq
Instagram: https://www.instagram.com/PaniniAmerica/
Twitter:  https://twitter.com/PaniniAmerica/
Facebook:  https://www.facebook.com/PaniniAmerica/