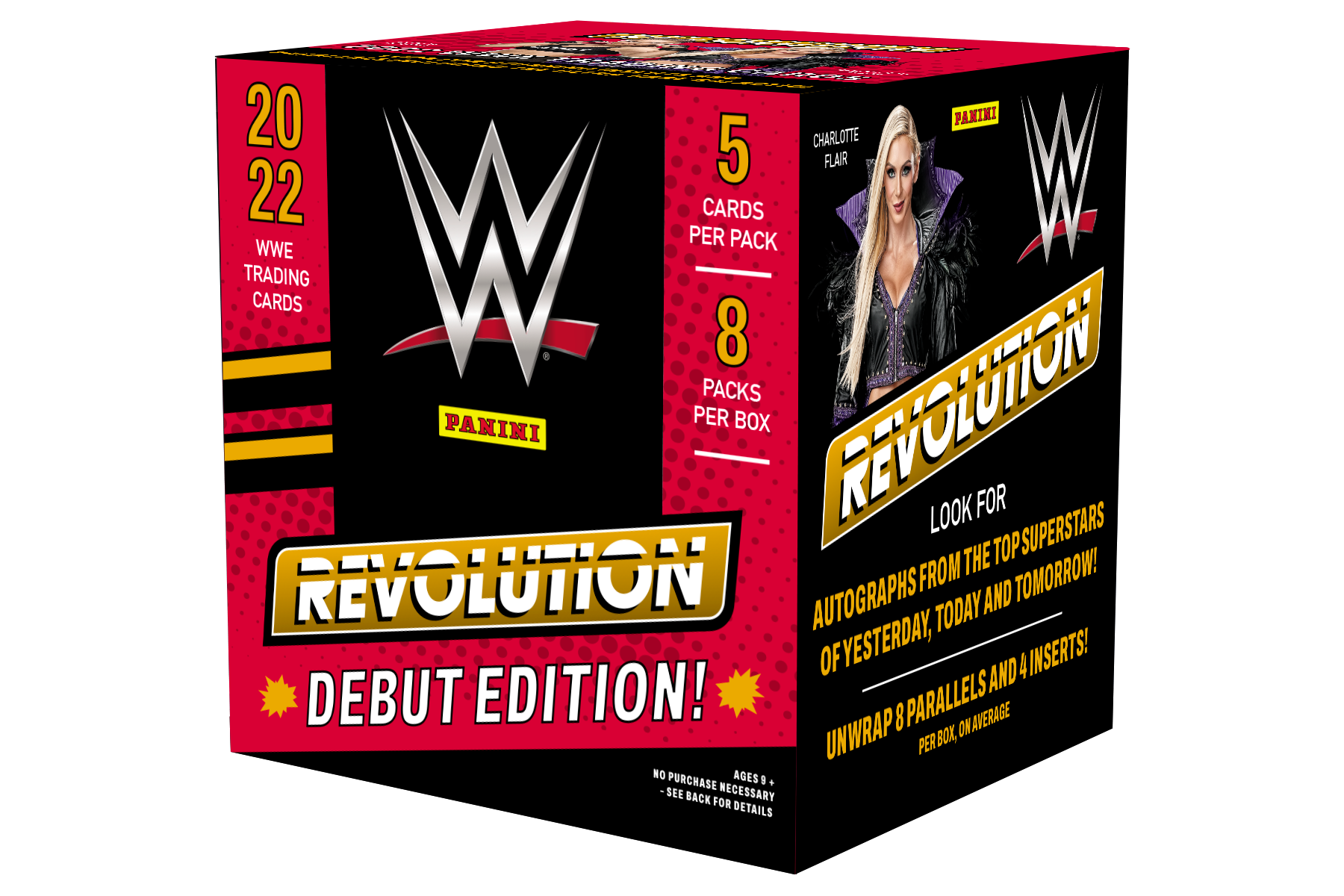 RELEASE DATE:  Friday, June 3rd at 12pm (CST) at the Panini Direct Store
PIS DOCUMENT:  22_RevolutionWWE_PIS_Hobby
DETAILS: The WWE and Panini America are back with the 2nd release of this exciting partnership, with the debut of Revolution WWE! 2022 Revolution WWE (Hobby) releases nationwide on Friday June 3rd, and this product is sure to be a hit with wrestling fans and collectors alike. Collect your favorite WWE Superstars and Legends featured on the stunning Revolution design, including a variety of short printed parallels and Hobby favorites like Galactic, Sunburst and Cubic! Look for randomly inserted autographs of WWE Superstars and popular insert sets such as Vortex and Supernova. Catch more details below including a sneak preview of the product.
PRODUCT BREAKDOWN:
Revolution makes its WWE debut offering collectors a wide variety of autographs, parallels, and inserts to chase!
Hobby Boxes of 2022 Panini Revolution WWE Trading Cards contain 5 cards per pack and 8 packs per box!
Collect randomly inserted autographs from the top Superstars and Legends across all WWE brands!
Each Hobby box includes 4 inserts! Look for stunning inserts like Vortex, Supernova and more!
Find 8 Parallels per box from a variety of unique foilboards! Chase the ultra-rare Galactic parallels!
*All information is accurate at the time of posting – content is subject to change.
SHOP THIS PRODUCT:  https://www.paniniamerica.net/cards/trading-cards/wwe.html
VISIT: http://www.PaniniAmerica.net
Also connect with us on:
Discord:  https://discord.com/invite/9PUgPHSdxq
Instagram: https://www.instagram.com/PaniniAmerica/
Twitter:  https://twitter.com/PaniniAmerica/
Facebook:  https://www.facebook.com/PaniniAmerica/