AVAILABLE: Wed, March 9th (1pm CST). Conveniently available at Panini Direct, as well as Hobby destinations nationwide.
CHECKLIST:  Soccer2021PaniniPrizm (21-22)_v2
DESCRIPTION: Perhaps Panini America's most popular brand and the world's top-tier soccer league come together once again in the 2021-22 Prizm Premier League release. The product is highlighted by star power from all twenty Premier League clubs and showcased on Panini's dazzling OptiChrome technology. These cards are sure to be a hit with collectors! Enjoy an extensive QC preview gallery below. 
PRODUCT BREAKDOWN: 2021-22 Prizm Premier League Soccer hobby boxes include 1 autograph, 4 base prizm silvers, 5 numbered hobby-exclusive base prizms, 8 additional hobby-exclusive base prizms and 6 insert cards per box, on average.  Each box contains 12 cards per pack and 12 packs per box, with 12 boxes per case.
Collect 300 base cards featuring fan-favorite players from every team! Hobby exclusive parallels to collect: Prizm MultiColor, Prizm Hyper, Prizm Pink, Prizm Blue (#'d/340), Prizm Red (#'d/199), Prizm Red Mojo (#'d/159), Prizm Purple (#'d/99), Prizm Blue Ice (#'d/75), Prizm Purple Ice (#'d/49), Prizm Orange (#'d/25), Prizm Gold (#'d/10), Prizm Green (#'d/5), and Prizm Black (#'d/1). Plus four exclusive Autograph parallels: Prizm Silver (Max #'d/99), Prizm Purple (Max #'d/25), Prizm Gold (Max #'d/10) and Prizm Black (#'d/1).
Find highly collectible footballers in Prizm's various inserts including Instant Impact, Fireworks and Emergent.
Collectors will find authentic signature cards from some of the Premier League's greatest stars – past, present and future! Also chase short-printed Dual Autographs!
Search for Hobby-exclusive, ultra-rare Color Blast cards showcasing the best players in one of our most popular inserts!

Please note:  Collectors will notice Aaron Ramsdale, card #196, has a slightly different appearance than the other base and parallel cards. As you can see in the side-by-side comparison below, it has an additional layer of white applied. While this error was caught during the QC phase of the program, this misprint will not be corrected.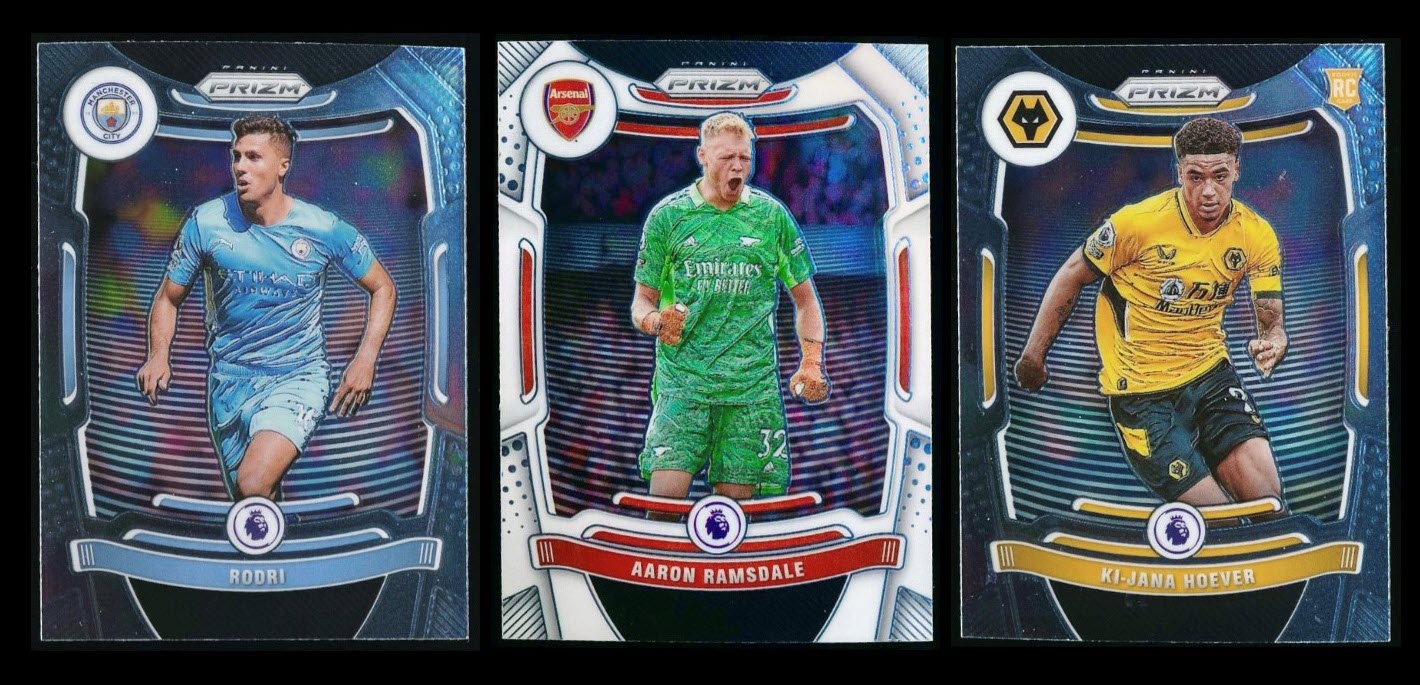 All information is accurate at the time of posting – content is subject to change.*
SHOP: https://www.paniniamerica.net/cards/trading-cards/soccer.html
VISIT: PaniniAmerica.net
Also connect with us on:
Instagram: https://www.instagram.com/PaniniAmerica/
Facebook: https://www.facebook.com/PaniniAmerica/
Twitter: https://twitter.com/PaniniAmerica/