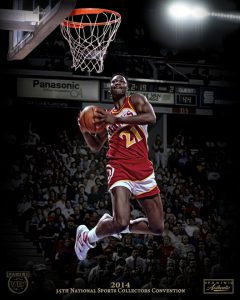 The 2014 Panini VIP Party slated for Saturday night in Cleveland just keeps getting better and better. On Tuesday afternoon, Panini America officials confirmed that Tom Glavine, one of baseball's newest Hall of Famers, and Jose Canseco, one of the games most endearing power hitters, have been added to the guest list for Saturday's third annual extravaganza.
Glavine, inducted into the National Baseball Hall of Fame last weekend, and Canseco join NBA great Dominique Wilkins and the legendary DJ Kool as confirmed party guests so far. Panini America officials will unveil additional party guests as National Sports Collectors Convention week continues.
A lefthanded legend, Glavine won 305 games and struck out 2,607 hitters during a brilliant 22-year career spent mostly with the Atlanta Braves. He was a 10-time All-Star who earned 1995 World Series MVP honors in the Braves' championship triumph over Cleveland. Canseco burst onto the scene in the late 1980s and helped trigger the modern baseball-card era with a brash demeanor and a penchant for bashing baseballs (alongside former A's teammate Mark McGwire). He finished his lightning rod of a career with 462 homers in stints with seven different teams. He earned AL MVP honors in 1988 on the strength of 42 home runs, 124 RBI, 40 stolen bases and a .307 batting average.
Glavine and Canseco will join Wilkins and DJ Kool in interacting with and engaging Panini party-goers Saturday night. Stay tuned to The Knight's Lance for additional details on our special guests — including a huge announcement tomorrow . . . and Thursday . . . and Friday.