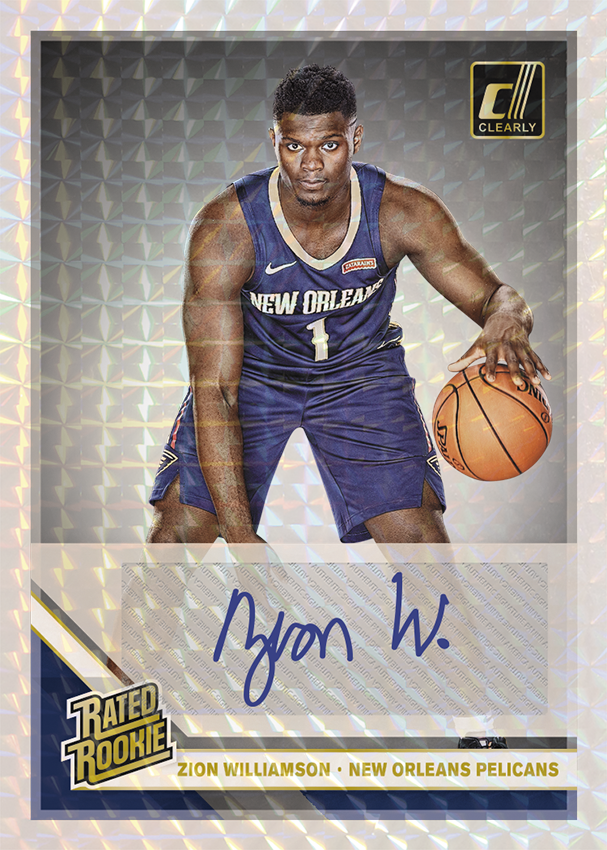 There's a new addition coming to Panini America's stacked NBA product portfolio — and it's clear to see why it's likely to be another monster success among NBA collectors. The unique 2019-20 Clearly Donruss Basketball combines the undeniable allure of the flagship Donruss Basketball brand with popular Acetate card stock. The impressive results (kind of like what happened when Donruss melded with Prizm to form Optic . . . but with see-through stock) arrives in late October.
Clearly Donruss delivers some of the most popular cards from the Donruss and Donruss Optic brands in a way never before seen as every card in the product is printed on clear Acetate stock.
Release Date: October 28, 2020
Product Configuration: Five cards per pack, four packs per box, 12 boxes per case.
BOX BREAK: Three parallels and one insert per hobby box, on average.
Look for different parallels numbered to as low as one across the base, Rated Rookie and insert sets.
Find Clearly Rated Rookie Autographs featuring top rookies from the 2019-20 NBA season including Zion Williamson, Ja Morant and more. Find parallels numbered to as low as 1.
Chase some of the most popular Donruss and Donruss Optic insert sets, including My House, The Rookies, Defying Gravity, All Clear for Takeoff and Star Gazing reimagined on clear acetate. Look for a variety of parallels for each set numbered to as low as one.
Hunt for the extremely rare Holographic and Holographic Mosaic parallels.
Enjoy the preview gallery that follows and stay tuned for additional information.
The PIS document for 2019-20 Clearly Donruss Basketball is available here.
All information is accurate at the time of posting – content is subject to change and approval. Card images are solely for the purpose of design display. Actual images used on cards to be determined.