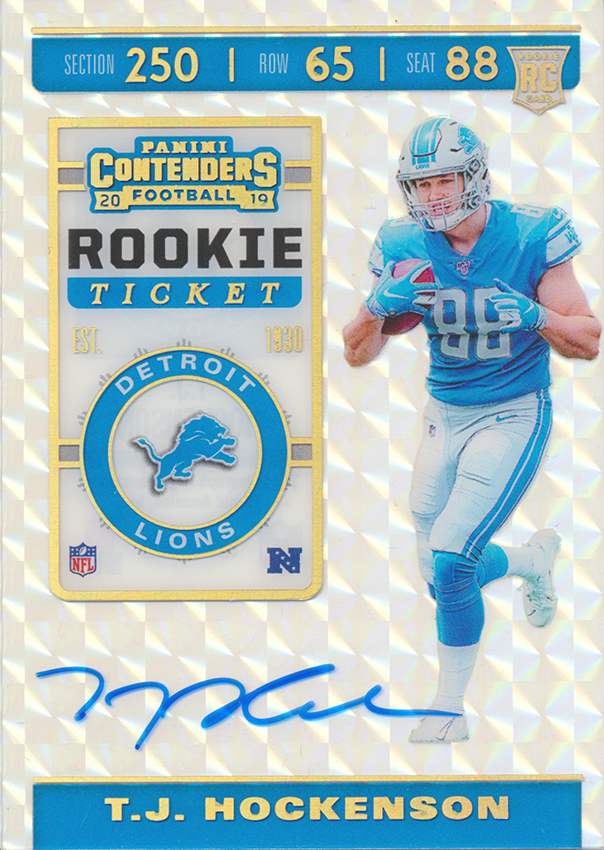 In the days since Panini America released 2019 Contenders Football last Friday, market speculation on the unannounced-but-on-the-checklist 2019 Contenders Football Clear Mosaic Tickets has been that they're pretty tough to come by. Exactly how tough, however, has been something of a mystery. Less than 10? Less than five? Less than two? Well, in a word, "yes."
As it turns out, the autographed partial parallel insert (the highly appealing result of a test run to see how Panini America's popular Mosaic Prizm pattern would mix with clear Acetate stock) is as rare as it can possibly be. Each of the 83 autographed cards utilizing Acetate Mosaic stock is a true 1/1. We provide a complete checklist of the set after the jump.
For 2019 Contenders Football, Ticket Variations are identified with the respective team helmet in the card-front circle as opposed to the respective team logo.
Here's the checklist:
| | | | |
| --- | --- | --- | --- |
| Card # | Player | Team | Type |
| 102 | Daniel Jones | New York Giants | |
| 103 | Dwayne Haskins | Washington Redskins | |
| 104 | Drew Lock | Denver Broncos | |
| 105 | Will Grier | Carolina Panthers | |
| 106 | Josh Jacobs | Oakland Raiders | |
| 107 | Marquise Brown | Baltimore Ravens | |
| 108 | Nick Bosa | San Francisco 49ers | |
| 109 | N'Keal Harry | New England Patriots | |
| 110 | DK Metcalf | Seattle Seahawks | |
| 112 | Damien Harris | New England Patriots | |
| 113 | Deebo Samuel | San Francisco 49ers | |
| 114 | Bryce Love | Washington Redskins | |
| 115 | Mecole Hardman Jr. | Kansas City Chiefs | |
| 116 | Ryan Finley | Cincinnati Bengals | |
| 117 | Parris Campbell | Indianapolis Colts | |
| 118 | J.J. Arcega-Whiteside | Philadelphia Eagles | |
| 119 | T.J. Hockenson | Detroit Lions | |
| 120 | Miles Sanders | Philadelphia Eagles | |
| 122 | Jarrett Stidham | New England Patriots | |
| 123 | David Montgomery | Chicago Bears | |
| 124 | Noah Fant | Denver Broncos | |
| 125 | Darrell Henderson | Los Angeles Rams | |
| 126 | Hakeem Butler | Arizona Cardinals | |
| 127 | Easton Stick | Los Angeles Chargers | |
| 128 | Diontae Johnson | Pittsburgh Steelers | |
| 129 | Justice Hill | Baltimore Ravens | |
| 130 | Terry McLaurin | Washington Redskins | |
| 132 | Irv Smith Jr. | Minnesota Vikings | |
| 133 | Benny Snell Jr. | Pittsburgh Steelers | |
| 134 | Alexander Mattison | Minnesota Vikings | |
| 135 | Tony Pollard | Dallas Cowboys | |
| 136 | Riley Ridley | Chicago Bears | |
| 137 | Devin Singletary | Buffalo Bills | |
| 138 | Gary Jennings Jr. | Seattle Seahawks | |
| 139 | Hunter Renfrow | Oakland Raiders | |
| 140 | Darius Slayton | New York Giants | |
| 102 | Daniel Jones | New York Giants | Variation |
| 103 | Dwayne Haskins | Washington Redskins | Variation |
| 104 | Drew Lock | Denver Broncos | Variation |
| 105 | Will Grier | Carolina Panthers | Variation |
| 106 | Josh Jacobs | Oakland Raiders | Variation |
| 107 | Marquise Brown | Baltimore Ravens | Variation |
| 108 | Nick Bosa | San Francisco 49ers | Variation |
| 109 | N'Keal Harry | New England Patriots | Variation |
| 110 | DK Metcalf | Seattle Seahawks | Variation |
| 112 | Damien Harris | New England Patriots | Variation |
| 113 | Deebo Samuel | San Francisco 49ers | Variation |
| 114 | Bryce Love | Washington Redskins | Variation |
| 115 | Mecole Hardman Jr. | Kansas City Chiefs | Variation |
| 116 | Ryan Finley | Cincinnati Bengals | Variation |
| 117 | Parris Campbell | Indianapolis Colts | Variation |
| 118 | J.J. Arcega-Whiteside | Philadelphia Eagles | Variation |
| 119 | T.J. Hockenson | Detroit Lions | Variation |
| 120 | Miles Sanders | Philadelphia Eagles | Variation |
| 122 | Jarrett Stidham | New England Patriots | Variation |
| 123 | David Montgomery | Chicago Bears | Variation |
| 124 | Noah Fant | Denver Broncos | Variation |
| 125 | Darrell Henderson | Los Angeles Rams | Variation |
| 126 | Hakeem Butler | Arizona Cardinals | Variation |
| 127 | Easton Stick | Los Angeles Chargers | Variation |
| 128 | Diontae Johnson | Pittsburgh Steelers | Variation |
| 129 | Justice Hill | Baltimore Ravens | Variation |
| 130 | Terry McLaurin | Washington Redskins | Variation |
| 132 | Irv Smith Jr. | Minnesota Vikings | Variation |
| 133 | Benny Snell Jr. | Pittsburgh Steelers | Variation |
| 134 | Alexander Mattison | Minnesota Vikings | Variation |
| 135 | Tony Pollard | Dallas Cowboys | Variation |
| 136 | Riley Ridley | Chicago Bears | Variation |
| 138 | Gary Jennings Jr. | Seattle Seahawks | Variation |
| 139 | Hunter Renfrow | Oakland Raiders | Variation |
| 140 | Darius Slayton | New York Giants | Variation |
| VT-EE | Ezekiel Elliott | Dallas Cowboys | |
| VT-AL | Andrew Luck | Indianapolis Colts | |
| VT-CC | Chris Carson | Seattle Seahawks | |
| VT-JU | JuJu Smith-Schuster | Pittsburgh Steelers | |
| VT-DH | DeAndre Hopkins | Houston Texans | |
| VT-GK | George Kittle | San Francisco 49ers | |
| VT-JG | Jared Goff | Los Angeles Rams | |
| VT-AC | Amari Cooper | Dallas Cowboys | |
| VT-TH | Taysom Hill | New Orleans Saints | |
| VT-DH | Danielle Hunter | Minnesota Vikings | |
| VT-DP | DeVante Parker | Miami Dolphins | |
| VT-EJ | Eddie Jackson | Chicago Bears | |