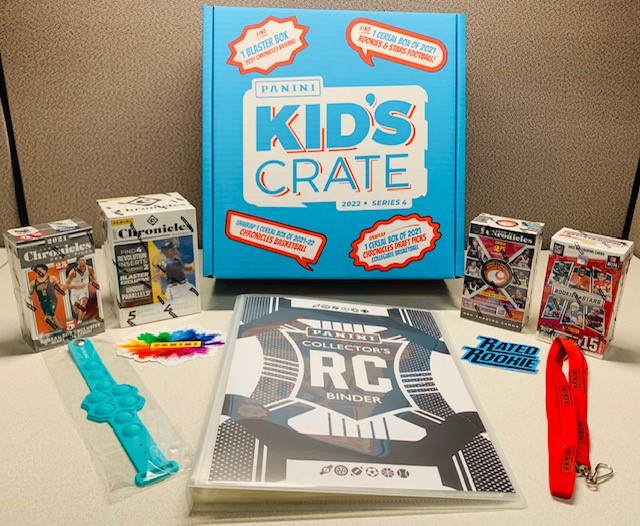 AVAILABLE: Panini Kid's Crates (Series 4) will begin hitting Hobby Shops across the country this week!  Check with your local Hobby Shop to see if they're carrying Panini's Kid's Crates.
DETAILS: Listen up, young collectors! Panini has something specifically for you. The latest version of the Panini Kid's Crates are available now! Check your local hobby shop for the product. The product is geared specifically for young collectors, and includes unopened products from multiple sports, as well as stickers and other fun items. If you need a birthday gift for a young collector, or just want to surprise that special little guy or gal in your life – the Panini Kid's Crates will surely put a smile on their face! Supplies are limited.
KID'S CRATES (Series 4) BREAKDOWN:
2021 Chronicles BB Blaster
2020-21 Chronicles BK Cereal Box **Please note: The product packaging currently suggests the crate includes a 2021-22 Chronicles Basketball Cereal Box, however, it's actually a 2020-21 Chronicles Basketball Cereal Box. 
2021 Rookies & Stars FB Cereal Box
2021 Chronicles Draft Picks CBK Cereal Box
Collector's Album, Stickers and Other Fun Panini Swag
*All information is accurate at the time of posting – content is subject to change.
VISIT: PaniniAmerica.net
Also connect with us on:
Instagram:  https://www.instagram.com/PaniniAmerica/
Facebook:  https://www.facebook.com/PaniniAmerica/
Twitter:  https://twitter.com/PaniniAmerica/