There is not a more exciting weekend in the NFL than the divisional playoff round. With back-to-back games on Saturday and Sunday featuring eight elite teams, football fans will certainly be glued to their television sets all weekend long.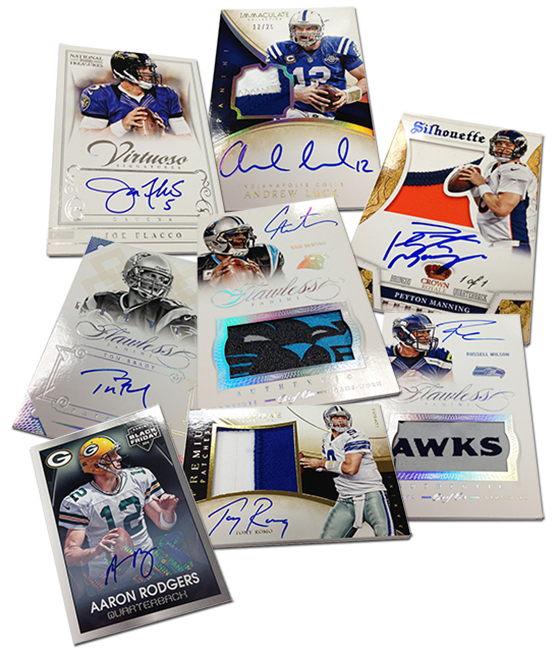 There is not a more exciting weekend in the NFL than the divisional playoff round. With back-to-back games on Saturday and Sunday featuring eight elite teams, football fans will certainly be glued to their television sets all weekend long.
It's even better when quarterbacks named Peyton Manning, Tom Brady, Andrew Luck, Aaron Rodgers, Tony Romo, Russell Wilson, Cam Newton and Joe Flacco are all taking snaps from under center. Without a doubt, this is the greatest collection of postseason quarterbacks ever assembled with only two wins separating them from a Super Bowl berth.
These quarterbacks boast a combined 34 Pro Bowl nods and have combined to win seven Super Bowl titles, five Super Bowl MVP awards, eight regular-season MVPs and one Offensive Rookie of the Year Award. There are two locks for the Hall of Fame (Manning and Brady), but it would come as no surprise if at least two more from the group were enshrined in Canton when they decide to call it quits.
With such accolades it's easy to use the eye-test to make such a claim, but let's have the numbers tell the story.
So how do you really measure the greatness of a quarterback? The eye-test can be deceiving. But the formula to calculate passer rating, however confusing, was developed to affirm or denounce what our eyes tell us.
The rating is computed based on four categories – percentage of completions per attempt, average yards gained per attempt, percentage of touchdown passes per attempt and percentage of interceptions per attempt. Those categories are averaged together by a process that invokes images of "A Beautiful Mind" and are put on a 100-point scale to, per the NFL, "make the rating more understandable."
The NFL's explanation goes on to say that in rare cases the number might exceed 100 based on a superior performance. It was quite a feat to top 100 for the first 20 years of its existence, with only seven signal-callers accomplishing the feat; but the formidable quarterbacks of 2014 have left the creators of the statistic scratching their heads.
Of the eight QBs playing this weekend, five have topped the 100 mark this season. When you combine their careers, they have done so a whopping 19 times. In all, four of the top five and seven of the top 27 quarterbacks in NFL history in terms of passer rating will take center stage this weekend. That's not including Wilson, whose 98.6 rating would rank second all time if he had reached the 1,500-attempt plateau to qualify. He does, however, possess a sparkling Super Bowl ring.
That means every playoff matchup is loaded with star power – enough power to light up an entire football stadium — or four.
Green Bay hosts Dallas in a battle of MVP favorites that pits Rodgers vs. Romo. Rodgers, the all-time leader in passer rating (106), has only posted one season less than 100. Romo, who led the league in 2014 with a 113.2 mark and orchestrated a league-leading five game-winning drives, has the Cowboys clicking on all cylinders with a five-game winning streak.
The other NFC matchup features two of the top dual-threat quarterbacks in the NFL today. Only four quarterbacks have tallied 3,000 passing yards and 700 rushing yards in the same season, and this game features two of them: Newton and Wilson. The 26-year-old Wilson accomplished the feat this season, leading the Seahawks to the No. 1 overall seed in the NFC, while the 25-year-old Newton reached the mark in each of his first two seasons in the league.
Storylines run deep in Denver in a matchup between a venerable Jedi (Manning, 38) and a young Obi-Wan Kenobi (Luck, 25). Arguably the best quarterback in NFL history, Manning takes on his Indianapolis successor in Luck, who has enjoyed a very Manning-like start to his career. It's a matchup of No. 1 overall picks, the first playoff meeting between two sons of former NFL signal-callers and a showcase of youth against experience.
In the battle of teams on Interstate 95, there is Brady, whose postseason success includes three Super Bowl wins with the Patriots, and on the other side of the ball is Flacco, who earned Super Bowl MVP honors just two years ago. The Ravens' signal-caller pulled off one of the finest postseason performances in history when he went 4-0, including a win against New England, with 1,140 yards and 11 touchdowns without throwing an interception en route to claiming his first Vince Lombardi Trophy.
Legacies will be made in the coming weeks. Manning and Brady can further bolster their Hall of Fame resumes, while Rodgers, Flacco and Wilson could make a strong case of their own for enshrinement  with a second Super Bowl title. Romo, Luck and Newton, all firmly in the spotlight for their entire careers, can forever be called a Super Bowl champion.
This divisional round has everything a football fan could want, and there is a chance we never see a group of quarterbacks this talented with such a diverse skill set ever again.
Micah Powell is a staff writer at Panini America.
MVP Rookie Cards
We know the eight superstar quarterbacks playing in the NFL divisional playoffs this weekend have amassed gaudy numbers on the field. But their iconic Rookie Cards have put up numbers that are every bit as staggering. In the gallery below, we showcase each player's MVP (Most Valuable Panini) RC and its current value according to Beckett Media.