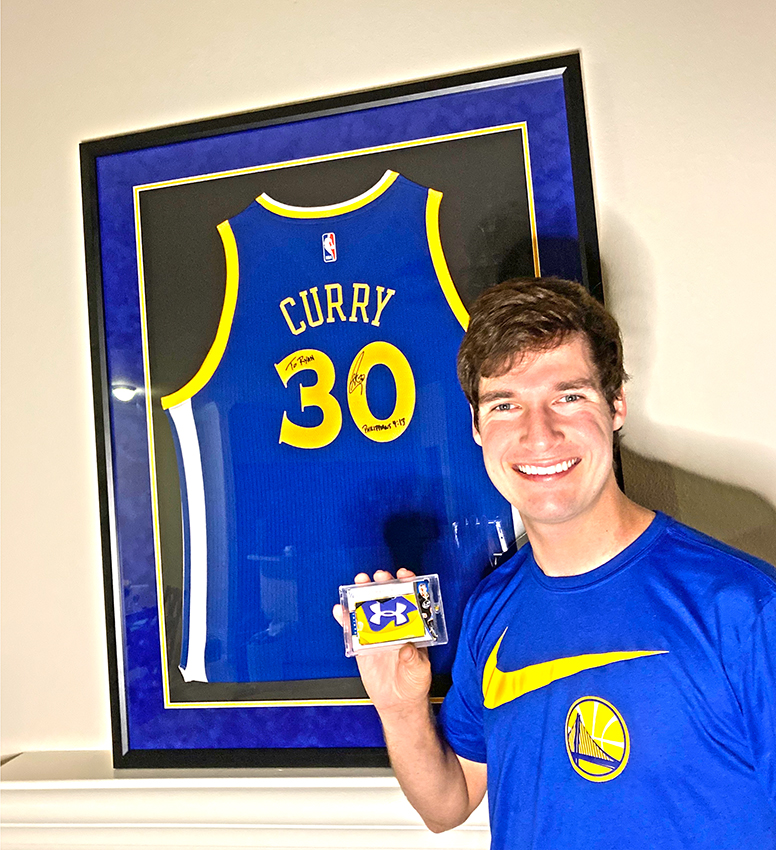 Every now and again here on The Knight's Lance, we love profiling some of the country's most passionate collectors. Today, we get the opportunity to do so again, this time with Ryan Channels, a California-based Stephen Curry supercollector. This is his story in his words . . .
My name is Ryan Channels and I am a 24-year-old from Napa Valley, Calif. My twin brother, Justin, and I have been collecting together since about 2007. I started collecting cards specifically in 2013. 2013 was the first time in a while that the Golden State Warriors made the playoffs.
I enjoyed seeing their success and I loved the way that Stephen Curry played. I was 17 at the time and had just gotten my first job at a grocery store. I used my limited income that I had left over to buy packs of cards at Target. I enjoyed opening packs and looking for fun cards I could trade with people on Twitter. I eventually learned about card shops from the Twitter community.
In 2014, I visited Baseball Cards and Memorabilia in Rohnert Park, Calif. I asked the owner, Mike, about how I should go about collecting and Mike made it very easy for me. He said to me: "Who's your favorite player? Find his best Rookie Card and start there." This advice changed my life.
I could not afford Steph's best Rookie Cards at the time but now, I had goals. I saved up and every couple of months I would add a nice, new card to my collection. Pretty soon, a fire was lit and I had to have them all. So that was my goal: To get one Curry card and autograph card from every single 2009-10 release. It was a very slow process and most of my big pickups didn't come until 2017-18.
Spoiler Alert: I still do not have them all. There are a handful of products that I've yet to get an autograph from. That being said, I collect all types of Curry cards. My favorites are cards with nice, big autographs. In 2015, I spent my freshman year of college at the University of Arizona. The local card shop down in Tucson was Showtime Cards. George, the owner, was an amazing mentor for me. I spent hours working at the shop in exchange for cards and packs. I learned so much about the hobby and had a great time at trade nights.
Upon completion of my freshman year, I found it better to transfer to a school in California and complete my education closer to home. I ended up at Sonoma State University in Rohnert Park, Calif., the same town as the Baseball Cards and Memorabilia shop I mentioned earlier. It was 2016 and I got a new job at a winery in Napa and was finally able to start buying some nicer cards. With the help of the card shop, the Twitter/Instagram community and, of course, eBay, I was able to amass a larger collection of Curry cards. Every once in a while, I would add other non-Steph cards to my collection but they would all eventually be traded or sold for Currys.
So you are probably wondering, "Why Steph?" Funny story: During my freshman year of high school, in April of 2011, one of my friends invited me to the Warriors vs. Lakers game. She said her dad had nice seats so I was excited to go. It turns out these "nice seats" were directly behind the Warriors bench! Amazing seats, if you ask me. You'll never guess who I sat directly behind that game. Yep, No. 30. I was captivated. The way he played, the way he hit his chest after every basket and his energy was contagious. I fell hard. It was such a great game and I could not wait to start collecting cards of his.
As I went to more games and got to see him in person, get his autograph many times and talk with him, I only wanted more cards. And that is pretty much where I am now. I look forward to seeing him a few times a year at golf events or games, and getting autographs. It really is one of my favorite things. As far as my collection goes, I currently have 49 Stephen Curry autographs. That number is spread out between cards, jerseys, photos, shoes and other things.
What is the best part of collecting for me? Being able to share it with my brother. He and I have been through so much together. Everything from getting in-person autographs, making life-long friends, going to card shows, opening packs and pulling huge cards together, late nights on eBay, and even having Mike Trout buy us dinner one time. But that is a story for another time. The friends that he and I have made through Twitter and Instagram mean the world to us and are the best part of the hobby.
Once I made The Curry Vault page on Instagram, I was able to acquire some of the best pieces in my collection due to the shear outreach that platform provides. It is truly amazing what can happen when people work together to get cards into the right collections. Justin and I have enough stories to fill a lifetime and we are just getting started. He and I hope to one day open up our own card shop, which brings me to my favorite hobby story. I actually have two quicks stories.
The first one happened in 2019 when I went to the Safeway Open Pro Am here in my hometown of Napa. It was 103 degrees that day. Steph was paired up with Phil Mickelson and it was so hot that most people stayed at the club house. I followed Steph for all 18 holes and got to have some amazing conversations with him and it really is one of my favorite "Steph Memories." After the round, he signed a pair of Curry shoes that I brought with me.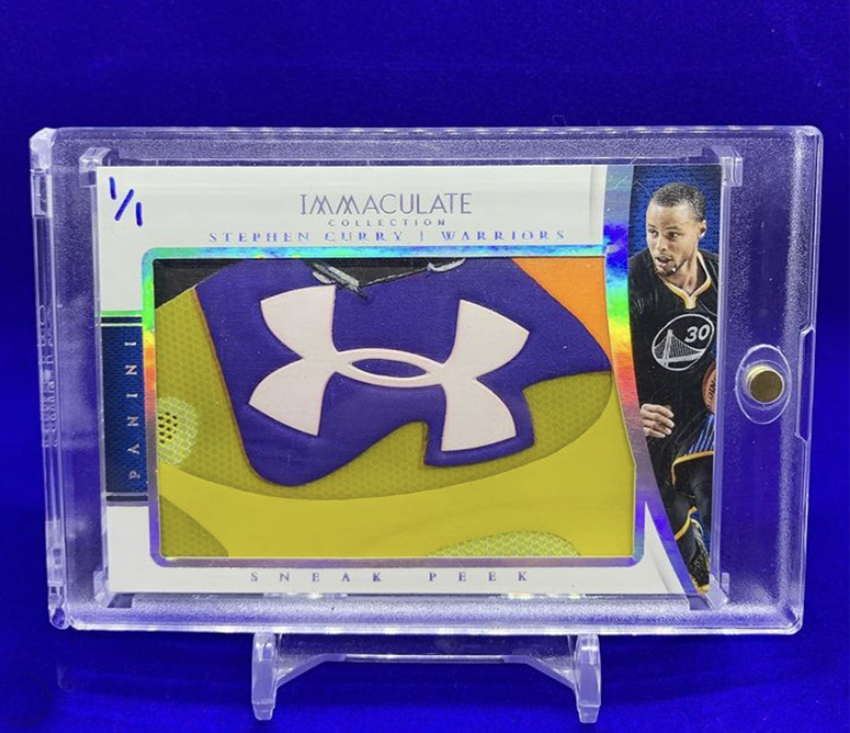 The second memory is when I pulled the favorite card in my collection. It was 2015 and I had received a Huston Rockets team-signed basketball from my grandfather who managed a company out of Houston. I asked my grandpa if he would be OK with me trading the basketball and, with his blessing, I traded it for a box of 2014-15 Immaculate Basketball. The card shop had JSA on site that night authenticating autographs so it was a late night and, right before closing, I opened the box. I pulled a 1/1 Stephen Curry Sneak Peak Under Armour logo game-used card. I went bananas. My brother and I celebrated like crazy. It was one of the best nights of my life as far as the hobby is concerned. That is the card I would keep if I could only keep one.
One card that has eluded me? This is a two-part answer but very simple. The 2019-20 Panini One & One Basketball Downtown card. I have the three other cards from the previous years but with the hike in prices this year, this one will elude me. Another item that has eluded me is a game-worn jersey, the one "Holy Grail" for my collection. One day I would love to be able to get one from Steph after a game. I have even had dreams about it.
At the end of the day, this hobby means the world to me. I love it so much. Being able to share the excitement of adding something to my collection with people and getting excited for people when they add nice cards to their collections is so much fun. The communities on Instagram and Twitter are great and I have made lifelong friends. I cannot wait to see what's in store for the hobby this year.
Thank you, Panini America, for the opportunity to share my story. I really appreciate it and I love your cards. Happy collecting!
You can reach Channels on Twitter and Instagram. Here's a gallery of just a few highlights from Channels' Curry collection . . .