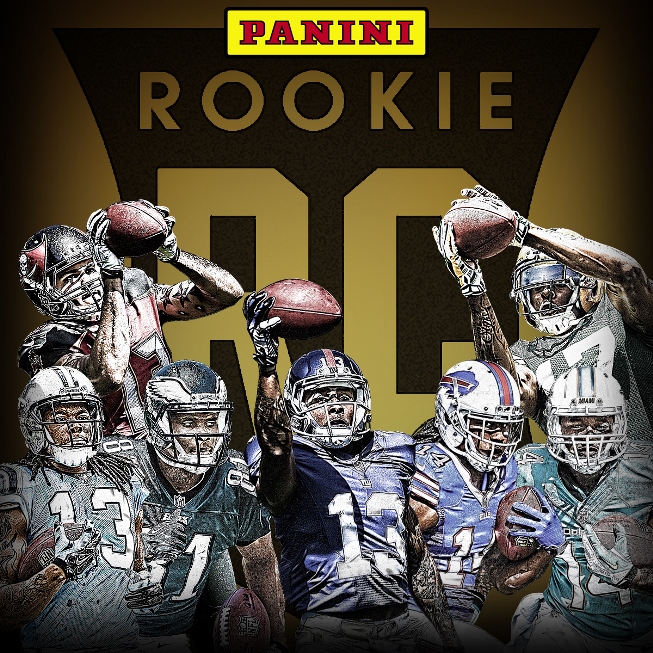 We like declarations, have for some time. Instead of life, liberty and the pursuit of happiness, though, this one is about receiving yards, touchdowns and the pursuit of greatness of this year's rookie class of wide receivers.
There's this almost compulsive rush to declare this or that the best ever. Heck, Odell Beckham Jr.'s catch a few weeks back against the Dallas Cowboys was deemed the greatest of all time before the line judge raised his arms to signal touchdown.
Still, this is different. This is legitimate. The numbers are already there with three weeks remaining in the regular season. This is the most accomplished rookie class of wideouts the NFL has ever witnessed.
No more is anyone saying, "Always avoid rookie receivers." The saying has made the rounds in fantasy football circles for years, if not from the start. The word to the wise has proven to have plenty of merit as rookie pass catchers — with a handful of notable exceptions such as Randy Moss and Anquan Boldin — have needed two to three years to learn the intricacies of the position at the NFL level and hit their stride.
The rule, though, is no more. It has quickly been scribbled out, balled up and thrown in the nearest receptacle thanks to the play of the 2014 class of receivers.
In the same way the crop of Beckham Jr., Sammy Watkins, Mike Evans, Brandin Cooks, Kelvin Benjamin, Jordan Matthews, Jarvis Landry and company has shattered perceptions in the fantasy world, so too has it seen unparalleled success on the actual gridiron. There are still three weeks remaining in their freshman campaigns, but the group has quickly made its case to be called the top rookie receiver class of all time.
It's not like this group came out of nowhere.
Beckham and Landry made headlines as one of the top receiving duos in the nation at LSU, Benjamin helped lead Florida State to an undefeated season and a National Championship, Watkins was billed as the most complete receiver since Calvin Johnson Jr., and Evans gained fame as Johnny Manziel's go-to target at Texas A&M.
"This is a unique class," said ESPN draft analyst Todd McShay. "We kinda knew that early in the draft process. … There were more talented receivers this year than in previous years."
Praise was heaped on the young pass catchers for their ability to immediately contribute; but even the most astute of scouts couldn't have foreseen the season they would go on to produce.
Benjamin and Cooks kicked off the year in fine fashion, as both NFC South greenhorns found the end zone in Week 1. Watkins announced his presence in Week 2 by recording his first career 100-yard game with 117 yards and a touchdown on eight receptions, and in Week 3, Matthews exploded on the scene with two touchdowns and eight catches in a 37-34 win over the Washington Redskins.
By midseason, the group was in the national spotlight after three consecutive 100-yard performances, a 200-yard showing from Evans and a 157-yard outburst by Watkins in Week 8 against the Jets. But it was a Week 12 catch for the ages by Beckham that had Cris Collinsworth, Al Michaels and all of Twitter raving.
"There's your play of the year and maybe, I don't know, the decade," Michaels said after Beckham pulled down his now famous one-handed, three-fingered touchdown grab against the Cowboys.
The stats speak for themselves. Entering the season, 15 first-year pass catchers had tallied 1,000 yards, with only one class producing multiple 1,000-yard receivers (1986). This group is a near lock to post four (Evans, Watkins, Benjamin and Beckham) and has a shot at five with Matthews (709).
Only 10 rookie receivers had tallied double-digit touchdowns, but the 2014 class has already added one of its own (Evans) and could also see Benjamin, Matthews, Beckham and the Pittsburgh Steelers' Martavis Bryant join the ranks before season's end.
While the 1945 and 1964 classes produced three Hall of Fame wideouts, the 1985 group churned out Jerry Rice and Andre Reed, and 1988 boasted Michael Irvin, Tim Brown and Sterling Sharpe when it comes to sheer production as rookies.
The 2014 class is only rivaled by the lots from 1996 and 2011.
The 2011 group features four of the top big-play threats in the game today in A.J. Green, Julio Jones, Randall Cobb and Torrey Smith. While Cobb saw mostly time in the return game in his first season, Green, Jones and Smith all cracked 50 receptions, 800 yards and seven touchdowns. But after those big names, only Doug Baldwin (51 grabs for 788 yards) and Titus Young (48 for 607) managed to record at least 35 receptions.
Terrell Owens, Marvin Harrison, Keyshawn Johnson and Muhsin Muhammad from the 1996 group became the first class to produce four 10,000-yard receivers, and the collection didn't wait long to start chipping away at that mark. Throw in Terry Glenn, who tallied 90 receptions for 1,132 yards, and Eddie Kennison, who led all rookies with nine touchdowns, and the 1996 group boasts one of the deepest collections of wideouts in NFL history.
The 2014 class has its heavy hitters but it is anything but top heavy, posting seven 500-yard, 50-catch receivers 14 weeks into the season compared to just four by the famous 1996 group. It's not done yet, either, with Allen Robinson, John Brown and Davante Adams all with realistic shots of cracking the group. In collective production, all rookies in 2014 have amassed 10,552 yards. That 1996 group – 7,380.
Add in the emergence of Donte Moncrief, who has worked his way into a starting role in Indianapolis, Marqise Lee and Paul Richardson, and the 2014 class might not even be done producing standout pass catchers.
Draft classes are associated with what they produce. The "Year of the Quarterback" will always be 1983, when John Elway, Dan Marino and Jim Kelly all went in the first round; the all-defensive draft will be 1981, when five players from that side of the ball made their way to the Hall of Fame. With plenty of receivers already starring, and several who still haven't hit their peak, it's not too early to call 2014 the Year of the Receiver.
Micah Powell is a staff writer at Panini America.
Great Grabs
If you think the 2014 rookie receiving crop has put up impressive figures on the field, you should see what it's doing on the secondary market. The gallery below details seven staggering eBay sales from Panini America's 2014 Flawless Football: