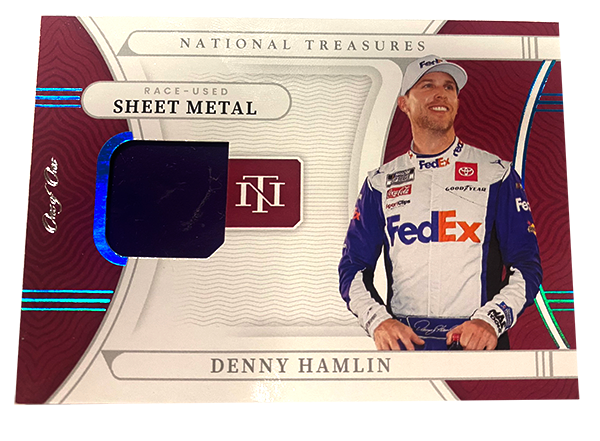 Denny Hamlin has it all — Daytona 500s, Southern 500s, a Coca-Cola 600, an All-Star Race win, wide acclaim, a spot on NASCAR's 75 Greatest Drivers list and a near-certain reservation in the Hall of Fame.
Almost all. He just needs that one championship.
And the way he feels after winning at Bristol in the playoffs on Saturday night, that could soon be taken care of.
"It's our year," the veteran Joe Gibbs Racing competitor said after rolling through 142 laps at the front for the checkered flag, his 51st career win. "I just feel like we've got it all put together. We've got the speed on every single type of racetrack. Nothing to stop us at this point."
Nothing keeps him from being a favorite in the Round of 12, either. At Texas and Talladega, the first two races in the quarterfinals, he has five victories, 17 top-fives, 30 top-10s, a pole and more than 700 laps led.
Now the Chesterfield, Va., racer — recognizable in his FedEx No. 11 Toyota Camry TRD — is third in the point standings among the dozen remaining Cup Series championship contenders.
Hendrick Motorsports' William Byron and Kyle Larson, JGR's Martin Truex Jr. and Christopher Bell, RFK Racing's Chris Buescher, Richard Childress Racing's Kyle Busch and 23XI Racing's Tyler Reddick make up the remaining top eight.
"This was probably our best race we've had in a while, and probably the most disappointed I've been in a while," said Bell, third at Bristol after a race-high 187 laps led. "That's how it goes sometimes… it was a lot of fun leading laps, and this track is just the best."
The next four drivers in the standings, now below the cutline as the next round begins Sunday at Texas Motor Speedway, are Trackhouse Racing's Ross Chastain, RFK's Brad Keselowski, Team Penske's Ryan Blaney and 23XI's Bubba Wallace, whose 14th-place finish at Bristol pushed him to a new high as he runs for the first time as a playoff driver.
"I mean, a career year," said Wallace, who joined his car co-owner, Hamlin, in the next round along with 23XI teammate Reddick. "Just got to keep it going."
Eliminated were Kevin Harvick in his final season, defending series champion and Panini America NASCAR Brand Ambassador Joey Logano, Daytona 500 champion Ricky Stenhouse Jr and Michael McDowell.
"Those first two races just killed us," McDowell said. "Put us so far behind. This is a learning experience."
It's the playoffs. Everybody learns, fans are entertained, and that championship — whether the first or second or third or more — awaits.
Related Links
Panini Official NASCAR Trading Cards
Reddick Calmly Wins Wild One in Kansas