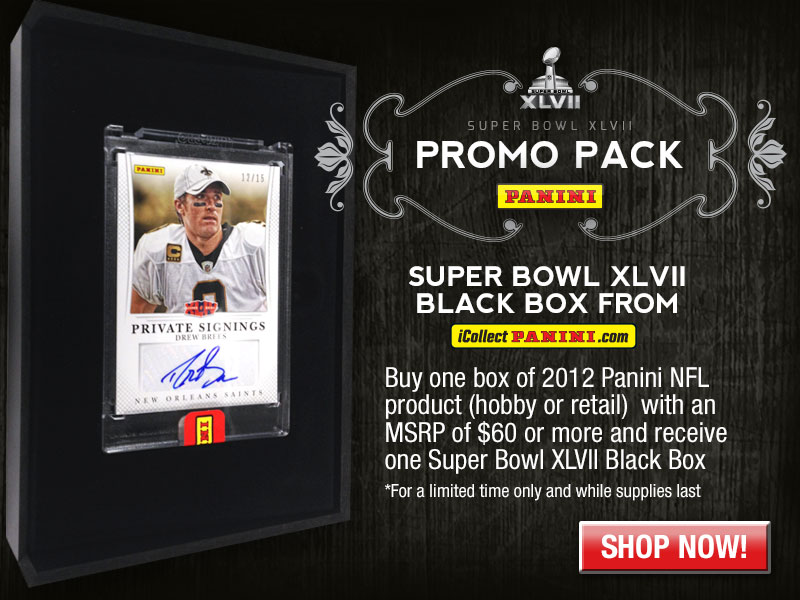 While teams, fans and media are busy descending upon New Orleans for what's sure to be an epic game, officials at Panini America have cleverly designed what can only be described as the Super Bowl of trading card promotions. For a limited time only and while supplies last, customers who purchase one box of NFL product (hobby or retail) at iCollectPanini.com with an MSRP of at least $60 or more will be eligible for one Super Bowl XLVII Black Box. Included in each special-edition black box is one randomly inserted card — a guaranteed autograph from the star-studded lineup below and featured in the gallery.
Panini America Marketing Manager Scott Prusha has put together a staggering collection of special Super Bowl cards — all autographed and all numbered to a low quantity. Included in the set are three one-of-one diamond studded cards of three Super Bowl MVP Quarterbacks with roots in the New Orleans area:  Peyton Manning, Eli Manning and Drew Brees.
Also included in the set are special-edition Private Signings inspired Super Bowl autograph cards of Joe Montana (#'d 1/1), Eli Manning, Drew Brees, Andre Reed, Emmitt Smith, Brett Favre, Eddie George, Hines Ward, Bart Starr, Thurman Thomas, Franco Harris, Howie Long, Terry Bradshaw, Steve Young, Terrell Davis, Tom Rathman, Roger Craig (#'d 1/1), Rod Woodson, Michael Strahan, Ronnie Lott, Peyton Manning, Santonio Holmes, Phil Simms, Michael Irvin, Joe Greene, Jim Kelly, Larry Csonka, Jim Plunkett, John Riggins, Jim McMahon, Jerome Bettis, Jerry Rice, Marcus Allen and Joe Namath. All autographed and all serial-numbered no higher than 25.
Still not enough? Just in case none of those cards whet your appetite then how about the addition of an autographed memorabilia card of the top rookies from the 2012 season? Included in this set is #1 Overall Draft Pick and Panini Authentic Exclusive Andrew Luck along with Robert Griffin III, Russell Wilson, Doug Martin, Justin Blackmon, Brandon Weeden, Trent Richardson and Ryan Tannehill. All autographed with a jersey swatch and all numbered to 25 or less.
Collectors who purchase one box of any 2012 Panini NFL product with an MSRP of $60 or more at iCollectPanini.com will receive one Super Bowl XLVII Black Box. Multiple purchases are allowed – in other words, if you purchase five boxes of eligible product then you will receive five Super Bowl XLVII Black Boxes, as long as the MSRP is $60 or more and while supplies last.
As always, we have provided you with a glimpse of the greatness below — stay tuned to The Knight's Lance for Super Bowl XLVII coverage this week from New Orleans. And make sure to Tweet out photos of your black box hits to #PaniniWildCard for a chance to win more prizes!