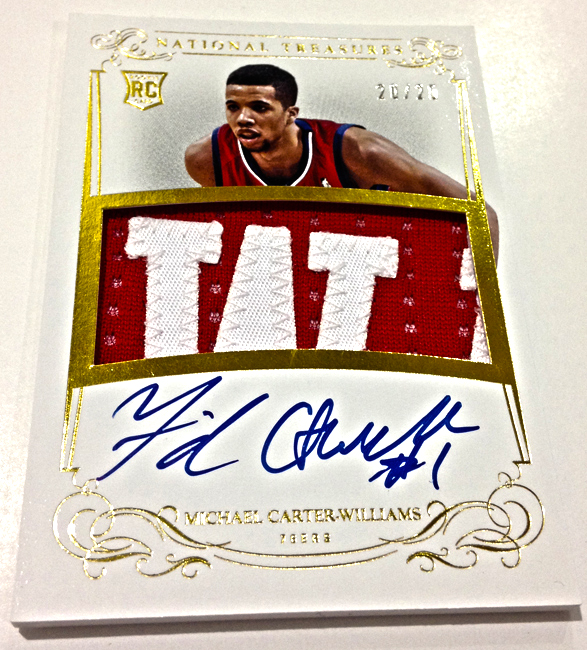 Tomorrow, at long last, Panini America's 2013-14 National Treasures Basketball will arrive in hobby shops across North America, offering countless breathtaking reasons as to why it's still one of the most important high-end brands in hobby history. We've brought you many of those reasons in recent days right here on The Knight's Lance with a slew of saliva-starting galleries. Today, we offer one more.
While we've shown you just about everything there is to show up to this point, there's still some pre-release images we haven't shared. So we went through our iPhone and dumped every last remaining 2013-14 National Treasures Basketball image into the following gallery which places a tantalizing focus on some of the rich on-card autograph content in the product.
Some of the greatest and most collectible players in NBA history — along with their handsome, hand-signed handiwork — are featured in the more than 80 images that follow, including rare appearances from the likes of Carmleo Anthony, Dwyane Wade, Manu Ginobili, Larry Bird, Kobe Bryant and so many more. (Ginobili's first-ever Panini America autographs arrived at HQ just after packout but are available for redemption immediately.)
So enjoy this final pre-release look at 2013-14 National Treasures Basketball. Like you, we can't wait for Wednesday's release. Oh, and if you missed any of our countdown galleries, you can access them all by clicking the links below.
Inside NT: Panini America Begins Exploring 2013-14 National Treasures Basketball
Inside NT: Panini America Adds Springfield Swatches, X Factor to Memorabilia Lineup
Inside NT: Sneaker Swatches Add Kick(s) to 2013-14 National Treasures Basketball
Inside NT: International Treasures, Notable Nicknames, Prime Memorabilia and More
Inside NT: Legendary Logomen Add Luster to 2013-14 National Treasures Basketball