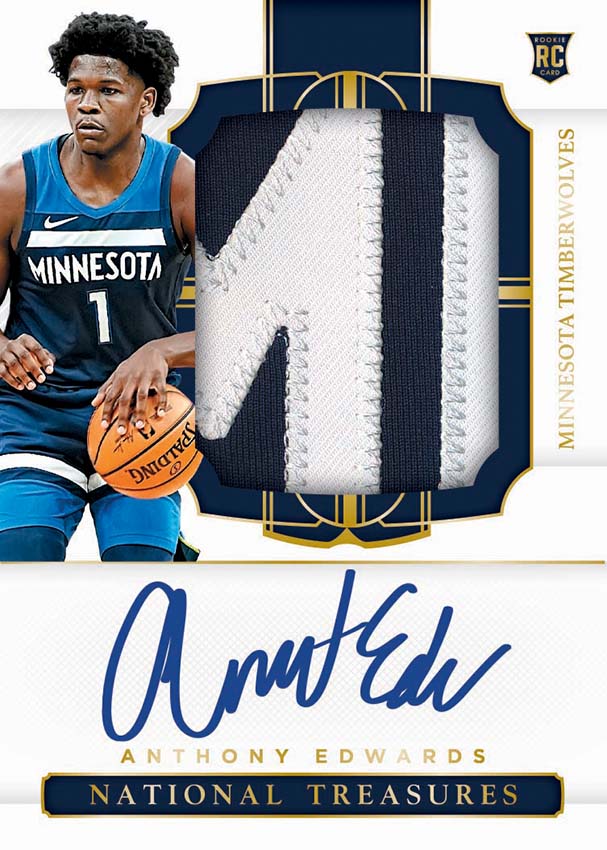 Panini America officials recently sent out preliminary Product Information Solicitations for several exciting new products coming soon to a hobby shop or online retailer near you. Today, we're sharing that same information with you here on The Knight's Lance, this time featuring the impending juggernaut that is National Treasures Basketball.
In the extensive product preview below, we'll showcase a bevy of preliminary images from the upcoming 2020-21 National Treasures Basketball as well as the product's Hobby and FOTL PIS documents.
Estimated Release Date: June 23
Product Configuration: 10 cards per box, four boxes per case.
BOX BREAK: Four autographs, four memorabilia cards, one Printing Plate and one Base or Base Parallel.
National Treasures Basketball makes its return to the hardwood with a jam-packed lineup of autograph content. Find some of the top RPAs of the year featuring top rookies including LaMelo Ball, Anthony Edwards, James Wiseman and more.
Logoman Autographs and Treasured Tags Autographs are back with a fresh, new lineup of top players. Find one-of-a-kind items of Charles Barkley, Trae Young, Kevin Garnett and more.
Look for the incredibly unique Personalized autographs of superstar talents.
All new to 2020-21 National Treasures Basketball: Find RPAs of top rookies in the new Crossover 2010 and Crossover 2011 Rookie Patch Autographs set.
Colossal Materials Autographs and Clutch Factor Signatures feature a variety of current players and rookies. Look for Super Prime versions numbered to as low as one.
Enjoy the preview gallery that follows and stay tuned for additional information.
The PIS document for 2020-21 National Treasures Basketball Hobby is available here.
The PIS document for 2020-21 National Treasures Basketball FOTL is available here.
All information is accurate at the time of posting – content is subject to change and approval. Card images are solely for the purpose of design display. Actual images used on cards to be determined.