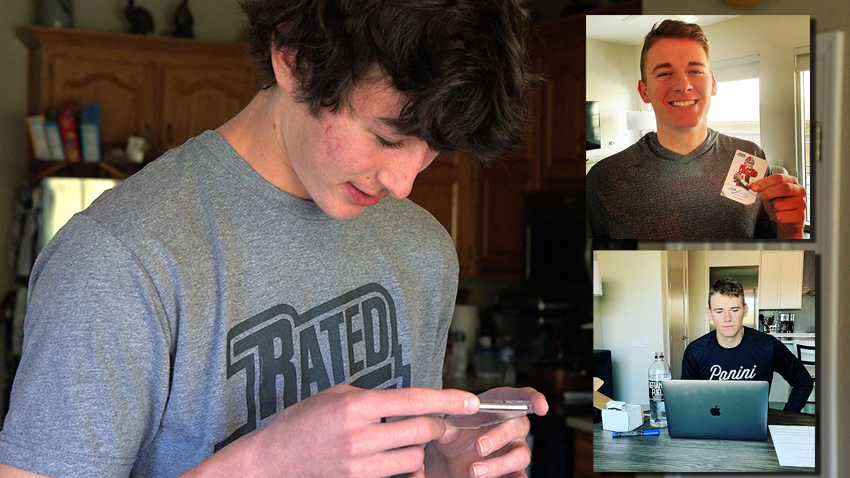 Ever since 16-year-old card collector Tyler Zawacki of Huntsville, Ala., learned he was selected from more than 100,000 entrants as the 2020 Panini NFL Player of the Day National Sweepstakes Grand Prize winner, he had been counting the days until he got the opportunity to meet Alabama quarterback Mac Jones.  Last Saturday, the 22-day wait was over and Zawacki, a dozen friends and family members, plus Brooks Bryant, the owner of Champs Sports Cards got the opportunity to talk football and card collecting with Jones, a projected first-round pick in the upcoming 2021 NFL Draft. 
Among the highlights of the call included Jones breaking the news that he would be attending the NFL Draft in Cleveland, sharing his pre-game ritual and superstitions (such as washing his hands with just water, no soap) and how he would practice his autograph in his high school math class. Jones also provided insight into the unique skills of Bama teammates Jerry Jeudy, Henry Ruggs III, Jaylen Waddle and DeVonta Smith, and he shared high school memories and stories. At the end of the call, Jones signed an exclusive Panini America trading card for everyone on the call, a special 1/1 version for Zawacki and 25 cards for Bryant to award to his best customers.
"This was an awesome experience. As a collector, it was a dream come true to get the chance to break these boxes of Panini trading cards and add some amazing cards to my collection," Zawacki said afterward. "And as a high-school athlete, it was inspiring for me and my friends to hear Mac's story and learn how he went from a three-star recruit to a two-time National Champion and now to possibly being selected in the first round of the NFL Draft. I want to thank Panini and Champ's Sports Cards for making this experience possible."
Following the call, Zawacki got the opportunity to open three special boxes of Panini trading cards: 2020 Immaculate Football, 2020 Panini One Football and 2020 Flawless Collegiate Football. Among the top pulls were autographs from Jones' former teammate, Tua Tagovailoa as well as fellow rookies Justin Jefferson and Jonathan Taylor and a pair of signed cards from Hall of Famer John Elway.
For the past 20 years, the Panini NFL Player of the Day hobby shop promotion has awarded collectors with more than two million prizes and each year through 2019, the promotion would conclude with one lucky collector spending the day with an NFL player. Due to COVID-19 and social distancing guidelines, the grand prize events in 2020 and 2021 were conducted virtually.
A junior at Buckhorn High School in Huntsville, Zawacki is the starting quarterback for the Buckhorn Bucks, a member of the Bucks' varsity baseball team and plays travel baseball. On the diamond, he is an accomplished batter with 19 extra base hits in 19 games during summer travel and, as a pitcher, he throws in the high 80s. Zawacki's love of trading cards started at an early age. On Christmas morning, he would always find a complete set of baseball cards under the tree and packs of cards in his and his brother's stockings. When he was 12, he found Huntsville's local card shop – Champs — and would always tag along on errands that were near the shop in hopes there would be time for him to stop in the store. He then began to watch live streams of card breaks and card reviews on various social media platforms.
On every family trip, Zawacki stops at local card stores along the way and before the pandemic, he attended card shows to meet other collectors in the Southeast. He says he's hoping to attend the National Sports Collectors Convention in Chicago this summer to meet some of the new friends he has made in the card-collecting world. Zawacki plans to continue playing baseball at the college level and study business. Eventually, he'd like to own a card store of his own – just like Champs.
The Panini NFL Player of the Day promotion included more than 600 hobby shops. This marks the 20th consecutive year that the NFL Player of the Day program has given an NFL card collector the chance to spend the day with an NFL player. Past players have included D'Andre Swift, Matt Breida, Patrick Mahomes II, K.J. Wright, Jeremy Langford, Terrence West, Antonio Brown, Prince Amukamara, Beanie Wells, Pierre Thomas, Patrick Crayton, Steve Slaton, AJ Feely, Maurice Jones-Drew, Chris Simms, Rudi Johnson, Donald Driver, Ed McCaffrey, Chad Pennington and Frank Wycheck.
For more information on the Panini Player of the Day program, please visit the official website.