Since I'm a positive guy by nature, I'll begin with the good news: The hand-packout process for the highly anticipated juggernaut that is 2010-11 Dominion Hockey begins a week from tomorrow. (As an aside, we'll be there with video camera in hand documenting the process.)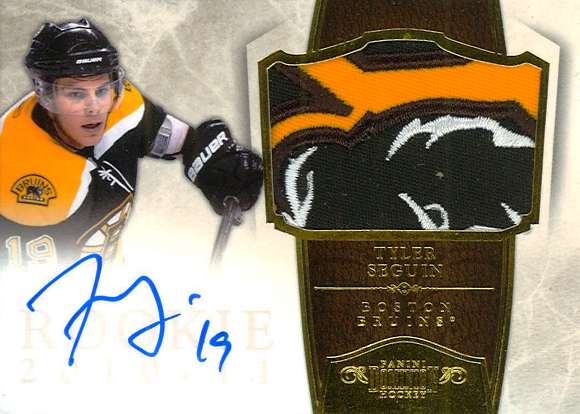 Since I'm a positive guy by nature, I'll begin with the good news: The hand-packout process for the highly anticipated juggernaut that is 2010-11 Dominion Hockey begins a week from tomorrow. (As an aside, we'll be there with video camera in hand documenting the process.)
The bad news? The gallery that follows showcasing some of the sweetest, most-recent autograph arrivals for the product will be the final gallery we post before next week's big event. Judging by some of the beauties below, it can be argued that we saved our best images for last.
From the breathtaking Bruins patch on Tyler Seguin's card to the unparalleled brilliance of the four autographs featured on the Brodeur/Belfour/Potvin/Joseph quad, there are some history-making hits in this lineup.
But before you get to the latest goods, we've provided links to the other Dominion content we've posted in recent weeks in hopes of tiding you over until we bring you next week's exclusive coverage of the packout process.
Enjoy.
Boston Bruin Milan Lucic Comes Through for Collectors One More Time
New On-Card Dominion Arrivals Include Evgeni Malkin, Taylor Hall
The Newest On-Card Arrivals for Dominion Hockey, Elite Black Box Basketball & More
The Countdown Continues: Spectacular New Arrivals for 2010-11 Dominion Hockey
The Drool Gallery: More On-Card Eye Candy Coming to Dominion, National Treasures
Let the Fireworks Begin: Explosive Looks at Dominion, National Treasures