There has been an unprecedented occurrence, a meteoric uprising really, this past week in the sports collectibles market, one which has absolutely nothing to do with the Super Bowl, and could only be described as a Roy Hobbs-like phenomenon.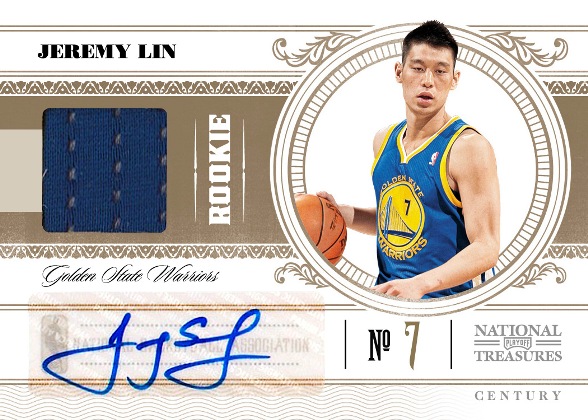 There has been an unprecedented occurrence, a meteoric uprising really, this past week in the sports collectibles market, one which has absolutely nothing to do with the Super Bowl, and could only be described as a Roy Hobbs-like phenomenon.
His name is Jeremy Lin. He plays point guard for the New York Knicks. And in the last 24 hours, his 2010-11 Panini America autographed Rookie Cards have sold for as much as $1,000. Another one sold for $799. Since Tuesday, nearly two dozen have been snagged for at least $200. Non-auto cards are selling at $100 apiece.
Keep in mind that just a week ago, Lin's highest-selling rookie card fetched $40. There were a plethora of autographed cards purchased for as little as $3.
No more, though. Now, Lin's the hottest name in the sports collectibles universe. Not just in the NBA, either. Any sport. Media and fans are calling it "Linsanity." His Twitter feed has gained nearly 65,000 followers since Monday.
"That's why people like to collect," Panini America NBA Brand Manager David Porter said. "You never know when someone like Jeremy Lin is going to have that opportunity to play and prove himself. Less than a week ago, his cards were at the bottom of collectors' want lists. Now, the chase is on even for his base cards. That's what makes collecting cards so unpredictable."
Lin's path to glory is unfathomable.
On Wednesday night, he became the first NBA player since LeBron James to record 20 points and eight assists in each of his first two starts. Lin finished that game with 23 points and 10 dimes in New York's 107-93 defeat of Washington. And the crowd couldn't have enjoyed his dashing drives to the rim and quick dishes more. Did we mention the game was in Washington? Yes, even on the road Lin was a fan favorite, drawing multiple standing ovations. Many fans were seen waving Taiwanese flags and signs as well.
Over his last three games, all wins for the Knicks after they had dropped 11-of-13, Lin has 76 points, 25 assists and five steals. And he has become the talk of not only the basketball world, but New York City. Not to mention Asia.
Lin's parents, Shirley and Gie-Ming, who are both engineers, came to the United States from Taiwan in the 1970s. Jeremy was born in 1988. He landed at Harvard after a standout, state championship-winning career at Palo Alto (Calif.) High School. Why an Ivy League program which hadn't produced an NBA player since 1954? Well, no one else was interested. Lin, who stands 6-3, wasn't offered a single college scholarship.
At Harvard, Lin was sensational, historically so, becoming the first player in the long, rich tradition of the conference with at least 1,450 points, 450 rebounds, 400 assists and 200 steals. One and all were impressed, with Connecticut's Hall of Fame coach Jim Calhoun saying Lin could play for any team in the country.
Then came the 2010 NBA Draft. Some 60 names were called, many of whom are not playing in the league presently. Lin's was not among them.
He landed with the Dallas Mavericks for a mini-camp and the NBA Summer League, but wasn't signed. His hometown team, the Golden State Warriors, then inked him but playing time was scarce once the 2010-11 regular season started. He averaged 2.6 points in 29 games and was waived the first day of training camp this season. Lin was then claimed by the Houston Rockets, only to be waived again on Christmas Eve.
Three days later, the New York Knicks signed him to a non-guaranteed contract. His roster spot on a day-to-day basis was insecure enough that Lin has been sleeping on the couch of his brother, a New York University dental student. In fact, he's still sleeping on the couch despite having his contract guaranteed for the remainder of the season on Feb. 7.
Just two weeks ago, Lin was the fourth-string point guard, but injuries and such led to more playing time and then the breakout on Feb. 4 with 25 points vs. New Jersey. That also broke the single-game scoring mark for a player from Harvard.
Two nights later, vs. Utah at Madison Square Garden, the NBA's first American-born player of Taiwanese or Chinese descent became the first player with 28 points and eight assists in his first NBA start since Hall of Famer Isiah Thomas in October 1981.
"For a player to generate this kind of momentum in such quick time is incredible," said Karvin Cheung, Panini America's Director of NBA Product Development. "It's a great human interest story, too, with him being undrafted out of Harvard and now landing in the hottest basketball market in the country in New York City. And on the Asian market, he's a player the fans and collectors can relate to. He's not 7-feet tall like Yao. He's an everyman making it big in the NBA."
The next installment of "Linsanity" takes place tonight against the Los Angeles Lakers at Madison Square Garden. At this point, the kid from Harvard's future, both on the court and within the hobby, is truly limitless.
Jeff Sullivan is the Editorial Director for Panini America.
Here's a quick look at recent sales of Jeremy Lin's Top Rookie Cards and what those cards were selling for two weeks ago:
CARD
THIS WEEK
TWO WEEKS AGO
% INCREASE
2010-11 Absolute Memorablia #136
$115
$11
1,050
2010-11 Classics #179
$85
$6
1,400
2010-11 Playoff Contenders Patches #141
$100
$15
667
2010-11 National Treasures #194
$300
$12.50
2,400
2010-11 Timeless Treasures #131
$135
$6
2,200