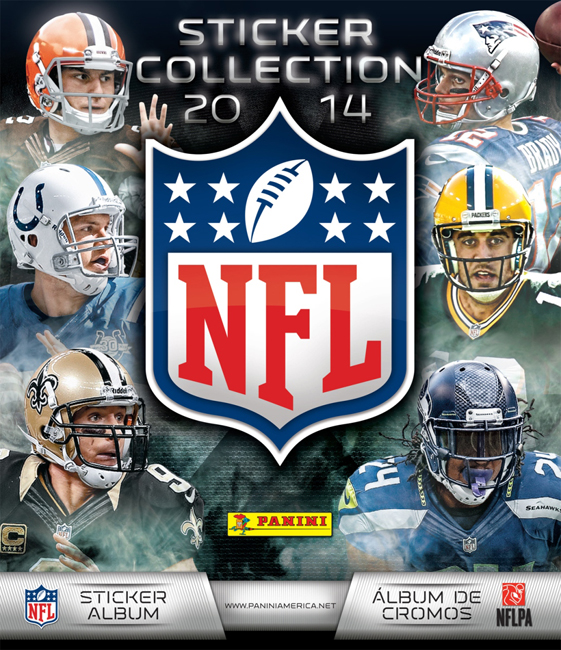 Panini America, the leading global publisher of sports and entertainment collectibles has announced its cover athletes for the Official 2014 Panini NFL Sticker & Album Collection. The Official 2014 Panini NFL Sticker & Album Collection features four of the NFL's top veteran quarterbacks, Super Bowl-winning running back Marshawn Lynch of the Seattle Seahawks and rookie quarterback Johnny Manziel of the Cleveland Browns. Lynch and Manziel join former Super Bowl MVPs Tom Brady of the New England Patriots, Aaron Rodgers of the Green Bay Packers and Drew Brees of the New Orleans Saints; Andrew Luck of the Indianapolis Colts rounds out the cover.
Manziel's appearance marks the first time in the five-year history of the Official NFL Sticker & Album Collection that a rookie has graced the cover.
"Putting Johnny Manziel on this year's cover was a no-brainer; he's already one of the most popular and collectible players in the NFL – and he has been ever since he crossed the stage on draft night," said Jason Howarth, Panini America Vice President of Marketing. "For many fans and collectors across the country, the NFL Sticker Collection symbolizes the start of the new season and represents the genuine excitement of collecting your favorite players and completing your album. The players on this year's cover embody that excitement."
Last year, Panini America produced its first all-quarterback cover; five of those players (Brady, Luck, Colin Kaepernick, Peyton Manning and Russell Wilson) advanced to the playoffs in 2013, with Wilson and Manning meeting in the Super Bowl. Brady and Rodgers lead all players with three cover appearances each in the last five years; Manning, Brees, Luck and Adrian Peterson are next with two cover appearances apiece.
This year's 72-page full-color album features 485 new stickers, including more than 150 Foil stickers, and special sections and stickers chronicling the 2014 Pro Football Hall of Fame Class, a historic look at the NFL's International Series and a gripping recap of Super Bowl XLVIII. The game's hottest rookies are captured on special Rookie Stickers using the iconic 2014 Score Football design.
"Every year since entering the U.S. market, Panini America's Official NFL Sticker & Album Collection has grown in popularity and continues to entrench itself as a viable, season-long  family pursuit," said Panini America CEO Mark Warsop. "It's a perfect complement to our NFL trading card releases and we expect the 2014 edition to be our most successful yet."
2014 NFL Sticker Collection packets include seven stickers and retail for $1, while the 72-page album will retail for $2. The Official NFL Sticker & Album Collection is available at retailers nationwide including Target, Walmart, Michaels, Learning Express, AC Moore, Shopko, K-mart and Dollar Tree. The collection also is available on the Panini America Online store.
As part of the launch of the Official 2014 NFL Collection, Panini America also kicked off a multi-city mobile tour Thursday that began at New England Patriots training camp. The tour will visit select NFL cities throughout the season promoting Panini America NFL trading cards. Additional tour stops include:
July 30-August 1 — Cleveland
August 2-3 — Canton, Ohio (Pro Football Hall of Fame)
August 8-23 — Boston/Foxboro, Mass.
August 28- September 4 — Cincinnati
September 6 — Columbus, Ohio
September 13-16 — Indianapolis
September 26-30 — Chicago
October 2-7 — Green Bay, Wis.
October 10-14 — Minneapolis
October 17-21 — Denver
October 24-28 — Kansas City, Mo.
November 14-18 — Nashville, Tenn.
November 29-30 — Jacksonville, Fla.
December 1-6 — Orlando, Fla.
December 19-23 — Dallas
January 26- February 3 — Phoenix (Pro Bowl/Super Bowl XLIX)
Stay tuned to The Knight's Lance for continued coverage of the Official 2014 NFL Sticker Collection and the accompanying mobile tour. Below, please find a gallery detailing five years of Official NFL Sticker Albums.