New Jersey rapper Nick Javas has found his calling. He's the rap game's preeminent pigskin poet; a football freestyler spitting prose on pros that's guaranteed to keep you hitting replay again and again and again, just to confirm that he just said what you thought he said.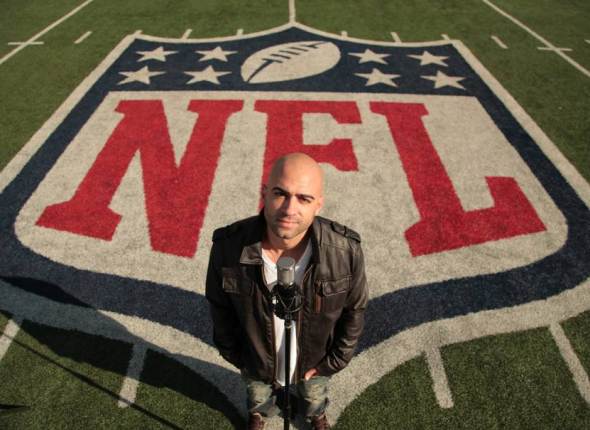 One listen. That's all it takes to know for certain that New Jersey rapper Nick Javas has found his calling.
Javas is the rap game's preeminent pigskin poet; a football freestyler spitting prose on pros that's guaranteed to keep you hitting replay again and again and again — not just because you simply can't stop listening, but also because you want to confirm that he indeed just said what you thought he said.
As the refreshingly hip voice and face behind the weekly Pepsi Max NFL Rookie Audible, Javas is living a dream laced with captivating rhymes, a diverse, virtually flawless flow and uniquely entertaining football commentary delivered unlike any other you've ever heard.
In a hip-hop world too often inundated with ad nauseam braggadocio and shock lyrics for shock lyrics sake, Javas is a breath of fresh air whose weekly rhymes recount not some trumped-up, made-for-CD exploits, but those performed in real life every Sunday by the five NFL rookies nominated for Pepsi NFL Rookie of the Week honors.
The tireless Javas, a former Rutgers University wide receiver whose playing career was derailed by a knee injury, is equal parts passion and wit and wow-factor wordplay. He spends every in-season Sunday glued to NFL action, and all day Monday perfecting new verses in advance of shooting the Pepsi Max NFL Rookie Audible video every Tuesday. The new video debuts on NFL.com every Thursday, adding yet another mesmerizing chapter to Javas' impressive body of work.
There's an unmistakable magnetism to Javas' music that must be heard to be appreciated. But take it from all of us here at Panini America: One listen is not nearly enough. We spend most of our Thursday mornings hitting replay . . . again and again and again. In fact, we're so sold on Javas' Pepsi Max NFL Rookie Audibles that we decided to honor him with his own Panini America virtual trading cards. After all, the five talented rookie performances he raps about every week wouldn't be nearly as impressive without Javas' soundtrack.
You can see Javas' virtual Rookie Cards — and the complete Panini America virtual trading card set so far — on our Facebook page, but first check out our exclusive interview with the Giants-loving Javas, who discusses his rap influences, collecting cards as a kid and the highlight of his career so far.
When do you typically start the process for each week's Pepsi Max NFL Rookie Audibles?
Around 3 p.m. on Monday when I get the list of the five rookies who are in contention for the week. I start gathering the stats and the players' info and once I have it all in front of me, the writing process begins.
Obviously, there are no-brainers that emerge during the games on Sunday that you might write as you're watching, but how much do you have written when the final list of five is presented to you on Tuesday morning?
Well, I start out with the tentative list of five rookies who are being considered by Monday afternoon. Sometimes, a rookie will play so well during the Monday night game that he will end up replacing someone on the tentative list. There've been a few times that I've rewritten lyrics as I'm walking onto the set to shoot the video because of a surprise turn of events during the game the night before.
Who produced the beat for the Rookie Audible and does having the same beat every week make your task easier?
The beat was produced by Fifth Seal. The track is just so fitting that it's tough to imagine it any other way! Variety is nice, but when you find the right girl, you stay with her. That's how it is with this Pepsi Max NFL Audibles beat.
What's the favorite verse that you've written so far this season?
It's got to be the one from Week 4. It goes like this:
"In the Chi, Cam lookin' bonafide.
374, 3 scores, 2 of 'em on the floor,
Welcome back to the show, you're practically a co-host
Hahaha, JK.  But your stats? No joke"
What is your favorite part of the Pepsi Rookie Audible process? Writing it? Rapping it? Filming it? Or just completing it?
I am LOL'ing at "completing it" – and yes, I just used LOL in my answer! Of course there is a feeling of accomplishment to finish an Audible. I definitely have my "oh" moments when I'm writing them and I love filming at MetLife Stadium. The one thing that is guaranteed to bring the most enjoyment is watching the Pepsi Max NFL Audibles on www.nfl.com/rookies. It never gets old, week after week, and not just because it's always new!
How has your life or profile changed since you started doing the Pepsi Max NFL Audibles?
I definitely feel taller.
You're an extremely talented rapper with really unique style and content. How rewarding is it for you to be able to combine two obvious passions like this?
Thanks for the compliment! This is such a perfect marriage for me. I started off rapping as a therapeutic exercise after I tore my ACL while playing my first football game for Rutgers University. At the time, I was in a tough spot knowing I wouldn't be able to pursue football dreams and I couldn't make sense of my misfortune. Over time, it came together – the football with the rapping – and the whole process has taught me a whole lot about life. Now, I'm doing the official Pepsi Max NFL Audibles – something I never dreamed of!
Who would you say are the top three rappers that have influenced you?
Jay-Z for his undeniable skill, wordplay and intelligence. Tupac for his passion and range. Kanye West for his creativity and fearlessness.
What is the top highlight of your rap career so far?
A highlight has to be the first time the Pepsi Max NFL Audible aired during last year's playoffs! I rented the Knights of Columbus hall in my hometown of Union, N.J., and invited about 100 family and friends to come watch. To see the happiness and feel the genuine support from the people who've been in my corner from the beginning is something I will never forget.
I know you're a Jersey guy, but who is your favorite NFL team?
Big Blue!
Favorite all-time player?
Hands down, Bo Jackson. I literally thought I was him as a kid, especially when a rotted old wooden bat actually broke over my knee.
Were you ever – or are you now – much of a card collector?
Wasn't everybody?! There was a place called "The Hobby Shack" by my house growing up. It was a short bike ride with a great payoff, even with the added weight of a friend riding on the pegs. I'd go there and get cards and I actually still have most of them today. Pepsi Max and Panini America are also creating the official virtual NFL trading cards for the top five Pepsi Max Rookie of the Week nominees each week during the season. I think everyone should check those out!
If you had to work "Panini" or "Panini America" into one of your Pepsi Max NFL Audibles segments, how might that go?
"The Products, the people, the partners, the promotions
From coast to coast, keepin' stars in motion
On the cards they're hostin', sports news et cetera
A Pepsi Max toast to Panini America"
For new fans – like me – who've been introduced to your work through the Pepsi Max Rookie Audible, how can they find out more about you or get more of your music?
Check out www.nfl.com/rookies! Also, I just released my new single, "Victory" on iTunes, so check that out, too!