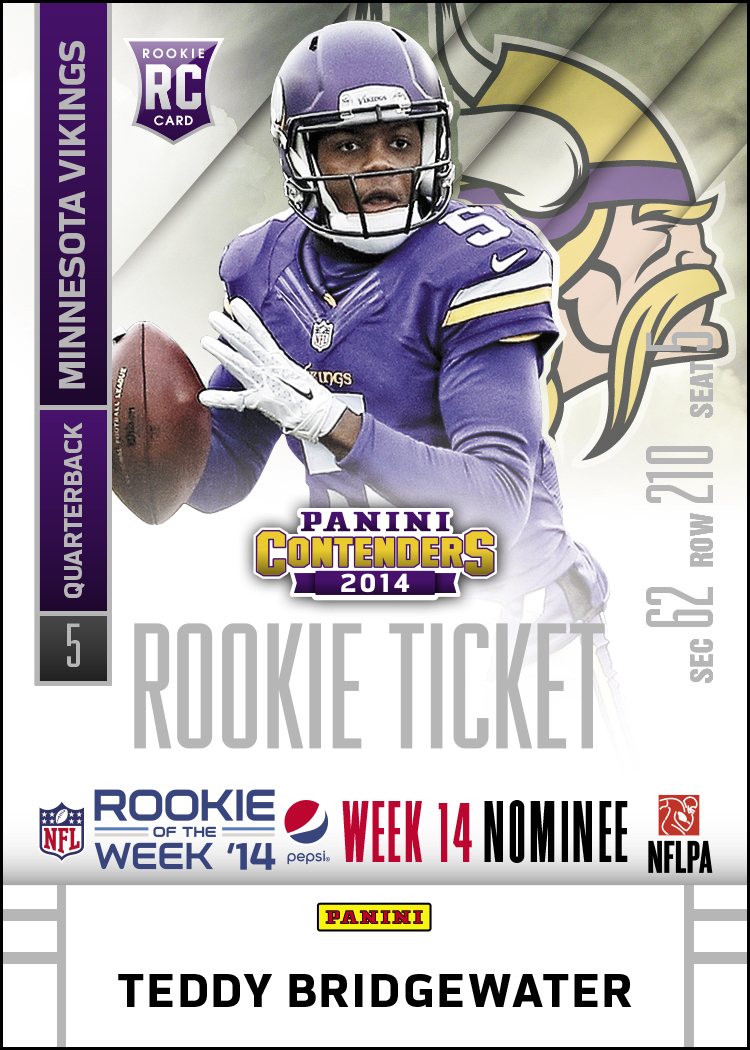 We love NFL rookies at Panini America. We love interacting with them at the NFLPA Rookie Premiere every summer. We love the fact that with their potential and their performances, they drive sales of every NFL product we make every year. But you want to know who loves NFL rookies as much as we do? Pepsi and football collectors.
Indeed, the folks at Pepsi get just as excited we all do about NFL Rookie performances each week during the season. And that's exactly why once again this season, for the fourth straight year, Panini America and Pepsi have joined forces to help promote Pepsi NFL Rookie of the Week voting and Panini America NFL Rookie Cards.
The payoff for collectors and NFL fans everywhere will be some sweet virtual cards that will be highlighted on the NFL Facebook page each week in a special 2014 Pepsi Rookie of the Week gallery, as well as across social media platforms and NFL.com. Each week during the 2014 NFL season, Panini America will feature the five Pepsi Rookie of the Week Nominees on a different Panini America 2014 football card design. (Stay tuned to The Knights Lance, the Panini America Facebook page and the Panini America Twitter account to find out about new Panini America designs and what weeks they will be incorporated into the Pepsi Rookie of the Week promotion.
Fans can vote for the Pepsi NFL Rookie of the Week each week during the 2014 NFL regular season. After you vote, be sure to share the virtual card image of the Pepsi Rookie of the Week Nominee you voted for on Twitter. Be sure to mention @PaniniAmerica to be eligible to win prizes throughout the season.
We'll have more details as the season progresses. But for now, here are your Week 14 nominees for 2014 Pepsi NFL Rookie of the Week:
Oakland Raiders quarterback Derek Carr completed 22-of-28 passes for 254 yards and three touchdowns, good for a 140.2 passer rating, in the Raiders' 24-13 win against the San Francisco 49ers.
Minnesota Vikings quarterback Teddy Bridgewater passed for 309 yards and two touchdowns, including an 87-yard game-winner in overtime, during the Vikings' 30-24 victory over the New York Jets.
New York Giants running back Andre Williams had 24 carries for 131 yards and a touchdown in the Giants' 36-7 win against the Tennessee Titans.
Carolina Panthers cornerback Bene Benwikere had eight tackles, two passes defensed and an interception in the Panthers' 41-10 win over the New Orleans Saints.
Pittsburgh Steelers wide receiver Martavis Bryant had four catches for 109 yards and a 94-yard touchdown catch in the Steelers' 42-21 win over the Cincinnati Bengals.