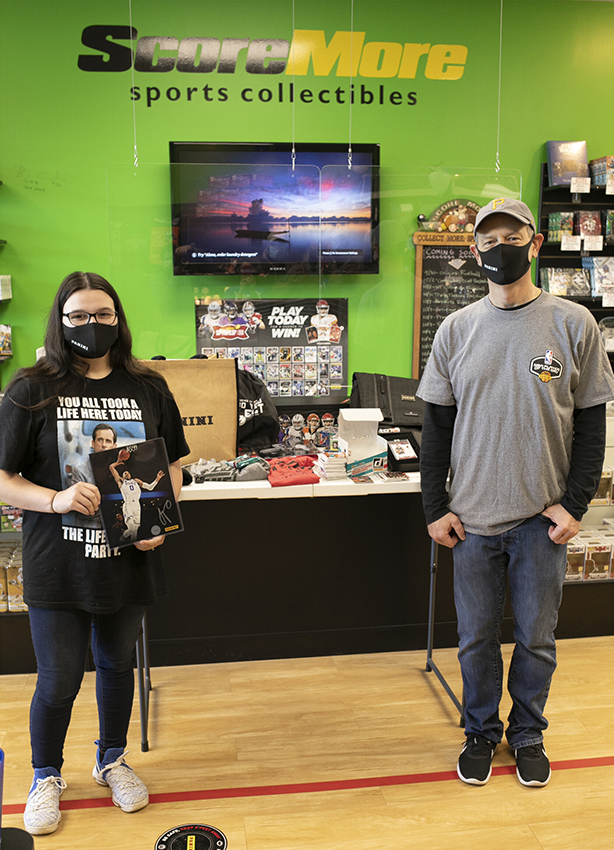 Almost 100,000 card collectors at more than 400 hobby shops nationwide participated in the 2020 Panini NBA Player of the Day hobby shop promotion this season and, although tens of thousands of prizes were awarded to collectors, only 18-year-old Heather May of North Wilkesboro, N.C., parlayed her lucky pack of Panini NBA trading cards into the grand prize.
This past Saturday, May, a huge Duke University basketball fan, was surprised with the news at a special event at her favorite card shop — Score More Sports Collectibles in Winston-Salem, N.C. — with video messages from two of her favorite former Blue Devils players: Christian Laettner and Seth Curry. Following the announcement, May received a Panini America "swag bag" featuring apparel, cards and more, including autographed items from Laettner, Jayson Tatum and Quinn Cook.
"We're super excited for Heather," said Michael Stang, owner of Score More Sports Collectibles. "She's not only a Duke fan, she's an avid Panini basketball card collector. So for her to win this contest and have the opportunity to meet a former Duke player, well, that's a dream come true.  Thank you to Panini America for putting a huge smile on a fan's face." 
Later this month, in lieu of hosting a private party as has been done in past Panini NBA Player of the Day grand prize events, May and her friends and family will participate in a Zoom call with an NBA player. The player will sign autographs for the participants on the call as well as for Stang to award to some of his top customers. After the Zoom call and autograph session, May will conduct several box breaks of Panini NBA trading cards and participate in a $250 shopping spree for Panini America products at Score More Sports.
"We are excited to create this special experience for Heather," said Jason Howarth, Panini America Vice President of Marketing. "Obviously, due to COVID-19 and social-distancing guidelines, it became impossible for us to stage an event exactly like we have done in past years. But based upon the experience we had awarding our 'virtual' NFL Player of the Day grand prize in July, we know Heather, her friends and family, and the other customers of Score More Sports Collectibles will enjoy this unique experience."
May's grandfather has always been a Duke fan and passed along his passion to her. An avid card collector who makes regular 45-minute drives from her home in North Wilkesboro to Score More Sports in Winston-Salem, May has made it a challenge to collect as many autograph cards of Duke players as possible. Cheering for the Blue Devils and collecting Duke basketball memorabilia is a tradition she hopes to pass along to her 3-month-old daughter, Rosalee. May is currently a paramedic student at Wilkes Community College.
The centerpiece of the Panini NBA Player of the Day promotion is a poster featuring Panini card images of one player from each of the 30 NBA teams.  Each day, a different player on the poster is designated as the "Panini NBA Player of the Day." Every time a collector purchases a pack of officially licensed Panini NBA trading cards and pulls the Player of the Day, they win a prize. Each week, stores conduct a drawing from the daily winners to award a weekly prize. 
Then, at the end of the month-long promotion, each store awards a grand prize to its store winner and enters them into the national sweepstakes. Each participating shop receives a free merchandise kit with all of the materials needed to run the promotion, including promotional posters, shopping bags, exclusive Panini NBA POD promo packs, top-loaders and One-Touches from Ultra Pro and an exclusive Panini NBA POD autograph card numbered and slabbed in a BGS protective case. To learn more, visit www.PaniniPOD.com.