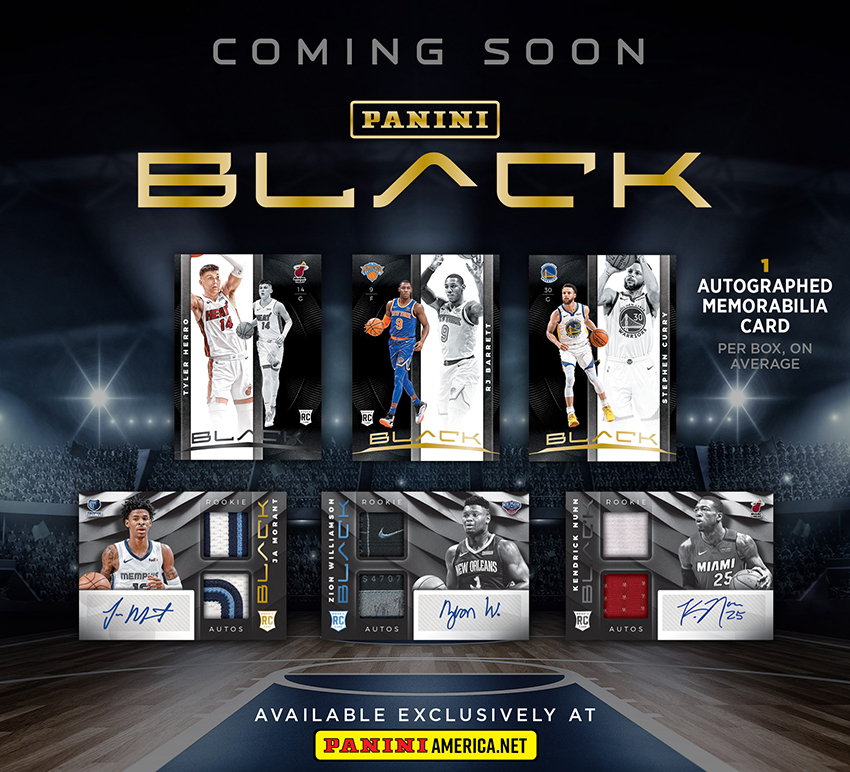 Panini America's darkly hued, spectacularly designed Black franchise has been a wildly successful entry on the NFL trading card landscape for several seasons. One week from today, company officials are ready to see how the Black concept plays on the hardwood — and history tells us the product is going to play really, really well.
Set to launch exclusively on the official online store of Panini America next Monday via dutch auction, 2019-20 Black Basketball brings the same deft brand staples that have driven the product's success on the gridiron — only with arguably the most collectible draft class of all time. On average, each hobby box (five cards per box, 12 boxes per case) will deliver one autograph memorabilia card, two base or base Rookie parallels and two base or Rookie Cards.
The highlights of this inaugural product are many and include . . .
Rookie Jersey Autographs featuring Silver, Copper, Gold, Holo Gold and Platinum 1/1 parallels. Chase multiple levels of Prime Memorabilia.
Rookie Photo Variations and Rookie Jersey Autograph Photo Variations with parallels numbered to as low as one.
An incredible lineup of rookie autograph content, incuding the most collectible newcomers of the 2019-20 season such as Zion Williamson, Ja Morant, Kendrick Nunn, RJ Barrett and more.
A stunning selection of parallel content across the product in the Silver, Copper, Gold, Holo Gold, and Platinum 1/1 sets.
We'll have plenty more on 2019-20 Black Basketball in the coming days. But for now, enjoy this extended sneak peek, followed by the product's official solicitation material.
Here's the official PIS document for 2019-20 Black Basketball.