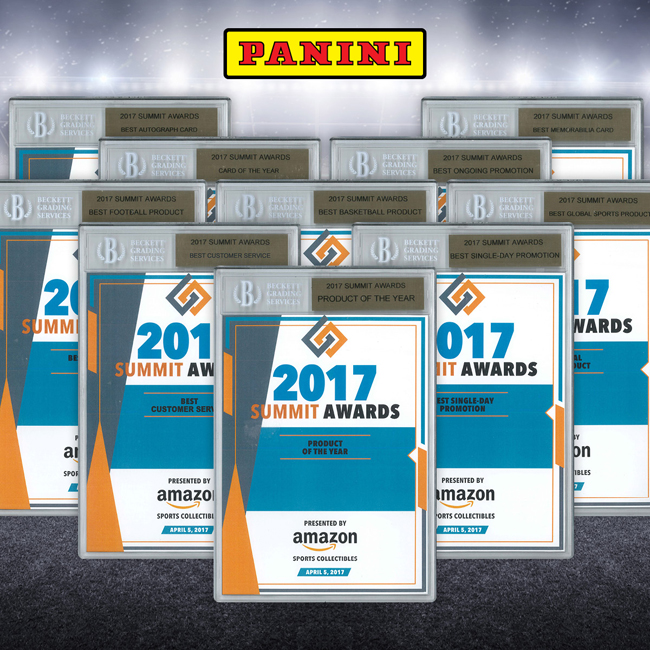 LAS VEGAS — The 2017 Industry Summit, the sports collecting industry's annual trade show, concluded yesterday with a closing ceremony that honored the best and brightest of the last year with the presentation of the Amazon Sports Collectibles Industry Summit Awards. During the ceremony, Panini America was honored with an industry-leading 10 awards, including hardware for Product of the Year and Football Product of the Year (2016 National Treasures Football), Basketball Product of the Year (2015-16 Prizm Basketball) and Best Single-Day Promotion (2016 Black Friday).
The company also was honored with awards for Best Ongoing Promotion (NFL Player of the Day) and Best Autograph Card (2016 National Treasures Football Treasure Chest #2 featuring autographs from Carson Wentz, Corey Coleman, Dak Prescott, Derrick Henry, Devontae Booker, Ezekiel Elliott, Jared Goff, Michael Thomas, Paul Perkins, Paxton Lynch, Sterling Shepard and Will Fuller V). The awards were voted on by hobby shop owners, online retailers, distributors, group breakers and other Industry Summit attendees. Two of the awards (Card of the Year and Customer Service) were awarded as ties with other manufacturers.
"On behalf of our company, I'd like to thank Beckett Media and the attendees of the Industry Summit for this tremendous recognition," said D.J. Kazmierczak, Panini America's Vice President of Sales and Product Development. "We believe that our company embodies the spirit, creativity and passion that has always defined our great industry, and receiving recognition from our industry partners provides affirmation that the intellectual and emotional investment that each and every member of our organization makes truly matters. All during this Summit, we have heard that the industry is as financially healthy as it has been in some time and many of these award-winning products have been key sales drivers over the past year. We take our leadership role seriously and promise to remain good stewards of our proud industry."
You can find out complete details of Panini America's 10 awards below.