Today, The Knight's Lance continues its ongoing series profiling the top Panini America collectors in the world with a heartfelt piece from Brett Saint, another of our Australian mates who was referred to us by our friends at OzCardTrader.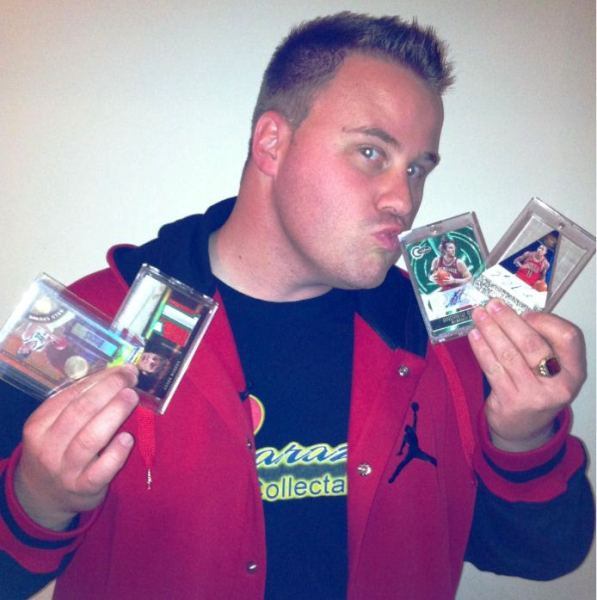 Today, The Knight's Lance continues its ongoing series profiling the top Panini America collectors in the world with a heartfelt piece from Brett Saint, another of our Australian mates who was referred to us by our friends at OzCardTrader.
In fact, Saint is so determined to amass the world's most impressive Andrew Bogut collection that he started his own weekend hobby shop business to fund his pursuit. What follows is his story in his own words.
Stay tuned after Brett's story for a comprehensive gallery showcasing the best cards in his collection.
I started collecting back in 1992 when I was 11 years old. Shaquille O'Neal and Alonzo Mourning were drafted to the Orlando Magic and Charlotte Hornets, respectively, and I started collecting Mourning until the market dropped out in Australia and card stores started to close in 1995-96.
I then stumbled back upon the hobby late in 2009 when I returned home from the Army, started looking around eBay and found some cards. I was impressed with how much cards had changed. Then I did a search and found Ozcardtrader. Ever since then, that Aussie forum has had me hook, line and sinker.
I decided to collect an Aussie player and since Andrew Bogut was the No 1 draft pick a few years earlier and I also liked his game both defensively and offensively, I settled on Bogut.
The rewards of collecting in Australia are meeting other great hobbyists along the way, helping them out with their PCs and having them help you out, and generally chatting about the NBA with other like-minded people no matter what walk of life you come from. After collecting for about a year and finding that some collectors and sellers would not send cards, supplies or boxes to Australia, I decided to set up my own weekend hobby stall — not to make money but to fund my addiction.
So in March of 2011 I opened Paparazzi Cards and Collectables. I stock a wide range of mainly NBA cards, packs, boxes and supplies, making it easier and more accessible to collectors in Adelaide, South Australia.
In the little over a year since I opened my Sunday stall, I have come across many old collectors like myself who, because of running into me, started collecting again. I've also met many great collectors that I now call my friends.
One example: One of the first boxes ever busted at my stall was 2009-10 Panini Threads. In his very first box, that customer — and now mate — pulled a Bogut deer logo patch. It was an awesome patch and I wanted it on the spot, but the collector decided to hold onto it as it was his first awesome patch pull. A few months later, he unexpectedly came down to see me at my stall and handed me something gift wrapped. In that wrapping was the Bogut deer logo patch which is featured in the gallery below. It just goes to show the camaraderie of the card collecting community. He easily could have sold it for good dollars and ever since then we have exchanged little gifts and helped each other out with our PCs whenever we can.
I have seen some great box breaks at the stall with many Kobe Bryant, Kevin Durant, John Wall, Blake Griffin, Derrick Rose patches and autographs pulled, even a Griffin HRX redemption. I have since been given the name Mr Mojorazzi by many. It's always great to see people light up when they have busted an awesome card for their PC. There's nothing better — except for an Adelaide 36ers basketball win.
I've had a few 1/1s busted, 14kt gold pieces and some crazy Preferred Silhouettes in recent weeks with Chris Paul and Demar DeRozan Prime Silos; also a very nice Rose Panini's Choice auto numbered out of 15 that I traded boxes and cards for to get into my side PC of Rose.
A couple of my favourite busts have come from 2010-11 Totally Certified where I busted a Totally Black 1/1. I love the Totally Certified as you can see my Boguts so far. I'm still looking for the Totally Black Boguts. I also busted a 14kt gold piece and John Wall RC auto from one box of 2010-11 Gold Standard.
The five favorite cards in my collection would be the 2009-10 Threads deer logo patch, the Totally Certified Green auto, the National Treasures Colossal prime autograph #3/5, my 2010-11 Limited jumbo patch numbered to 10 and the 2010-11 National Treasures Logoman autograph numbered to 5.
The story of the Limited jumbo patch was that one of my mates was over in Victoria at a card show. Instead of enjoying the show himself, he found that Bogut, sent me pics, paid for it and brought it to me the following week at the market. Another awesome example of the card collecting community in Adelaide and Australia.
A couple of times I have missed out on a 1/1 of Bogut on eBay and some of my best acquisitions would be my latest pickup, the 2010-11 National Treasures Bogut Logoman auto 1/5. I've always envied these awesome Logomen in collectors PCs and thought it was time to fork out some decent bucks for it. And my three 2010-11 National Treasures Colossal Patch autographs numbered to 5. Greedy much?
With the Logoman pictured it takes me to 100 Bogut autos. The Court Kings black border is 1/1 and I now have more than 20 numbered memorabilia Bogut autographs from Panini America.
One of my great stories with Panini America helping me with my redemption has to do with
the new Customer Service Manager
. On Twitter I told him my story about a few Boguts I was waiting on, including the Bogut Totally certified Green autograph. Within two weeks I had the little beauty in my hands. So thank you to the new CSM.
Also because of the growing card collecting hobby in Adelaide, I have done a sponsorship agreement with Team DiVersity Gaming, one of Australia's elite gaming clans specializing in Call of Duty on Xbox and PS3. This cross promotion benefits both hobbies.
Thanks again for giving me the opportunity to showcase my collection and tell my story.