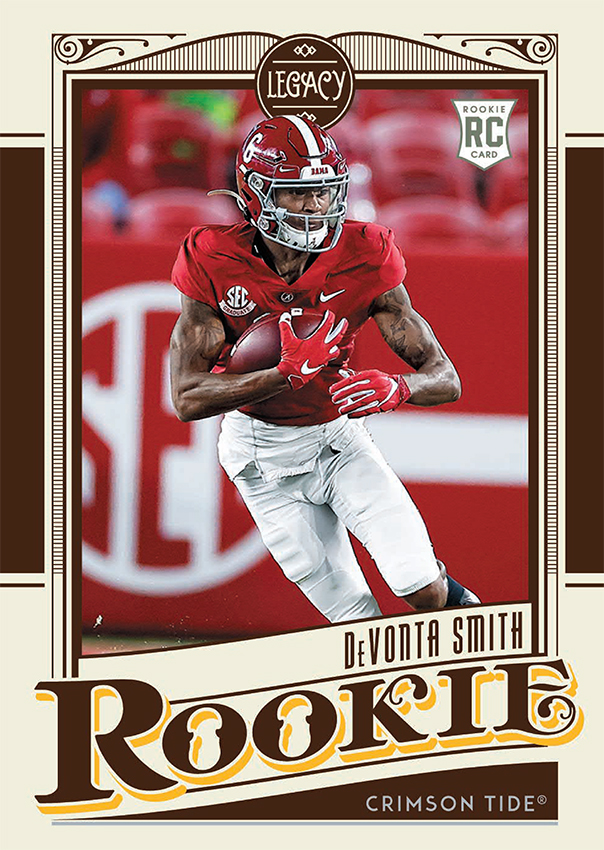 Panini America officials recently sent out preliminary Product Information Solicitations for several exciting new products coming soon to a hobby shop or online retailer near you. Today, we're sharing that same information with you here on The Knight's Lance, this time featuring the throwback-tinged, early-season staple that is Legacy Football.
In the extensive product preview that follows, we'll showcase a bevy of preliminary images from the upcoming 2021 Legacy Football as well as the product's Hobby PIS document.
Estimated Release Date: May 26
Product Configuration: Eight cards per pack, 16 packs per box, 12 boxes per inner case, two inner cases per master case.
BOX BREAK: Two autographs, two Mini Cards, four Optichrome cards per hobby box, on average; one Dare to Tear card per inner case.
Fast becoming a hobby favorite, Legacy Football returns for the 2021 season.
Look for the new Decade of Dominance and Generations inserts.
Be on the lookout for the new Yellow Diamond parallel and exclusive
Dare to Tear mini parallels.
Collect a 200-card base set that includes 100 veterans, 40 Legends
and 60 Rookies.
Each hobby box will deliver, on average, two autographs, at least four numbered parallels, two Mini Optichrome cards, four Optichrome cards, 12 inserts and 32 Rookie Cards.
Look for Mini Optichrome parallels of the base, Rookies and Legends sets; also look for rare Rookies Variations.
Enjoy the preview gallery that follows and stay tuned for additional information. PLEASE NOTE THAT THE 2020 ROOKIES FEATURED IN THE PREVIEW GALLERY BELOW ARE MERELY TO SHOW COLLECTORS WHAT LEGACY'S VARIOUS ROOKIE DESIGNS WILL LOOK LIKE.
The PIS document for 2021 Legacy Football Hobby is available here.
All information is accurate at the time of posting – content is subject to change and approval. Card images are solely for the purpose of design display. Actual images used on cards to be determined.