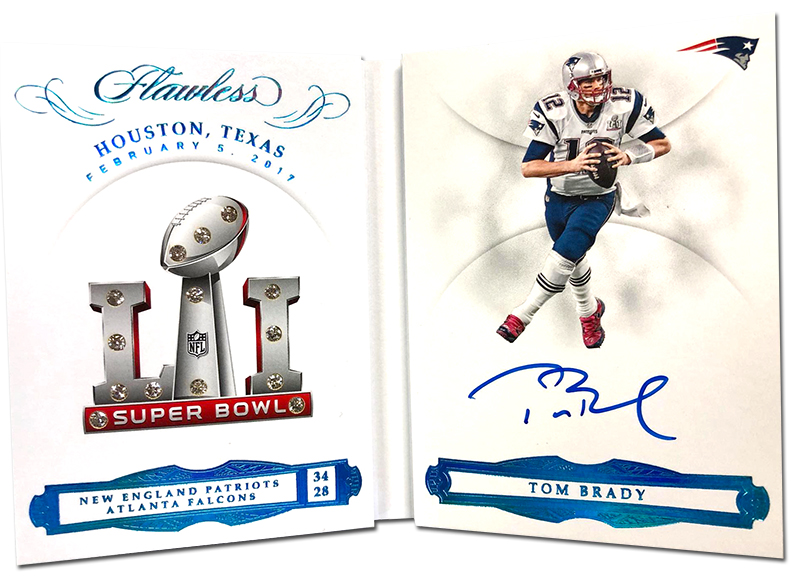 Psssst . . . Panini America's 2018 Flawless Football is coming. OK, so that's not exactly a secret at this point. Seemingly everyone knows when a Flawless product is releasing. It's one of the most anticipated products of any season every season and that's especially the case with the power-packed 2018 Flawless Football. Boasting museum-ready creations honoring 2018's hottest rookies, greatest current stars and most decorated legends, this year's vaunted Flawless briefcases sure know how to pack a punch.
In the scintillating Quality Control Gallery that follows, we showcase just some of the blockbuster inclusions that surfaced during the recent packout process. On average, each 2018 Flawless Football briefcase will deliver six autographs, two precious gem cards and two memorabilia cards. The product also includes a bevy of new autograph additions, including Laundry Tag Signatures, Rookie Dual Patch Autographs, Flawless Draft Gems, Super Bowl MVPs, Captain, Rookie Booklets, Veteran Booklets, Signature Gems, Flawless Duals and Super Bowl Gems.
Enjoy the sneak peek and stay tuned for additional coverage as Friday's release date approaches.