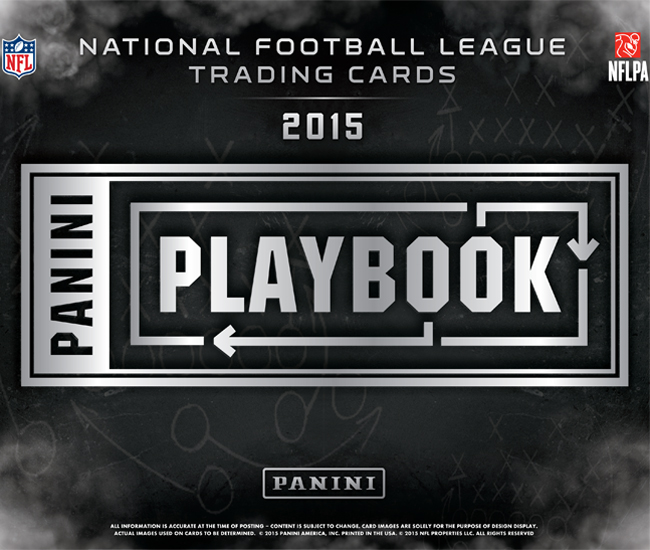 In four seemingly short seasons, Panini America's Playbook Football franchise has earned a reputation as one of the most unique trading card products on the NFL landscape; a creative, cutting-edge, concept-driven brand that has paved the way in pushing what's possible in the booklet-card genre. In 2015, that push will continue.
When 2015 Playbook Football arrives in hobby shops across North America in late October, it will do so equipped with an all-booklet base set to augment its normal selection of booklet-based envelope-pushers such as Down & Dirty, Armory and Game of Inches. The product also will feature newly designed Rookie Booklet Signatures and the new Split Six Signatures booklets featuring six autographs on one card.
Each three-card box of 2015 Playbook Football will deliver one booklet base card, one autograph or memorabilia booklet and one additional autograph or memorabilia card. Other highlights of the product include . . .
The new Split Six Signatures autograph booklet cards featuring autographs from the top rookies, stars and legends of the NFL, each sequentially numbered to 25 or less.
Newly designed Rookie Booklets Signatures honoring the 2015 NFL Rookie Class, highlighted by NFL Shield, Drawn Plays and Autographed Printing Plate 1/1 versions.
The triumphant return of Mammoth Materials oversized memorabilia cards including NFL Shield 1/1s.
The debut of Rookie Booklet Complete Logos featuring vertical booklets that incorporate complete NFL team logos from player-worn jerseys.
The fantastically filthy Down & Dirty Booklets return featuring jumbo pieces of game-worn jersey and numbering to 25 or less.
Vertically oriented Armory booklets featuring six pieces of memorabilia and a checklist comprised of the league's top rookies and start; numbered to 25 or less.
The all-booklet base set is paralleled by Gold, Platinum, Green and Red 1/1 versions.
We'll have plenty more on 2015 Playbook Football in the coming days and weeks right here on The Knight's Lance. For now, though, here's your first extended sneak peek:
All information is accurate at the time of posting – content is subject to change. Card images are solely for the purpose of design display. Actual images used on cards to be determined.