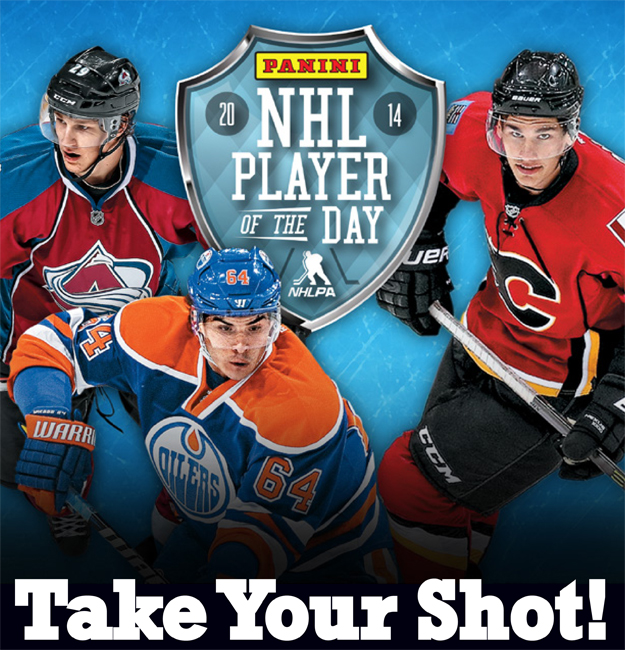 Beginning in February, every time a collector purchases a pack of Panini America NHL trading cards at more than 450 hobby shops across the U.S. and Canada they may be one step closer to spending the day with an NHL player.
Panini America and the NHLPA are once again sponsoring the Panini NHL Player of the Day hobby shop promotion that runs from February 1 through March 30, 2014. And to culminate the promotion, one lucky collector will get the chance to spend a day with an NHL player, including a private party at their home for their friends and family plus an autograph session at their local hobby shop for the entire community. To find a list of participating hobby shops, collector can visit the Panini NHLPOD Hobby Shop Locator at www.paninipod.com.
"We are pleased to continue our unmatched support of hobby shops all across the U.S. and Canada this popular and successful promotion that has proven to help shops sell more packs of Panini America trading cards while also providing a fun interactive contest that collectors can experience only in their local hobby shop," said Jason Howarth, Vice President of Marketing for Panini America. "The enthusiasm and demand for hockey trading cards this year is outstanding due in large part to the Panini Dual Rookie Class.  This promotion gives collectors another great reason to buy Panini America NHL trading cards at their local hobby shop."
How the Promotion Works . . .
The centerpiece of the promotion is a poster featuring the Panini card images of 30 NHL players and two wild cards — rookie stars Nathan MacKinnon and Nail Yakupov.  Each day during the promotion, a different player is designated as the "Panini NHL Player of the Day."  Every time a collector purchases a pack of Panini NHL trading cards in a participating hobby shop, they can win a prize by pulling the Player of the Day or one of the Wild Cards. Each week, stores will conduct a drawing to award a weekly prizes; at the end of the 30-day promotion, each store will award an exclusive Panini NHLPOD autographed card to its store winner who will then be entered into the national sweepstakes. 
The national sweepstakes will award a host of prizes including the chance to "spend a day with an NHL player" which includes a 60-minute autograph appearance at the winner's favorite hobby shop, a $250 shopping spree for Panini NHL trading cards and a visit by a player to the winner's home for a private party for friends and family. In 2011 a Maple Leafs fan got to spend the day with Nazem Kadri; in 2012 Cory Schneider spent the day with a lucky hockey fan.
More Than 50,000 Prizes Awarded In-Store and Online
Each participating shop receives a free merchandise kit (which began shipping this week) with more than 100 prizes including exclusive Panini NHLPOD promo packs, 2013-14 Score Hockey promo packs, exclusive NHLPOD memorabilia and autographed cards, a limited-edition Panini Double Rookie Class puck, Wincraft pennants and decals, T-shirts, posters and more.
This year's Panini NHLPOD autograph card set includes a selection of rookies and regional stars such as Nick Bjugstad, Ryan Callahan, Brian Gionta, Jimmy Howard, Boone Jenner, Anze Kopitar, Roberto Luongo, Patrick Marleau, Sean Monahan, Morgan Rielly, Bobby Ryan, Ryan Smyth, Steven Stamkos and Jacob Trouba.
Each participating hobby shop also receives more than 100 Panini NFLPOD promo card packs featuring an exclusive Panini NFLPOD card set. Stay tuned to The Knight's Lance for a complete 2014 NHL POD checklist, including galleries of the set's autograph cards and Rookie Memorabilia cards.
Collectors will also get to enjoy the promotion online by following @PaniniPOD on Twitter. Nearly every day, collectors can win some of the same prizes being awarded at hobby shops though an assortment of contests.
This marks the third year the NHL Player of the Day program offers a collector the chance to spend the day with an NHL player. Past grand prize winners have spent the day with Nazem Kadri and Corey Schneider.
We've provided a gallery of the base set and Rookie Cards from this year's set below. Stay tuned to The Knight's Lance for additional coverage.