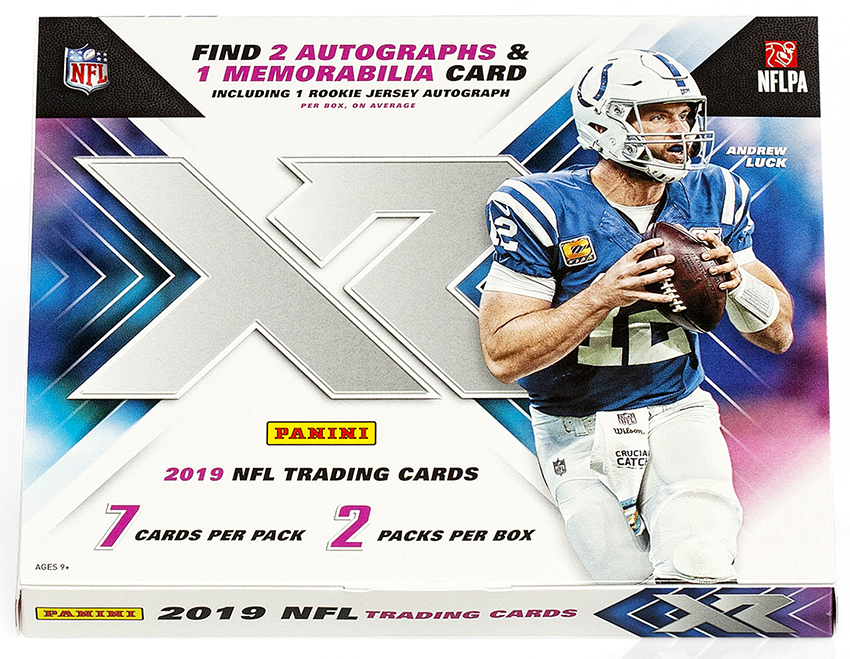 There's a classic line from Will Ferrell's character in the otherwise forgettable 2007 ice skating comedy "Blades of Glory" that resonates when applied to the "XR" in Panini America's XR Football: "No one knows what it means, but it's provocative. It gets the people going." Indeed, it does. And while the name may be shrouded in mystery, the success of the product is absolutely not.
Today, the 2019 edition arrives in hobby shops and on group-break sites across North America boasting a stacked lineup of autograph and memorabilia content that is uniquely "XR." On average, each hobby box of 2019 XR Football will deliver one Rookie Jersey Autograph, one additional autograph, one memorabilia card, one insert, four parallels, four base cards and two Rookie Cards. Each case will deliver a Jersey Patch Autograph.
Look for the all-new Rookie Xcellence Autograph Swatches and Rookie XL Swatch Autographs. Also, find rookie autographs on acetate in the Luminous Endorsements chase.
In the must-see gallery that follows, we celebrate Release Day with a comprehensive deep dive into 2019 XR Football. Enjoy.