LOS ANGELES -- During the furious five-day basketball free-for-all that was 2011 NBA All-Star Weekend, Mother Nature rained, Kobe Bryant reigned and Blake Griffin gave new meaning to the term "carhop."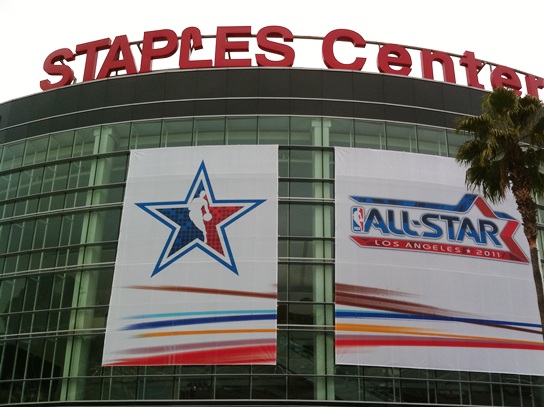 LOS ANGELES — During the furious five-day basketball free-for-all that was 2011 NBA All-Star Weekend, Mother Nature rained, Kobe Bryant reigned and Blake Griffin gave new meaning to the term "carhop."
All the while, Panini America was busy putting on a week-long, show-stealing performance of its own . . . at the Los Angeles Convention Center for NBA Jam Session . . . at Grauman's Chinese Theater for the casting of Bryant's history-making hands and feet . . . at Bryant's exclusive, celebrity-cluttered after party and at area Walmart stores for player appearances by NBA superstars Tony Parker, Ron Artest, Eric Bledsoe and Eric Gordon.
The whirlwind of activity — which ends Monday evening with the close of the NBA Jam Session — culminated a sleep-deprived and furious month during which Panini America also conducted extensive marketing activation at the NHL All-Star Game (Raleigh, N.C.) and Super Bowl XLV (Dallas).
The following images provide a telling glimpse inside Panini America's star-studded five days in Los Angeles, a massive slice of hoops heaven that included, but certainly wasn't limited to . . .
NBA Jam Session, featuring the introduction of Panini Authentic, the company's groundbreaking autographed memorabilia line, a preview of 2011-12 Panini NBA Hoops, and appearances by Stephen Curry and Wesley Johnson.
Bryant, a Panini America exclusive spokesman, becoming the first athlete in history to have his hands and feet cast in cement at famed Grauman's Chinese Theater in front of the Hollywood paparazzi and guests of honor such as Jimmy Kimmel, George Lopez and Penny Marshall.
 Panini-sponsored appearances by Parker, Artest, Bledsoe and Gordon at Walmart stores in Baldwin Hills, Calif., and Torrance, Calif., respectively.
Stay tuned to The Knight's Lance throughout the week for more exclusive coverage from 2011 NBA All-Star Weekend, including video interviews and, just perhaps, a few giveaways.