I stumbled upon Thomas Wisniewski's impressive array of Aaron Rodgers autographed cards earlier this summer and just knew his collection and the story behind it would be welcomed attractions on The Knight's Lance.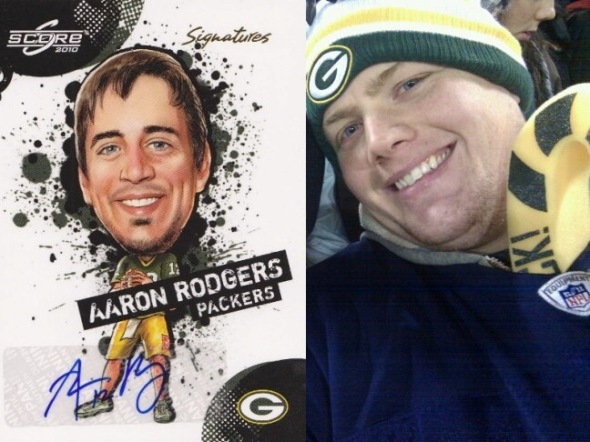 I stumbled upon Thomas Wisniewski's impressive array of Aaron Rodgers autographed cards earlier this summer and just knew his collection and the story behind it would be welcomed attractions on The Knight's Lance. Rodgers — the Green Bay Packers superstar QB and the Super Bowl XLV MVP — seems to be  the collecting target of quite a few collectors these days.
But Wisniewski has been cheering ever since that April day in 2005 when the Packers selected him late in the first round to eventually succeed the legendary Brett Favre. Two years later he began a collection that continues to grow even now. Here's his story in his words, followed by a sweet gallery of Wisniewski's best Panini America cards. 
Panini America Personal Collection Spotlight
Who: Thomas Wisniewski, Michigan
What: Green Bay Packers Quarterback Aaron Rodgers
I started collecting cards when I was pretty young. I can remember always being excited to go to the mall and hit up our local card shop to spend any money I had. I grew up in the small town of Menominee, Mich., which is only about 60 miles away from Green Bay, so it was natural that I grew up to be a Packer fan. Luckily, I have really only seen the good times of the early 1990s until now, where they really haven't hit any rough patches (like between Super Bowl II and Super Bowl XXXI).  I got to attend quite a few games growing up and it was always a blast to go to Lambeau.
I can remember watching the 2005 draft and being just stoked that Rodgers fell to Green Bay. I can honestly say I didn't know a whole lot about him up until that point because he was expected to go very early in the first round and I didn't think the Packers had a shot at him. I really knew he could play when he came in for Favre in the Dallas game in 2007.  I felt confident that there would still be good times after Brett decided to hang it up.
 
There was a period of time between high school and college where I kind of grew out of collecting cards, but for some reason, I felt an itch again. After watching Rodgers play in 2007, I really wanted to get in on the ground floor because I knew he was going to be great. I started by doing some searching on places like eBay. Online was really my only option because there was no local card shop anymore in the area I lived. I wasn't sure where I wanted to start so I bought a few lots of base cards and small-time inserts for cheap. I was amazed by how much the selection of cards had grown. It seemed like there were so many more sets now then back when I started collecting. Finally, I pulled the trigger on my first Rodgers autograph in early 2008 and it just grew from there.
It's kind of amazing the comments I get now about how much money I could make if I sold off my collection, especially after the Packers' Super Bowl XLV win and Rodgers' game MVP award. I was never really in it for the money, but I have sold a few of my higher-end cards for some big bucks just to expand my Packers collection. I have branched out to Jordy Nelson and also have a large collection of current and past Packers players. But Rodgers is still my No. 1 focus.
My favorite card has to be the 2010 Crown Royale Green 1/1 autograph. This was one of my favorite sets last year and I am glad that Panini decided to do it again for 2011. I picked this card up close to when the product had come out and it has been in my collection ever since. I think if I ever decided to part with the collection, this one might stay around just because of how cool it really looks. I would have to say that his 2005 rookie autos from Playoff Contenders and Rookies & Stars would be right up there too.
I am still chasing the full nameplate from 2006 Limited. Right now, I only have "R" and "D" and I know that I may never complete it, but it is a fun goal. I am also still looking for the Franchise auto from 2010 Score. I know that isn't a very lofty goal, but I still have yet to see one (the checklist says there are five). I would also like to get my redemption for the Rodgers/Drew Brees 2011 Donruss Elite Passing the Torch. I am itching to get that one in the collection since I don't have a Brees auto.
It's just fun to hear from people that say I have a nice payment towards a car or a down payment on a house if I ever decided to sell. I suppose if I were hurting for money, it is a nice fall-back option, but I hope it never has to come to that.  It's always cool seeing a card that I haven't seen before or some of the new products coming that make me excited for another year of chasing down what I want to add.