It's only Thursday and already it's been a hectic hoops week for all of us here at Panini America. On Tuesday we provided the tantalizing first look at 2012-13 Absolute Basketball. Yesterday, Panini America NBA Brand Manager Keith Hower and Assistant Brand Manager Wes Elliott oversaw the quality control process for 2012-13 Threads Basketball. (Expect a massive QC gallery on that soon.)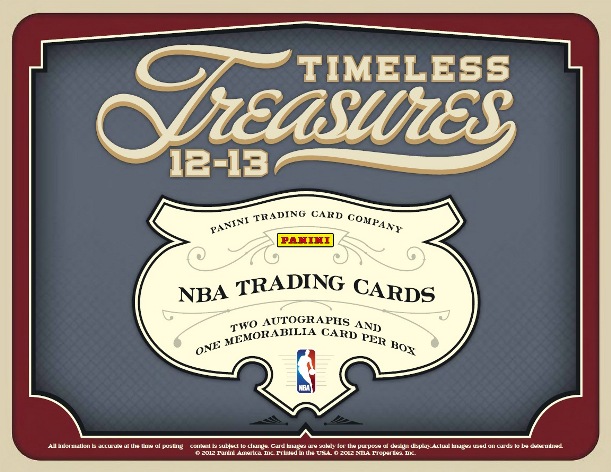 It's only Thursday and already it's been a hectic hoops week for all of us here at Panini America. On Tuesday we provided the tantalizing first look at 2012-13 Absolute Basketball. Yesterday, Panini America NBA Brand Manager Keith Hower and Assistant Brand Manager Wes Elliott oversaw the quality control process for 2012-13 Threads Basketball. (Expect a massive QC gallery on that soon.)
Today, we provide a sneak peek on yet another historically herculean Panini America basketball brand that missed the 2011-12 season but is primed for a huge comeback year: 2012-13 Timeless Treasures Basketball.
Slated to arrive in late December, 2012-13 Timeless Treasures Basketball will be bolstered by two major technological advances (the 100-card Glass Rookies autographed RCs and the uniquely "twisted" Revolution Materials insert featuring a suspended, two-sided memorabilia piece that spins to reveal swatches of game-worn memorabilia from two NBA superstars).
Each five-card tin of 2012-13 Timeless Treasures will deliver two autographs (including one on-card RC) and one memorabilia card. The 150-card base set is augmented by the 100-card autographed Rookie Card subset, three base-set parallels (Gold, Silver and Platinum), five unique memorabilia inserts and six unique autographed inserts.
Among the new autographed inserts added to the product are Time To Shine (on-card signatures from the game's top rookies) and Treasured Ink (on-card autographs from the game's top superstars and retired legends).
We'll have much more on the exciting return of 2012-13 Timeless Treasures Basketball on The Knight's Lance in the coming weeks. For now, though, enjoy this first extended preview of the product.