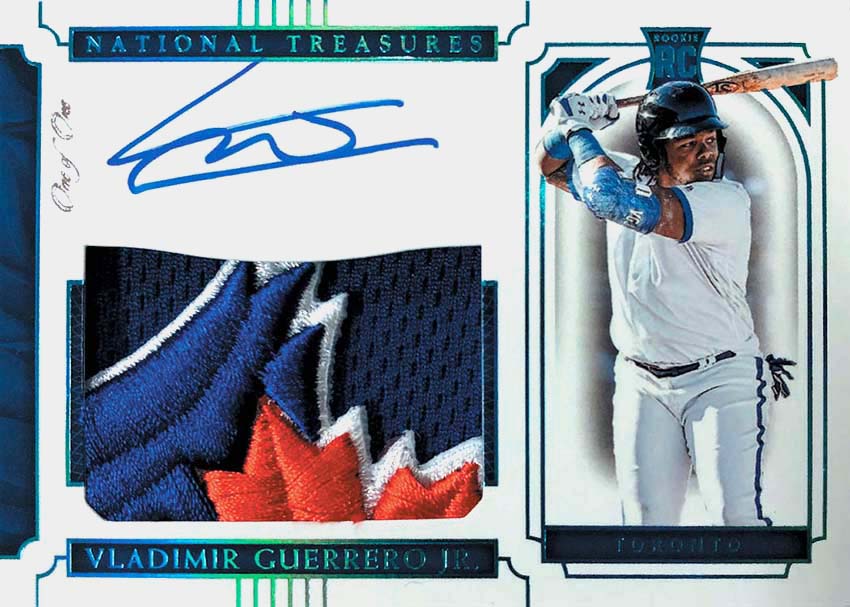 Panini America officials recently sent out preliminary Product Information Solicitations for a handful of exciting new products coming soon enough to a hobby shop or online retailer near you and, over the course of the next two days, we're sharing that same information with you here on The Knight's Lance, beginning with the highly anticipated 2019 National Treasures Baseball release.
For each new product, we'll showcase a must-see bevy of preliminary images as well as the PIS document. Enjoy the sneak peek and stay tuned for additional details.
Release Date: September 25, 2019
Product Configuration: Eight cards per box, four boxes per case.
BREAK: Eight autograph or memorabilia cards including one booklet per hobby box, on average.
Following up last year's incredible Babe Ruth/Lou Gehrig Cut Signature Booklet, Panini America has added two new pairings for booklets in 2019: Babe Ruth/Honus Wagner and Babe Ruth/ Ty Cobb. 
Find on-card autographs from top rookies like Vladimir Guerrero Jr., Fernando Tatis Jr. and Eloy Jimenez in the following sets: Rookie Material Signatures, Rookie Triple Material Ink, Rookie Signature Names, Rookie Signatures, Social Signatures, Rookie Signature Jumbo Material Booklet and Six Pack Material Signatures Booklet. 
Rookie Materials Signatures features the most comprehensive on-card autographs of this year's rookies including Vladimir Guerrero Jr., Fernando Tatis Jr., Eloy Jimenez, Nick Senzel, Chris Paddack, Kyle Tucker, Brandon Lowe and more. 
Look for the return of oversized super-prime pieces of memorabilia in Cleats, Nameplates, Bat Barrels and ID Tags. 
Look for new inserts, including Shadowbox Signatures, Treasured Threads, Rookie Silhouette Threads and more.
Enjoy the preview gallery that follows and stay tuned for additional information.
Here's the 2019 National Treasures Baseball PIS document.
All information is accurate at the time of posting – content is subject to change and approval. Card images are solely for the purpose of design display. Actual images used on cards to be determined.