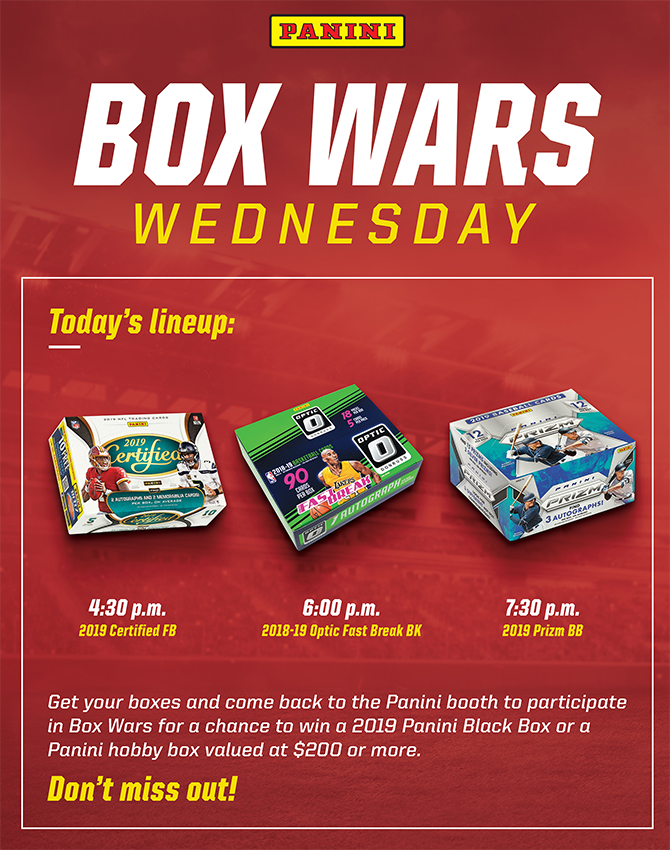 Panini America officials on Monday unveiled the complete Box Wars schedule for this week's 2019 National Sports Collectors Convention in Rosemont, Ill. Once again this year, collectors who participate in Box Wars at the Panini America booth will have the chance to win a coveted Panini Black Box as well as high-end boxes of Panini America product.
Of course, the grandest prize will no doubt come Saturday afternoon, when the winner of the 1 p.m. 2019 Immaculate Collegiate Football Box War will receive a ticket to Panini America's exclusive National VIP Party on Saturday night (stay tuned for much more information on that).
Unlike product required to participate in the Panini America wrapper-redemption program and VIP Party qualification (which must be purchased at the show from Authorized Show Dealers Atlanta Sports Cards, Blowout Cards, Dave & Adam's Card World and Steel City Collectibles), collectors can purchase Box War-eligible product from any vendor at the show.
In the gallery below, we provide a daily Box Wars schedule. Stay tuned to The Knight's Lance for continued coverage of our 2019 National Sports Collectors Convention plans. And check out the links below for our 2019 National preview coverage so far:
Panini America Peeks 2019 National VIP Set Featuring R.J. Barrett, Kyler Murray and More
Limited Number of National Super VIP Party Tickets Offered on iCollectPanini.com
Panini America Spies the Parallels, Memorabilia Cards Coming to 2019 National Promotion
Panini America Returning Live Redemption Trade-Up Program to the 2019 National
Free Kids Breaks, Country's Top Breakers to Fill Panini America Booth at 2019 National