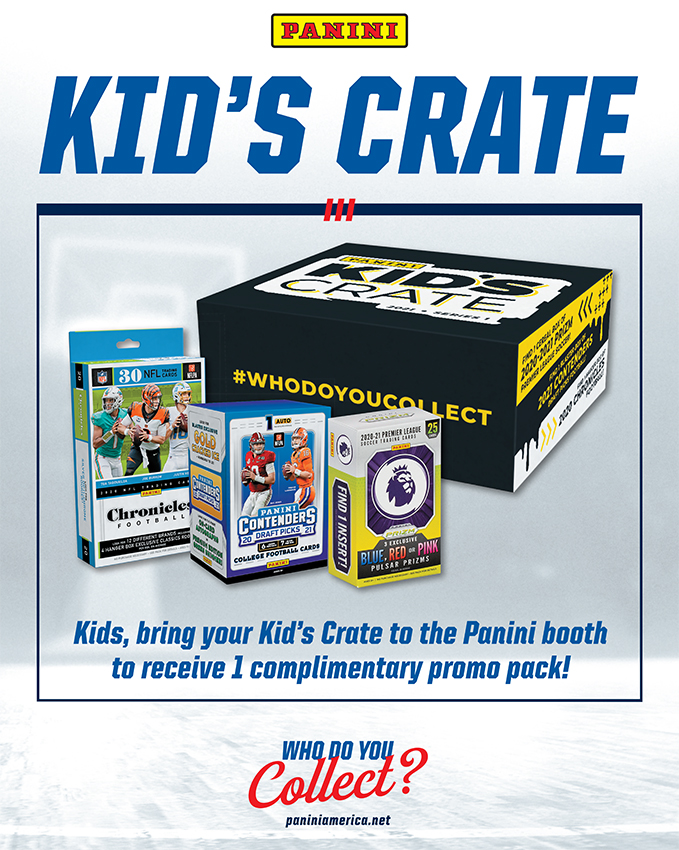 It's been talked about and heavily anticipated for months. But next week at the 2021 National Sports Collectors Convention, Panini America's much-discussed Kid's Crate program finally will make its debut. Indeed, Panini America officials are using the grand National stage to roll out, in a limited fashion, the debut of Kid's Crates before their mainstream release coming in August.
The Kid's Crate program was created as a way to offer younger collectors a more affordable collecting option that also delivers value, fun and more. Kid's Crate Series 1 will do exactly that with a cereal box of 2020-21 Prizm Premier League Soccer, a blaster box of 2021 Contenders Draft Picks Football and a hanger box of 2020 Chronicles Football. Also included in each crate will be a goodie bag of sorts that includes Rated Rookie and Prizm stickers, a #WhoDoYouCollect bracelet and more.
A limited number of Kid's Crates will be available at the 2021 National exclusively through Blowout Cards, Dave & Adam's and Steel City Collectibles. Kids who participate in any Kids Free Case Break at the Panini America booth can show their badge to get $5 off a Kid's Crate; and kids who purchase a Kid's Crate and bring it to the Panini America booth will receive a complimentary Promo Pack.
The Kid's Crate program will go nationwide in August. Until next week, here are a few pics featuring what's inside a Series 1 Kid's Crate.