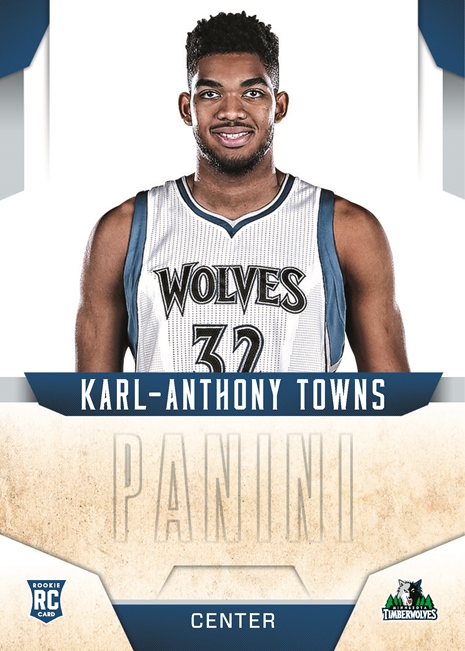 TARRYTOWN, N.Y. — Karl-Anthony Towns, D'Angelo Russell, Jahlil Okafor and 34 other top picks from the 2015 NBA Draft descended upon the New York Knicks practice facility on Saturday to participate in the high-energy, high-yield, highly entertaining 2015 Panini America NBA Rookie Photo Shoot, slipping into their NBA uniforms to take pictures for the trading cards that will be collected for the rest of their careers.
Panini America occupied one of the two full-sized courts in the massive gymnasium (the NBA set up shop on the other one) and spent the day running the unparalleled assemblage of NBA star power through an array of unique photography stations and an action-packed marketing station that included a commercial video shoot (more on that later) and the inaugural #PaniniDunk Trick Shot Challenge that played out all day long on Instagram. The live finale — pitting Duke's Justise Winslow vs. Kentucky's Towns — was streamed to millions of viewers on Facebook.
Some of the photos taken yesterday were turned around on the spot to create special 2015 NBA Rookie Photo shoot virtual cards for Panini America's new NBA Panini Dunk app, available now on the iTunes App Store. Trust us, we'll have plenty more on the exciting new app in the coming days.
One of the most important weekends of the basketball collecting season actually tipped off on Friday with an extended Panini America signing session in conjunction with the NBA's Rookie Transition Program. That day, the players signed autographs for upcoming products such as 2015-16 Court Kings Basketball and 2015-16 Prizm Basketball, and posed for the pictures that will grace each player's Next Day cards. The players will receive their Personal Edition Next Day cards later today at the conclusion of the weekend's events.
Panini America officials also will include Next Day Autographs (being signed today) in an upcoming 2015-16 NBA product. Clearly, there's a lot coming out of the 2015 NBA Rookie Photo Shoot left to cover — and we'll get to that soon enough. Today, though, we want to bring you some must-see sights, sounds, slams and shots from the first two days.
Amid the videos and images that follow,
In the video and gallery that follow, we bring you some of our favorite performances from the premiere #PaniniDunk Trick Shot Challenge and some of our favorite scenes from Friday's extended signing sessions. Enjoy the multimedia experience that follows and stay tuned to The Knight's Lance for more.
First, just some of our favorite shots from yesterday's #PaniniDunk Trick Shot Challenge . . .
And now, Friday's images . . .