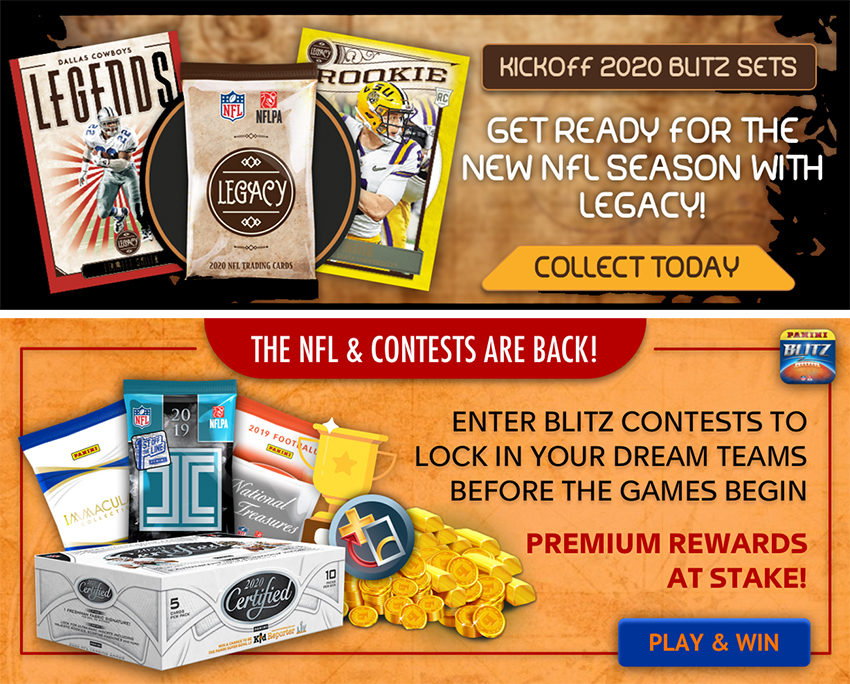 Finally! The 2020 NFL season kicked off last night and once again this year, Panini America's NFL Blitz digital trading card app has a wide variety of contests for fans and collectors to play. Enter as many as you like and collect the rewards. Be sure your lineups are set before the start of the first game to ensure your team is included.
We're starting off the season with strong Digital and Physical prizing, especially in the premium contests featuring a box of 2020 Certified Football, Premium 1st Off The Line Digital Packs and big coin prizes.
Pro Tip: Keep these rules in mind as you create your winning teams:
Multiplier Salary Cap: To bring more strategy to the contests, we have implemented multiplier limits to contests. The sum of your bonus multipliers cannot exceed the limit. For example, if the multiplier limit is 50, then the sum of all your Contest Multiplier cards (i.e., 2x, 5x, 10x) cannot exceed 50. Premium contests will have higher limits while Free Contests will be lower to give everyone a chance. Be sure to keep an eye on the multiplier indicator to ensure you are under the "cap."
Captains: After you have set your team, you can now choose a Team Captain. Captains will get an additional 2x Bonus for their scoring. Choose carefully because you can only choose one.
Multiple Entries: For any non-Free contest, users can now enter as many lineups as they would like. Free contests will be single-entry only.
Panini Legacy Kicks Off Blitz 2020 Campaign
It has been a wild offseason this year, but it's time to prepare for this season's contests. To that end, we will be giving collectors an early look at the Legacy brand. Collectors can find a wide variety of rookies, inserts and more within the Legacy set.
In the coming days, we will add new insert sets, including digital memorabilia and digital signatures to our Legacy packs. To kick things off, we're releasing Legacy packs early with your first chance to collect 2020 base cards, parallels and rookies.