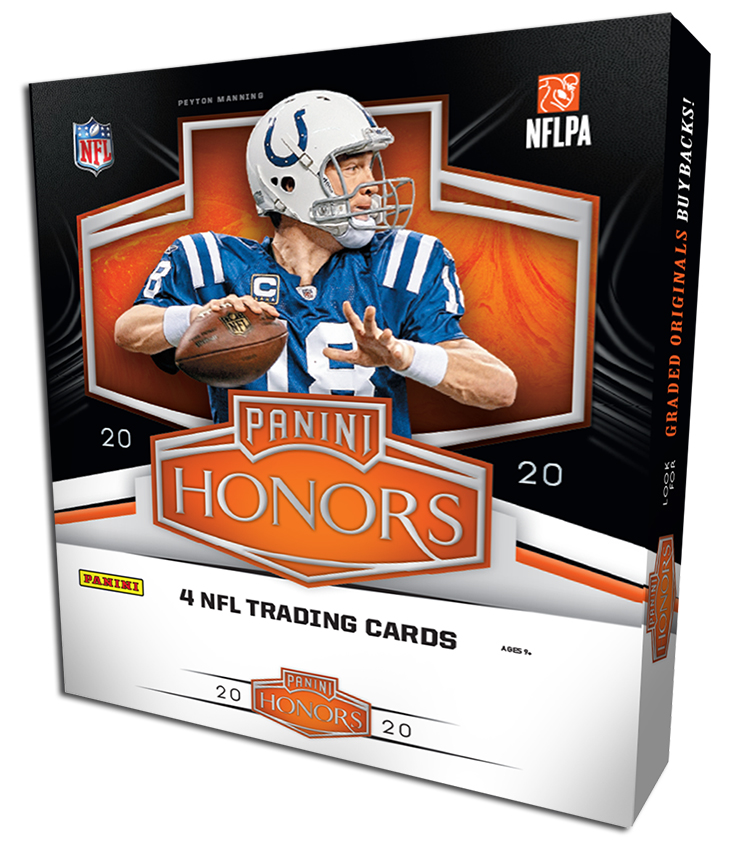 The online-exclusive 2020 Honors Football releases on Wednesday exclusively at the official online store of Panini America, and the product is steeped in the proud history of Panini products of the past and the showroom-fresh newness of the 2020 NFL Rookie Class. That winning recipe provides a dynamic breaking experience that encompasses iconic Buy Backs from previous landmark releases, Optichrome-enhanced Rookie Cards and quite a bit in between.
On average, each hobby box of 2020 Honors Football (four cards per box, 10 boxes per case) will deliver one on-card or graded autograph, one additional autograph, one parallel numbered to 70 or less and one base card. The highlights of the product are many and include . . .
Honors Football returns in 2020 with some of the biggest names in NFL history.
Look for a brand new design in the base set and base autograph chase, along with classic designs from some of the biggest years in hobby history.
Every card in Honors Football will be numbered to 99 or less (excludes Graded or Ungraded Originals).
Find updated autograph versions of some of the most iconic cards of all time, including 1989 Score Football Troy Aikman, 1991 Score Football Brett Favre, 2004 Score Football Larry Fitzgerald, 2016 Score Football Dak Prescott and more.
Look for some of football's biggest names and cards in Recollection Collection, including players like Patrick Mahomes II, Aaron Rodgers, Barry Sanders, Brett Favre, Jerry Rice, Jerome Bettis, Joe Montana, Russell Wilson, Christian McCaffrey and many more.
In the revealing Quality Control Gallery that follows, we offer a deep dive into 2020 Honors Football. Enjoy the sneak peek and be ready Wednesday at 10 a.m. CST with the product goes live exclusively at the official online store of Panini America.
You can access the product's Hobby PIS document here.