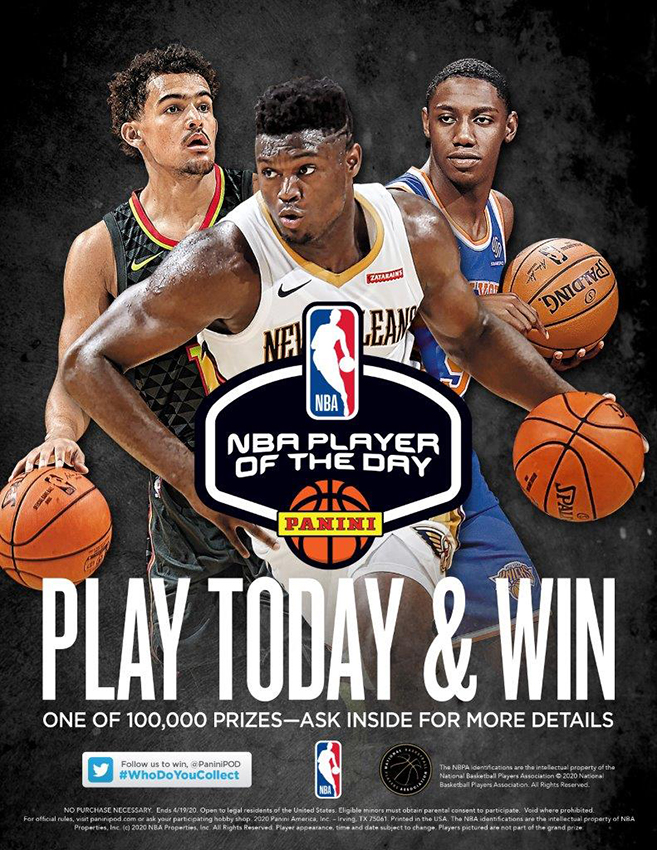 While NBA teams prepare for long playoff runs with visions of NBA Finals trips in their collective heads, NBA trading card collectors will be playing for more than 100,000 prizes at hobby shops across the U.S. as Panini America's fifth annual NBA Player of the Day Hobby Shop Promotion tips off in the coming days (if it hasn't already in your area). The grand prize, of course, will award one lucky collector the rare opportunity to spend the day with an NBA player.
This year, a record number of more than 450 hobby shops will participate in and award prizes for the NBA Player of the Day program from now until April 14. Collectors win prizes just for pulling that day's designated Player of the Day from packs of Panini America NBA trading cards. A complete list of participating dealers can be found here.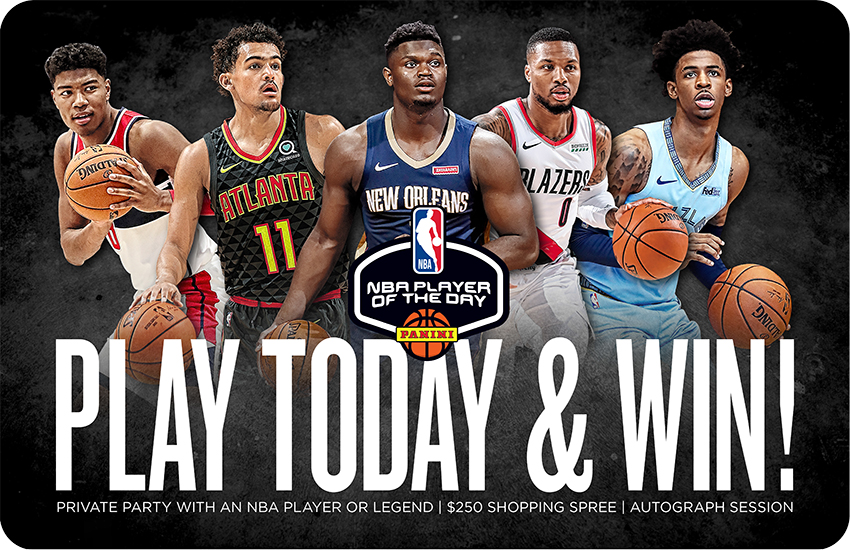 Every time a collector purchases a pack of Panini NBA trading cards at a participating hobby shop hosting the Panini NBA Player of the Day promotion, they are one step closer to spending the day with an NBA player. Over the past four years, lucky collectors got to spend the day with 76ers rookie Matisse Thybulle, Pacers rookie Aaron Holiday, Lakers legend Shaquille O'Neal and Timberwolves All-Star Karl-Anthony Towns.  Highlights of these events are available here.
"The Player of the Day promotion helps hobby shops sell more trading cards while rewarding collectors who purchase Panini America products," said Jason Howarth, Panini America Vice President of Marketing. "We are thrilled to support hobby shops selling our NBA trading cards by expanding this proven promotion to even more hobby shops. We look forward to creating more memorable experiences for collectors this year."
How it Works
The centerpiece of the promotion is a poster featuring Panini NBA card images of one player from each of the 30 NBA teams. Each day, a different player on the poster is designated as the "Panini NBA Player of the Day" while Panini spokesmen Zion Williamson and Kyrie Irving are "Wild Cards" for the duration of the promotion. Every time a collector purchases a pack of officially licensed Panini NBA trading cards and pulls the player of the day or a Wild Card, they win a prize. Each week, stores will conduct a drawing from the daily winners to award a weekly prize.
At the end of the month-long promotion, each store will award a grand prize to its store winner and enter them into the national sweepstakes. In addition to the grand prize, 35 national sweepstakes runners-up will receive NBA POD autograph cards.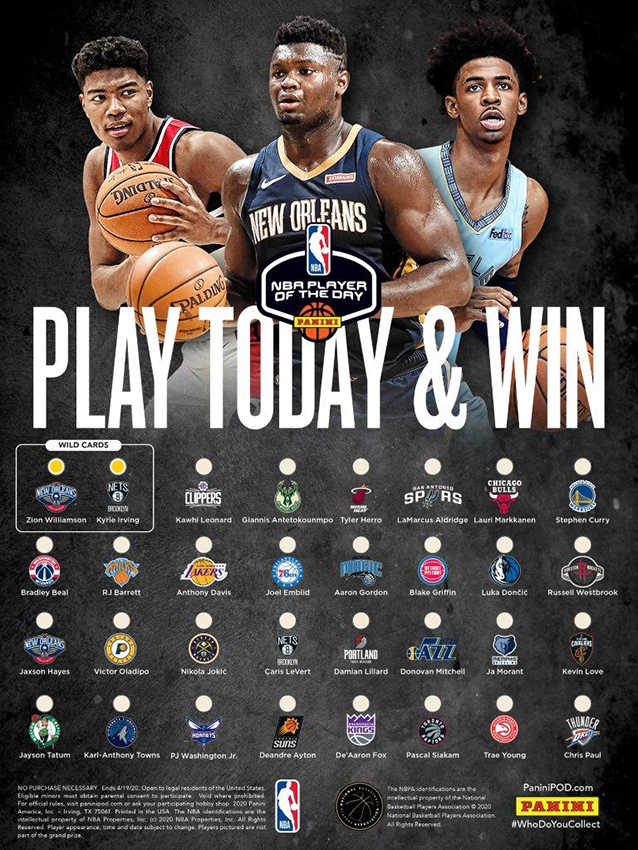 Each participating shop receives a free NBA POD kit with all of the materials needed to run the promotion, including; promotional posters, shopping bags, exclusive Panini NBA POD promo packs, a Panini NBA POD autograph card, T-shirts, shorts and UltraPro card-holders — all emblazoned with the Panini NBA Player of the Day logo.
The exclusive autograph cards are slabbed in a protective case by BGS with each shop receiving one card to award to their grand prize winner. The checklist boasts an impressive lineup of rookies, All-Stars and young stars and includes Tyler Herro, P.J. Washington Jr., Kevin Knox II, Jarrett Culver, De'Aaron Fox, Grant Williams and more.
The exclusive 2019-20 Panini NBA Player of the Day card set includes a 100-card base with two parallel sets numbered to one and 99, respectively. Additionally, there are 35 memorabilia cards — 30 rookies as well as second-year stars Deandre Ayton, Marvin Bagley III, Michael Porter Jr., Trae Young and Luka Doncic — that are numbered to 99. Collectors also will get to enjoy the promotion and win autograph cards and other promotional items through the Panini POD Twitter and Facebook pages.