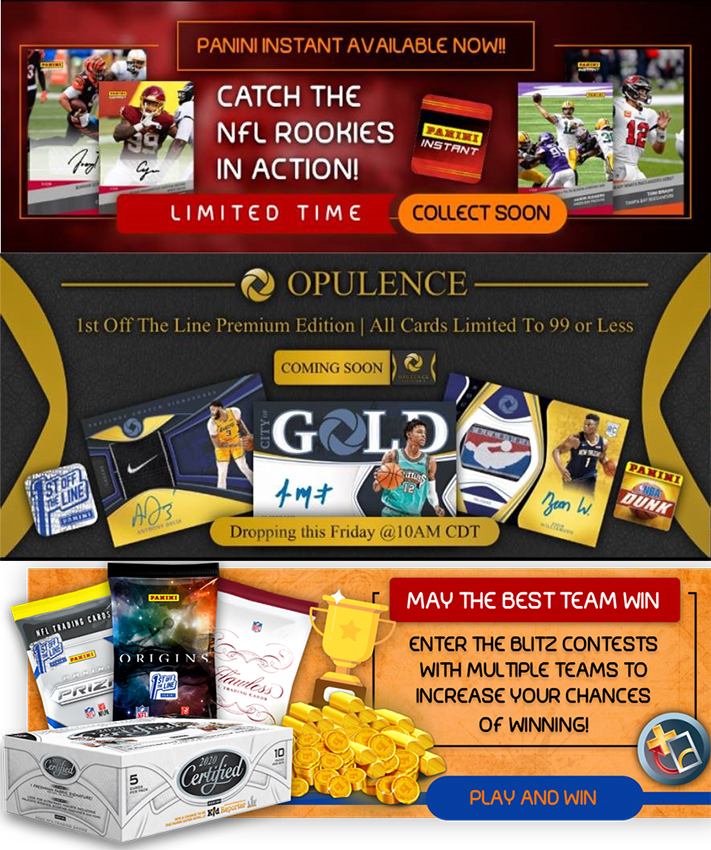 New Panini Instant cards for the 2020 NFL season have arrived on Panini America's NFL Blitz digital trading card app. Panini Instant brings the latest NFL action straight to your card collections. Panini Instant inserts feature significant moments, great plays and outstanding performances from throughout the season.
For our Blitz Digital fans, every week we will release new cards featuring outstanding performances and moments from throughout the NFL season. Cards will be available in a regular version and a special Digital Signature Variation (unless noted). We also have added new Instant variations with higher Contest Scoring Bonuses. All Panini Instant cards will be available for one week only or until they're sold out. Week 1 of the NFL season is now available in the app.
Week 3 Contest Time!
Week 2 contests were all over the place with injuries obviously being a key factor. Make sure you have enough 2020-eligible cards to slot in a few contest team variations.
2020 brings a wide variety of contests for you to play. Enter as many as you like and collect the rewards. Be sure your lineups are set before the start of the first game to ensure your team is included.
We're continuing to give strong Digital and Physical prizing, especially in the premium contests where we are giving away a box of 2020 Certified Football, Premium FOTL Digital Packs and big coin prizes.
Opulence Lands In Dunk For Its First Ever digital FOTL
The spectacular Opulence Basketball brand makes its digital debut in the NBA Dunk digital trading card app. One of the most popular NBA sports card brands is now available digitally in Dunk. Collectors can find a wide variety of rookies, inserts, digital signatures and digital memorabilia cards within the set.
This season you can get a chance to be one of the first collectors to get Opulence with the 1st Off The Line Packs. The 1st Off the Line packs will be available in limited quantities starting today before the official full set release in the coming days. Each 1st Off The Line pack includes one Platinum Blue card limited to just three.
The Opulence Basketball set includes 200 base cards and 100 rookie and subset cards. You can also collect 20 different insert and signature sets.