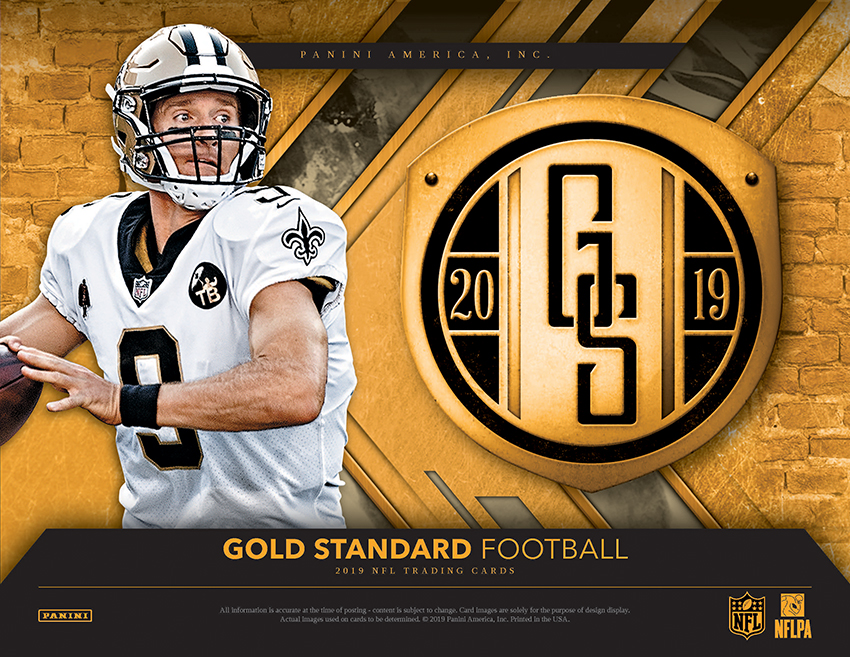 Full disclosure: In the interest of time (and playing catch-up), we're dedicating the rest of today here at The Knight's Lance to previewing in rapid-fire fashion the newest products that have been solicited by the Panini America sales team in recent weeks. By our count, we've yet to post preliminary product information on eight recent product solicitations from the worlds of baseball, basketball and football. In order to rectify the situation, we're going to streamline things here today by highlighting key product information taken directly from the PIS document for each of the products, one post at a time.
So buckle your seatbelt and get ready as we spend the next few hours previewing 2019 Gold Standard Football, 2018-19 Encased Basketball, 2019 Donruss Optic Baseball, 2019 Immaculate Baseball, 2019 Certified Football, 2019 Unparalleled Football, 2019 Immaculate Collegiate Football and 2019 Donruss Football. We're also going to include the PIS document for each product. Enjoy the previews and stay tuned to The Knight's Lance for additional information.
Release Date: July 10, 2019
Product Configuration: Seven cards per box, 12 boxes per case.
BREAK: Five autograph or memorabilia cards per hobby box, on average.
Look for Rookie Jersey Autographs of the hottest 2019 rookies; also find the short-printed Rookie Jersey Autographs Double and Rookie Jersey Autographs Triple featuring multiple swatches of memorabilia, and Prime (numbered to 49 or less) and Tag 1/1 parallels.
New to Gold Standard in 2019 is the hunt for 10k and 24k Autographs highlighting players who have gained more than 10,000 and 24,000 yards, respectively, in their careers. These are numbered to 49 or less and feature Platinum (numbered to 10 or less) and Black 1/1 parallels.
Chase the limited Super Bowl Diamond Signatures and the Super Bowl Diamond Signatures Duals featuring real diamonds embedded in each card and commemorating only players who have won the biggest game in the NFL.
Memorabilia cards in Hall of Gold Threads, Gold Gear, Gold Rush, White Gold, Mother Lode and Golden Pairs. Each of these cards parallel to Prime (numbered to 49 or less) and Premium 1/1 versions.
Enjoy the preview gallery that follows and stay tuned for additional information. Please note that the 2018 rookies featured are simply intended to showcase what 2019 rookie designs will look like.
Here's the PIS document: 2019_Gold_Standard_FB
All information is accurate at the time of posting – content is subject to change and approval. Card images are solely for the purpose of design display. Actual images used on cards to be determined.